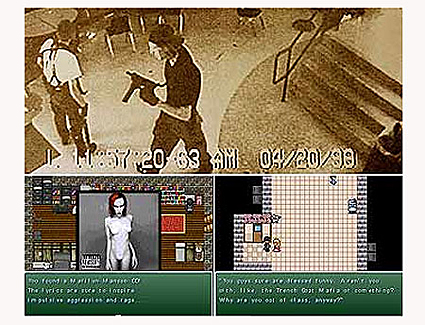 The Keywords for Video Game Studies graduate interest group's (GIG) first event of the Autumn Quarter is on Thursday, October 11, 1:30-3:30 PM, in Communication 202.  This is our first public reading group/workshop of the year and will focus on the gaming term "Violence."
The Keywords for Video Game Studies working group, in collaboration with the Critical Gaming Project at the University of Washington, is supported by the Simpson Center for the Humanities.
What to Expect
The format for the reading group/workshop is simple: read, play, gather, discuss.  (And share in some refreshments.)  Though our immediate audience is graduate students, our goal is to bring together people from a variety of fields and from all different points in their academic careers who have an interest in video game studies.  The reading group/workshop format allows us to frame the discussion with a handful of short essays, a few key games, and the rest is up to participants to tease out the issues and angles related to the day's key word.
What to Read
We hope everyone can read and come prepared to discuss the following essays:
"The Meaning of Race and Violence in Grand Theft Auto: San Andreas" by Ben DeVane and Kurt D. Squire
"Not a Hater, Just Keepin' It Real: The Importance of Race- and Gender-Based Game Studies" by David J. Leonard
"Making Violent Video Games in a Violent Country" by Eric Caoili
If you have a UWNetID, you can find copies of each essay on e-reserve.  If you do not have access to UW e-reserves, please contact us and we'll work something out.
What to Play
Though we will undoubtedly talk about many different games, we have selected the following games to serve as common points of reference for our discussion. The games marked with an * are playable for free. The other games require some online research on Wikipedia, Youtube, etc.
What to Discuss
The inaugural session for the 2012-2013 Keywords for Video Game Studies graduate interest group will focus broadly on the topic of "VIOLENCE."  In past sessions the Keywords group has delicately sidestepped directly featuring this keyword given the often high-profile media coverage of violence and video games.  However, the first session of our third year will wade more deeply through the complexity of issues associated with violence and video games.
What are the different manifestations of violence depicted in video games?  Is there more than just physical/combat/weaponized violence?
How do contexts shape player interpretation of violent video game experiences?  Is violence only limited to the diegesis of game play?
What are the affordances and dangers of the popular debate over video games and violence?  How might we negotiate technolibertarianism on the one hand and technophobia on the other?
Given the popularity in recognizing the potential for games and learning and the assumptions of how video games may affect us we will include discussion around the ethical implications of violence and violent representations in games, social practices such as trolling and dealing with trolls, and assumptions about the direct influence of violence and game play.
Feel free to comment on these here or add your own questions.  Either way, come be a part of our discussion Thursday, October 11, 1:30-3:30 PM in CMU 202.