Daggett Research Group | Research | Extremophile Proteins
University of Washington
-
College of Engineering
-
School of Medicine
-
Department of Bioengineering
Selected Projects
Thermal Adaptation and Flexibility of Dynameomics Targets
Extremophile Proteins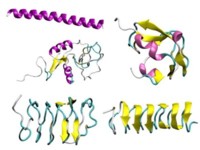 Antifreeze proteins (AFP's) were first discovered over thirty years ago by DeVries and co-workers in Antarctic fish, and they have since been isolated from many organisms that encounter freezing conditions. AFP's accumulate at the surface of nucleating ice crystals. The accumulation of AFP's leads to a non-equilibrium depression of the freezing point below the melting point of ice. We know that AFP's accumulate at specific ice surfaces, but how is this level of recognition achieved? Computational methods have the power to investigate the antifreeze activity mechanism in atomic details. We have simulated water at supercooled temperatures, solid ice (ice Ih), and the water/ice interface using the flexible three-center water model (F3C), and successfully reproduced experimental properties of water. We have also simulated the type III AFP from ocean pout and found that hydration waters on the AFP's ice-binding surface have a more regular tetrahedral geometry than waters elsewhere on the surface.
Current projects in our group aim to determine the effects of five different antifreeze proteins on ice formation as well as mutants that abolish antifreeze activity. In addition, we are investigating trehalose, an osmolyte with similar activity, and protein enhancer, glycerol. .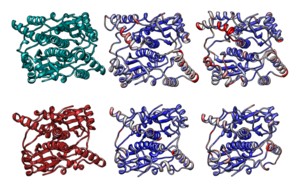 Thermophilic proteins, isolated from thermophilic host organisms, exhibit both thermodynamic and kinetic stability of their folded conformations and greater resistance to thermal inactivation relative to homologous proteins from mesophilic organisms. Thermophilic enzymes are highly active at the elevated growth temperatures of their hosts, but most are relatively inactive at mesophilic temperatures. The popular "corresponding states" hypothesis proposes that the low activity of thermophilic enzymes at moderate temperatures is due to their increased structural rigidity relative to mesophilic homologues. Computational and experimental results for this hypothesis are mixed. We carried out MD simulations of mesophilic and thermophilic enzymes of the nitroreductase family. The simulations showed that the magnitude of fluctuations around the average structure (a measure of rigidity/flexibility) is the same for the two proteins, but the thermophilic protein maintains its native conformation better at high temperatures.
We are currently exploiting the resources of the Dynameomics database to extend this study. The Dynameomics database contains simulations of approximately 150 simulations of thermophilic and hyperthermophilic proteins, more than the total number reported in the literature to date. This large number of proteins will allow a rigorous statistical comparison of the properties of (hyper)thermophilic proteins as a group with the properties of mesophilic proteins.
Relevant Publications
Merkley E.D., Bernard B., and Daggett V. Conformational Changes below the Tm: Molecular Dynamics Studies of the Thermal Pretransition of Ribonuclease A. Biochemistry 47: 880-892, 2008. [DOI]
Smolin N. and Daggett V. Formation of ice-like water structure on the surface of an antifreeze protein. Journal of Physical Chemistry B 112: 6193-6206, 2008. [DOI]
Merkley E.D., Parson W.W., and Daggett V. Temperature dependence of the flexibility of thermophilic and mesophilic flavoenzymes of the nitroreductase fold. Protein Engineering Design & Selection 23:327-336, 2010. [DOI] [Color Figures]