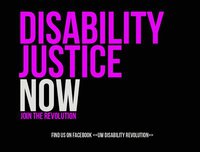 We are UW's center for disabled, chronically ill, mad/mentally ill, Neurodivergent and Deaf students! You don't need a doctor's note to come hang out here. Check out our regularly occurring events like ASL Club, Mad Campus, and Nap and Snack, plus our special events bringing Disabled performers, artists and community organizers to campus.<
Mission:
The D Center strives to create an inclusive, accessible space affirming of all bodies, minds and identities by fostering a culture of social justice and pride.
The D Center strives to better our Communities by:
Fostering a community of d/Disability and d/Deaf pride.
Centering and promoting social justice through creating an inclusive anti-oppressive environment.
Sharing resources and tools for self-advocacy and empowerment.
Developing and supporting social, cultural and educational programming.
Collaborating to build stronger communities and coalitional ties.
Engaging students, faculty, staff and community members with the principles of Universal Design.
Promoting a socio-cultural understanding of disability to transform our society.
Sign up to receive our e-mails: D Center List-serv.
We'd love to hear your feedback: D Center Survey.
Visit our Facebook page: D Center Facebook Page.
If you have any questions, suggestions or comments: Contact the D Center.