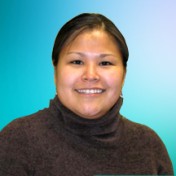 Based in New Stuyahok
Employed by Bristol Bay Area Health Corporation
"I am from New Stuyahok in the Southwest region, 50 air miles from Dillingham. Grew up and lived in New Stuyahok for 20 years. I moved to Dillingham because there was no work in the village. It was hard to make the decision, as I knew the people very well in the village. I would go home every weekend – but through time I was able to adapt to living in Dillingham.
Before Dillingham, I went to University of Alaska at Fairbanks, and just stayed one semester – but didn't think I was ready for school. I came back and started working part time jobs. I got a permanent job which was only open for 2 years, so that wasn't promising.
That's when I made decision to move to Dillingham. I started taking part-time classes at the campus there, and decided I wanted to continue my education. I went back to the university and was studying for early childhood degree, so I would have a promised job to go back to.
I was always interested in dentistry, but didn't know if there was a job for that in New Stu. One of my friends sent me an email about the DHAT program. I thought great — I will still be working with kids, I'll get to go home – and I'll get to work in dentistry! I decided I wanted to do it right away.
I loved working with the people here Bethel. Everyone is so friendly. I found out there is a lady in town whose brother married into my family. Since I've been here, she's been trying to find a way to meet me because she knew a little about our family. After a couple of months, we finally met. She's taking me places – I got to experience dip-netting. On Mother's Day, she took me to dinner even though the people didn't know who I was, people welcomed me into their home.
What I look forward to most in becoming a DHAT is giving back to the people – helping everyone I know – the families. One of the biggest things for me is being able to go back and give back."