Camp Courage College Preview Program 2004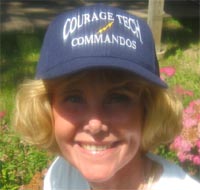 10 years, a decade, half a score ago, Sheryl Burgstahler came from the University of Washington's DO-IT program to conduct the College Preview Program at Camp Courage, MN. She's still coming to Minnesota. Do you think it's the mosquitoes and the humidity that bring her back? Heck no, it's the campers, who are pictured within this website.
Those campers may appear to be inattentive when videos of college options are displayed and lectures about career planning are presented. But every year a previously inattentive Courage Camper returns from a college campus with tales of success and plans for a brilliant future. That makes Sheryl and her staff forget about the mosquitoes for a while.
This year a special guest participated in the lectures, videos, and web surfing. Mamoru Iwabuchi is a visiting scholar from Hiroshima, Japan. He has come across the Pacific to study the activities conducted for folks with disabilities by organizations like Camp Courage and DO-IT. What the future holds for the disabled community in Japan may have been demonstrated here this week in Minnesota. Certainly, the programs to promote college attendance and job attainment for the disabled need to be conducted in Japan as well as here in the US.
Look around this website and find out a bit more about the Class of 2004. They join a growing list of Internet, College, and Career Program graduates.