Camp Courage College Preview and Internet Camp 2008

Camp Courage at Maple Lake, MN, conducts a College Preview and Internet Camp each summer. It is co-sponsored by DO-IT at the University of Washington.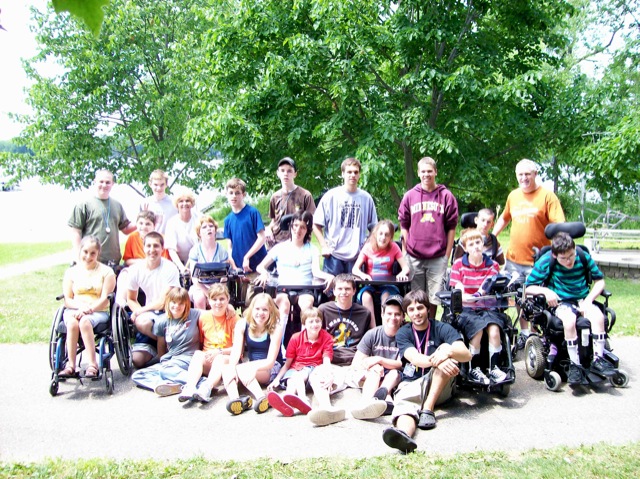 For over 50 years now, on the shores of the even older Cedar Lake, a summertime ritual has taken place. The sounds of Camp Courage have taken root in many minds and hearts for years and years. The clanging of the meal time bell, the table banging of the annnouncement song ("the cheese stands alone..."), and the trains at night, blowing their whistles while nervous first-year campers lay awake.
For the last fourteen years, Sheryl Burgstahler and a team of skilled technology experts have been prepping campers for college and careers and passing on their Internet skills. Sheryl directs DO-IT at the University of Washington in Seattle. 2008 presenters and technical support staff include Rick Light, Lake Junior High School, MN; Rob Upcraft, Bethel University, MN; Travis Burgstahler, Garfield High School, WA. Every year a previous Courage Camper returns from a college campus with tales of success and plans for a brilliant future. That makes Sheryl and her staff forget about the mosquitoes for a while. Look around this web site and find out a bit more about the Class of 2008. They join a growing list of College Preview & Internet Camp graduates.
At this website, enjoy some snapshots from 2008.
The Campers were asked, during the session to come up with funny phrases and sayings using the expanded vocabulary they gained. Check out their Geek Speak.
Check out our Words of Wisdom. Phrases and sayings by our campers and their mentors.
Take a look at the Voices of Campers page to see their views on college preview.