Samuel E. Kelly Ethnic Cultural Center
Recognition of AAPI Heritage Month & Mental Health Awareness Month
May 5, 2020
This personal submission is a part of the "No Longer Invisible: In Their Own Words" project, a means of expression for UW students, staff, faculty, and alumni alike of the Asian American and Pacific Islander (AAPI) communities to use their own words in voicing their stories and lived experiences.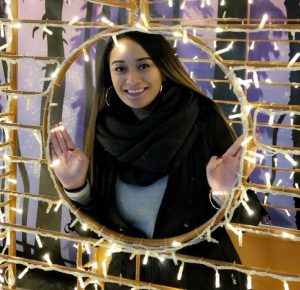 Name: Fa'amanuia Fa'alava'au
Preferred Pronouns: she/her/hers
Identity: Samoan
"I want people to know that I am understanding, resilient, and patient."
Getting to Know Me
I value my lived experiences because they have made me who I am today. I value what I have learned from each instance and the growth that has come from them – the highs, the lows, and everything in between. I value the people that I have around me and in my life because without their support, love, and relationships, I wouldn't be half of the person I am today and am continually trying to grow towards being in the future. I value who I am and everyday is a learning curve to continue to remind myself to do so because I'm not like anyone else and that there is my strength, just as the same can be said for everyone!
Identity
I haven't always been open about my personal experiences with mental health and have had a lot of trouble in learning to accept my experiences for what they are, as well as accepting myself. I have put in a lot of work to get where I am today but that doesn't mean that I'm anywhere near done because it will be a lifetime of ups and downs. I'm constantly putting in work towards accepting and appreciating everything about me so that I can do so regardless of whether I'm seen, heard, and/or understood for who I am by others, though I would hope to not endure being overlooked and invisible anymore. It means everything for me to be seen and heard for who I truly am and for how I want to be because I'm able to be myself and not only be recognized for who I really am, but feel supported and empowered in my truth by that too.
My Dreams & Hopes
I ask of others to best support me as a person by being patient with me because for me, with patience comes the opportunity to feel understood. Having patience from someone else allows me to find the ability to find the same for myself which is why I feel supported by such. Having an ability to feel understood as a person supports me in the work that I put in on myself for taking on each new day.
Challenges & Courage
My advice for someone going through a challenge, as cliche as it sounds, is to find hope in seeing through that challenge and trusting that things can and will get better. Learning to take on each day with finding the best even when it's not the case, can bring out the opportunity to fight through those challenges and to not give up on themselves because they are worthy of being supported and celebrated for all that they are. Taking in important relationships and individuals can be motivating supports for getting through those challenges to be stronger than before on the other end of things. Like for me, every moment and instance regarding my family are moments that inspire me. I'm grounded and inspired in my family being my why and my driving force. Throughout the highs and lows that every family goes through, I am continually inspired by who they are as people and the life that they have made for themselves and for our family. I have a lifetime of memories and moments that inspire me and I still do and that's really all because of my parents providing such for us which I'm eternally grateful for.
Culture of Care
I have a lot of hopes for my cultural community. One of them is for other Polynesians, especially Samoans like myself, to find pride and joy in the traditions from our ancestors and people long before us. I hope for my people to not lose sight of the strides that those before us made. I find inspiration from all of the contributions that my people have made because it serves as a guide for more strides to be made for upcoming generations. I hope for those in my cultural community to find acceptance and to have an understanding within themselves to make space for our traditions to include identities that are othered – those within our cultural community and those outside. I appreciate the strides of growth and I look forward to what is to come forward from the generations to come!
Impacts & Contributions
I believe "success" means something different for everyone and that there is no one set definition of it and what it looks like. Success to me and for me, is a means of stability and security for me as well as my family – both current and future. I want to make the most of all that my family has done for me and their sacrifices that they have made so that I can be even half of who I am and where I am today. What's next for me on my journey and my vision for my future self are all based on how best of a person I can grow to be for myself and for my family, cultural community, loved ones, and all those around me.