Samuel E. Kelly Ethnic Cultural Center
ECC Event Highlights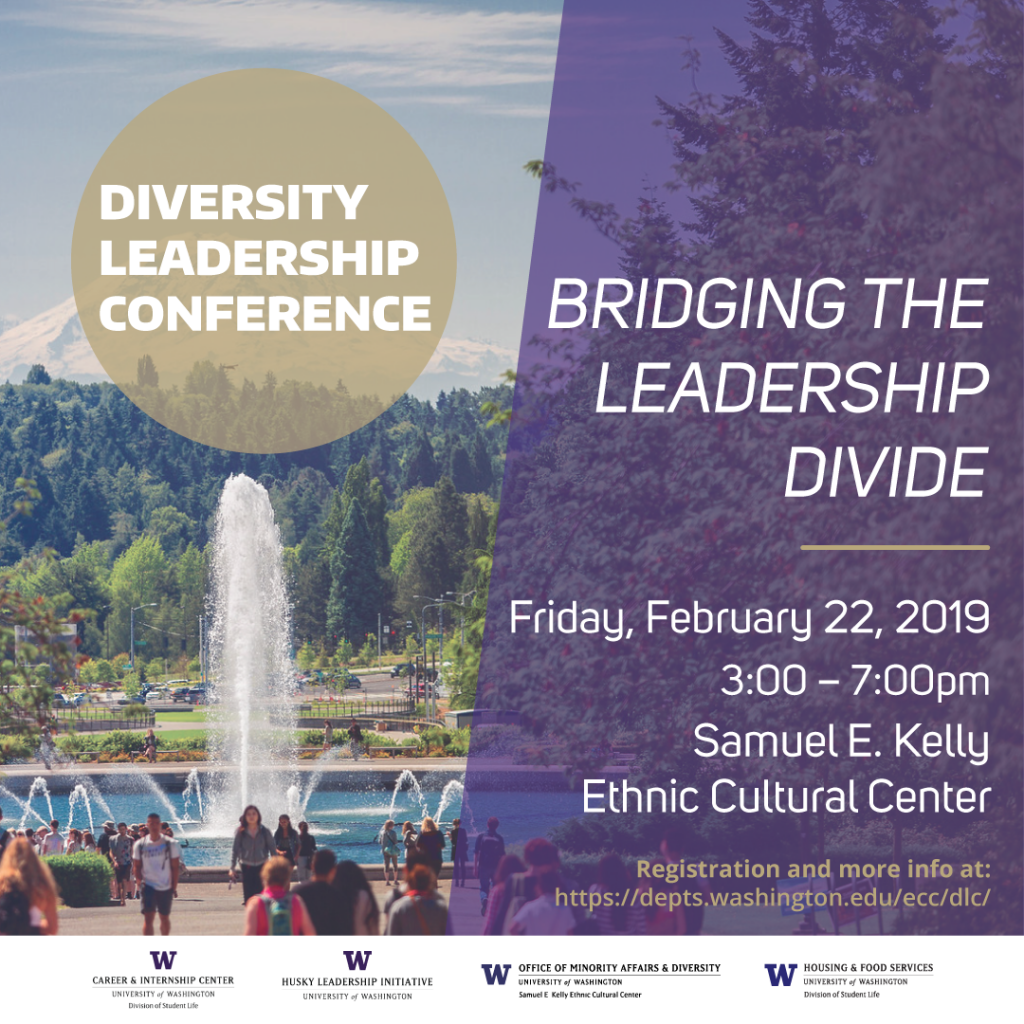 🗓 February 22, 2019   ⏰ 3 pm – 7 pm  📍 Kelly ECC
Registration is open now for the 2019 Diversity Leadership Conference: Bridging the Leadership Divide!
This FREE half-day conference is open to all undergraduate students, and provides an opportunity for skill-building, connection with campus resources and fellow student leaders, and exploration of current and relevant leadership topics and concepts.
Students can elect to participate in the Featured Skill Track (three different sessions all building toward one content area) or the regular Leadership Workshop Track (rotating repeating workshops, all levels and class years). More information on the workshops and conference can be found on the Diversity Leadership Conference website. The event will close with a networking reception with UW on-campus resources (appetizers provided).
Register now!
🗓 Every Wednesday   ⏰ 6:30 PM  📍 Kelly ECC Lobby
Each Wednesday evening, we'll be screening a social justice themed film in the main lobby of the Kelly ECC! We hope to see you there!
January's Focus: Impact on water in our communities
February's Focus: Black History Month
March's Focus: Women's History Month
• January 16: Water & Power: A California Heist
• January 23: The Pursuit of Happyness
• January 30: Drowned Out
• February 6: Through a Lens Darkly: Black Photographers and the Emergence of a People
• February 13: American Promise
• February 20: The African Americans: Many Rivers to Cross
• February 27: Dark Girls
• March 6: Ladies First
• March 13: Neerja
🗓 February 7, 2019   ⏰ 7 PM  📍 Kelly ECC Unity Room
Journey with us through the visual archive of Interdisciplinary Storyteller and Art Director Jessica Rycheal, as she explores the spectrum and intersections of black identity. As demonstrated in her first museum exhibition, EVERYDAY BLACK at the Northwest African-American Museum, Rycheal's work amplifies the depth and humanity of blackness. Her portraiture meets the viewer with an intimacy that makes her subjects feel familiar, like kinfolk. The contemporary photographer invites us into a discussion about how she utilizes photography as critical means to combat the erasure of black history and identity, which the artists views as residual effects of colonialism and slavery.
Framing Blackness: Documenting the Spectrum of Black Identity