Samuel E. Kelly Ethnic Cultural Center
---
In collaboration with the Q Center, UW Housing & Food Services, the UW Women's Center and First Year Programs, the Samuel E. Kelly Ethnic Cultural Center proudly presents the 18th Annual Womxn of Color Celebration (formerly Womxn of Color Reception). Join us on March 9, 2021 at 4PM for a feel-good event where we'll celebrate ourselves, be in community, and envision new futures together. This year's program will feature the captivating Jodi-Ann Burey as our keynote speaker, an interactive q & a and community centered breakout rooms. We hope to see you there!
Join us for the first ever virtual celebration, we look forward to being in community with all all of you!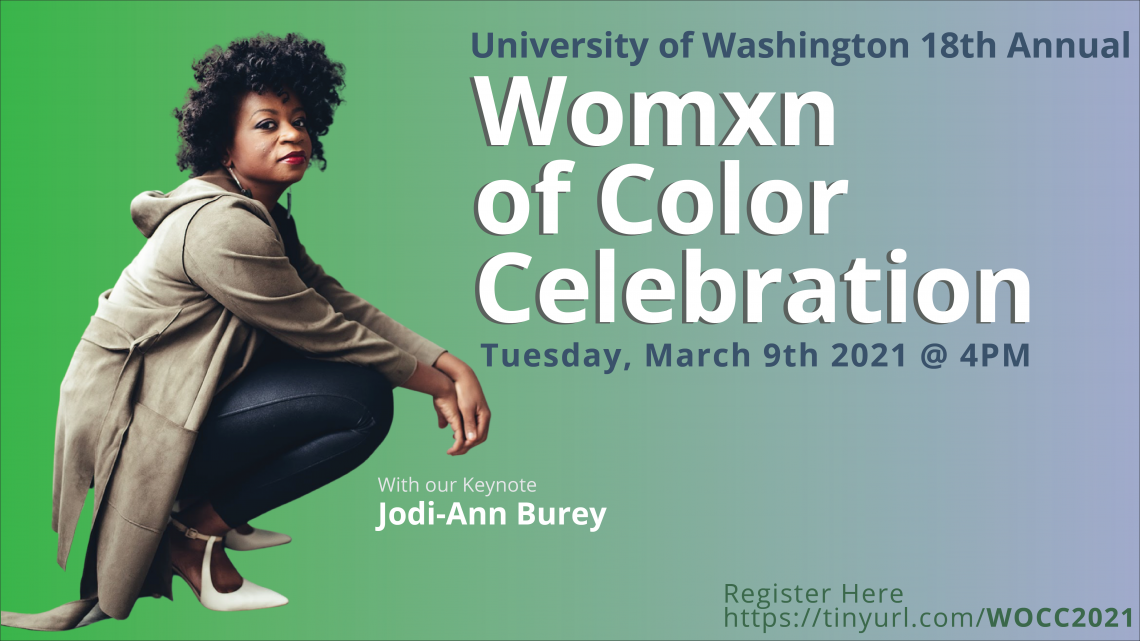 Get to know this year's keynote speaker! Jodi-Ann Burey (she/her) has a mission to disrupt "business as usual" to achieve social change. Her work centers the experiences of historically underrepresented communities. A true multi-hyphenate, Jodi-Ann is a speaker, writer, conversation curator, entrepreneur and educator. You can find her on the TEDx stage spreading her idea worth sharing on "Why You Should Not Bring Your Authentic Self to Work." Jodi-Ann is also the creator and host of Black Cancer, a podcast about the cancer narratives of everyday people of color, which was recently featured on POPSUGAR and NBC – Dallas. Jodi-Ann is also an affiliate instructor at the University of Washington's Communication Leadership graduate program. Jodi-Ann holds a Masters in Public Health from the University of Michigan. She prides herself on being a cool auntie, a twist-out queen, cancer survivor, adventurer and reluctant dog owner. Jodi-Ann is currently working on her first book.
Tuesday, March 9th 
Event starts at 4 PM
*Zoom link is provided after registration
If you have any questions please contact the event lead, Reesha Flavors, reeshf@uw.edu.
---
PAST WOCR SPEAKERS
Kayla Huddleston
Kayla's interest and passion lies in envisioning spectacular futures free from oppression and injustice. After graduating with an undergraduate degree in sociology at the University of Washington, Kayla spent the following two years reading magnificent works of science fiction from Black womxn authors. These works influenced her Master's in Social Work Thesis: Afrofuturism as Applied to Self-Perception, where she assessed how a literary work of science fiction that places black bodies in the center of the narrative, impacted how Black college students perceive themselves. Now, although she spends most of her time working at an institution of higher education and playing with her nephews, Kayla takes every opportunity she gets to guest teach in social work courses on her favorite three things: Social Justice, Science Fiction and Social Work!
Ralina Joseph
Dr. Joseph is a scholar, teacher, and facilitator of race and communication. She is a decorated Professor having already written two books with two more that she's currently working on. Dr. Joseph participates in a wide variety of diversity-related campus issues, including initiating the Department of Communication's Communication and Difference Course arc, founding the University's Center for Communication, Difference, and Equity, and co-founding WIRED (Women Investigating Race, Ethnicity, and Difference), a group for UW tenure-track faculty working in the areas of difference. Dr. Joseph teaches several classes in both the undergraduate and graduate worlds, and not to mention mentors and develops our up and coming intellectuals! Stop by the UBookstore table and support Dr. Joseph's work by purchasing a copy of her new book!
Chera Amlag
Owner and self-taught pastry chef of Hood Famous Bakeshop, Chera enjoys bringing community together around food and utilizing our taste buds to express culture. Growing up in the Pacific Northwest, she found baking with tropical flavors and incorporating them into popular American desserts was not only a homage to her Filipino American identity, but also made for a memorable sweet experience. It's been a playful journey since opening their kitchen doors and a wonderful outlet to meet and collaborate with a larger audience. Most recently, Chera and her husband received the 2015 Visionary Leadership Award from Northwest Asian Weekly for their pop up, and the 2016 International Examiners Readers Choice Award – Best Desserts for Hood Famous Bakeshop.