Wednesday, June 8, 2016, 2:00 p.m., Meany Hall
Register below for the ceremony between May 4th and May 22nd, 2016.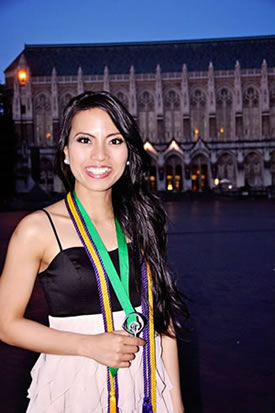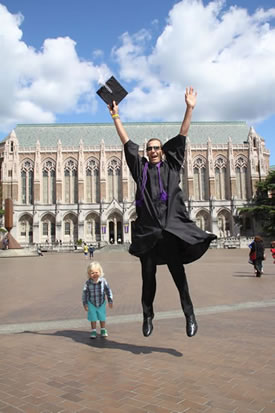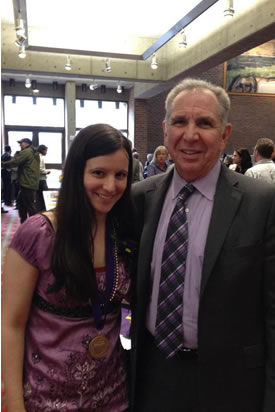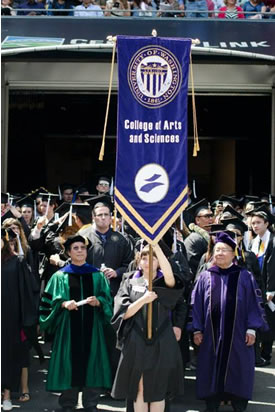 Above, from left: Merzamie Sison "Mimi" Cagaitan, UW English BA with Honors, Dean's Medalist 2013; Jon Collier, UW English BA with Honors 2013; Nicole Guenther, UW English BA with Honors, President's Medalist 2012 (pictured with UW President Michael Young); Shelby Handler, UW English BA with College Honors, Commencement Gonfaloniere 2013.
Who's Eligible to Participate in the June Ceremonies?
Anyone who graduated in December 2015 or March 2016, or who has a graduation application on file for June 2016 or August 2016.
Applying to Graduate
All students, whether they are participating in the ceremonies or not, must apply to graduate by the applicable quarterly deadline in order to have their degrees granted officially by the UW. The final deadline for autumn, winter, and spring quarters is the third Friday of that quarter. For summer quarter graduates, students who want to participate in the June ceremonies must apply, with spring graduates, by the third Friday of spring quarter. Students should see an English adviser to file their graduation applications.

Students who want to use Graduating Senior Priority (GSP) for early registration during their final two quarters must apply much earlier, by the applicable GSP deadlines.
When and Where are the Ceremonies?
English Department Graduation: Wednesday, June 8th, 2016, 2:00pm, Meany Hall. Tickets are required for entrance to Meany Hall. RSVP and order your guest tickets below.
Graduates must arrive at the Little Studio Theatre at Meany Hall by 1:15 pm. Doors to the main stage open at 1:15pm for guests.

UW Commencement: Saturday, June 11th, 2016, Husky Stadium.

Both ceremonies require R.S.V.P registration. Separate registration is required for each ceremony. If you will be attending the English Department ceremony only, please be aware that you will still need to log into the UW Commencement website to order your cap and gown (optional) and any campus parking permits that you may need on Wednesday, June 8th, for yourself or your guests. The English Department cannot order your apparel or parking permits on your behalf. The Commencement website will be open for registration, and for ordering caps and gowns and parking permits for departmental ceremonies, between May 4th and May 22nd, 2016.
How to Register for the Ceremonies
For the English Department ceremony on June 8th, 2016, tickets are required.
Online registration begins on May 4th, 2016. If you have questions, or need to speak with someone, please contact the Advising Office at (206) 543-2634 or engladv@uw.edu.
You will receive invitations for both ceremonies (from the UW and the English Department) in late April/early May. We will also send out announcements over the englmajors e-mail list.
Frequently Asked Questions:
You can request the number of tickets that you need, up to six guest tickets. (There may be more available later on in the process, if other students don't claim all of their eligible tickets.) After you've received confirmation, you should pick up the tickets in person from the English Advising Office. The registration link above will open on May 4th, 2016 and close on May 22nd, 2016.

Baccalaureate honors are based on UW GPA only. Unlike College or Departmental Honors, they do not require that you take any special classes or participate in any special programs. To qualify, students need to earn 90 resident UW credits. At least 60 of those credits must be graded on the decimal grading system. You must meet this year's GPA requirements for the College of Arts and Sciences. These change every year and are based on top GPA percentages for the College.

Cum laude means "with praise"; Magna cum laude means "with great praise"; Summa cum laude means "With highest praise."

Your ability to wear an honor cord at the ceremony is based upon your GPA at the end of winter quarter. The actual honor that appears on your transcript is conferred based on your actual GPA when your degree is officially granted (all of your requirements are satisfied and all grades are in).

Yes. If you earned College Honors or Departmental Honors, you can purchase an honor cord when you order your cap and gown. (Students who qualified at the end of winter quarter for baccalaureate honors can also purchase honor cords.)

Honor cords are purchased through the UW Commencement website.

UW Commencement: No, unless you're earning a doctoral degree (PhD, MD, EdD, etc.). Bachelor's- and Master's-level students will file past the stage by college (Arts & Sciences in your case) and shake hands with the Dean, Provost, or University President.

English Department: Yes. When you complete your online RSVP in May, we will ask you to let us know how you'd like your name read, how to pronounce it, and any other information you'd like us to announce when you cross the stage (e.g., honors, scholarships, acceptances to graduate schools, career information, etc.).

Your diploma will arrive about four months after your degree is granted. It will be mailed to your designated mailing address, so be sure to keep that up to date through MyUW. (Meanwhile, once your degree is officially granted, it will appear on your UW transcript, which you can view through MyUW, and, if you have your records release option set to "YES," it will also be visible through the UW's Degree Validation website.)

Your diploma will list only your name and the type of degree you have earned ("Bachelor of Arts"). It will not list your major(s) or minor(s). These things will appear on your transcript, however, as well as on the UW's Degree Validation website.

Your degree will appear on your transcript (official or unofficial) as soon as it has been granted. Degrees will be backdated for the last day of finals week for the quarter in which you graduate, but it will take the Graduation Office a few weeks to process all of the applications after final grades have been posted. Sit tight! If you haven't seen your degree posted to your transcript after at least six weeks have passed (starting from the last day of final exams week), check in with the English Advising Office.

Your degree will appear on your transcript, and through the UW's Degree Validation website. It will appear on this website only if you have selected "Yes" as your Records Release Option through MyUW

If you owe the UW money (library fines, IMA fees, short-term loan repayments, etc.), the UW will not release your diploma or any official transcripts -- though your degree will still be granted and will still show up on your unofficial transcript through MyUW. If you're not sure whether you owe the UW money, check your student account on MyUW.

Wait until you see that your degree has been granted (check your unofficial transcript on MyUW) before you order an official transcript. Your degree will appear in the upper left section of the transcript. Then, follow the instructions for ordering official transcripts.
Congratulations to this year's graduates!
Please let us know if you have good news to share! We always enjoy hearing about your admission to graduate programs, new jobs, and other exciting plans and endeavors: engladv@uw.edu. Keep in touch with the English Department through our alumni website. We like to hear how you're doing and what you're up to out there in the "real world"!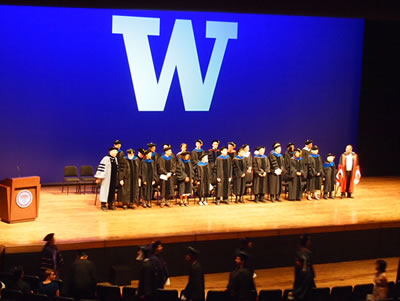 English Department faculty arrive on stage in Meany Hall.
Questions? Please send us an e-mail or call 206.543.2634 for more information.