Cyrus A. Anderson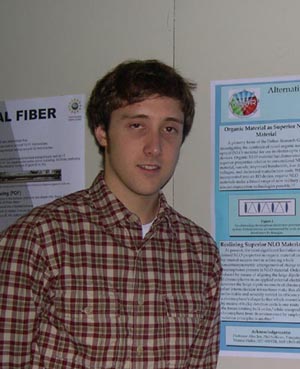 Academic Background
Junior at the University of Washington
B.S. Chemistry (ACS Certified), History Minor, expected December 2006
Goal: Ph. D., Organic Chemistry
Scientific and Career Interests
November 2003-Present- Undergraduate Research Assistant. Focused on the synthesis of novel NLO systems.

Summer 2004- STC MDITR REU
Worked in the Dalton Research group with Dr. Yi Liao in the synthesis and characterization of a NLO polymer. Anderson, C., Liao, Y., Robinson, B. H., Dalton, L. R. "Alternating Polymerization of EZ-FTC and Bis-(3,5)-dibenzyloxybenzyl Alcohol to Improve Site Isolation of NLO Material." 2004, CMDITR Review of Undergraduate Research, 1(1), 12.
Cyrus is interested in pursuing a career in industrial research which applies organic chemistry towards the development of Hi-Tech devices.
Other Interests, Activities and Experience
Vice President of the Alpha Pi chapter of the Phi Kappa Tau fraternity.
Tutor at the UW Chemistry Department undergraduate study center.
Hobbies: home brewing, restoring cars from the 1960's, and fishing.