Karen L. Edwards, PhD, MS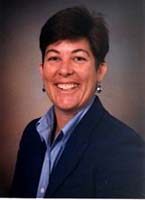 Affiliate Professor, Epidemiology

Dr. Edwards is a Professor of Epidemiology, and is the Director of the Institute of Public Health Genetics an interdisciplinary academic program housed in the School of Public Health (IPHG). The IPHG offers degrees in Genetic Epidemiology and Public Heatlh Genetics. She is also a core faculty member in the Statistical Genetics program at UW and is actively involved in studing genetic and environmental factors involved in a number of diseases, including diabetes, metabolic syndrome, Parkinsons disease and melanoma. Dr. Edwards teaches a graduate level course in genetic epidemiology EPI518/PHG518: Methods and applications in genetic epidemiology, and also a new undergraduate course (PHG301: Introduction to genetic epidemiology). She is also a co-instructor for PHG301: Public Health Genetics: Implications for the modern world. In addition to her teaching and research, she is also actively involved in the translation of genomics to public health practice. Dr. Karen Edwards also serves as the Director of the UW Center for Genomics and Public Health,one of only two centers in the U.S. The goals of the Center are to integrate advances in genetic technology into public health practice and to offer research and educational opportunities for public health students and professionals.
Contact Information
University of California (Irvine)
Department of Epidemiology
Irvine Hall, Room 244-A
Irvine, CA 92697-7550
kedward1@uci.edu

Office: 353410
Institute of Public Health Genetics
Raitt Hall Room 331B
Seattle, WA 98195
Tel: 206-616-1258
Fax: 206-616-0688
keddy@uw..edu

Research Interests
Dr. Edwards' primary research interest is in the area of genetic epidemiology, where she focuses most of her research on diabetes and the metabolic syndrome . However, she works on a broad range of topics and disease areas that also include cardiovascular disease, melanoma and Parkinson's disease. Her work currently involves using family-based approaches and sequencing to identify genetic influences with pleiotropic effects on diabetes and the metabolic syndrome. She is also interested in interactions between environmental factors (diet) and genetic susceptibility to complex disease.
Teaching Interests
Dr. Edwards currently teaches EPI518/PHG518 "Computer Applications in Genetic Epidemiology" offered in the Spring Quarter, , PHG301 "Introduction to Genetic Epidemiology"offered in the Winter Quarter, and PHG300 "PHG: Implications for the modern world" offered in Autumn Quarter.
Education
PhD, Epidemiology, University of Washington 1996
MS, Nutritional Sc, California State University, Chico 1991

Selected Publications

Edwards KL, Wan JY, Hutter CM, Fong PY, Santorico S. Multivariate Linkage Scan for Metabolic Syndrome in families with type 2 diabetes. Obesity. 2011; 19(6):1235-43. PMID: 21183932
Bowen D, Jabson J, Haddock N, Edwards K. Skin Care Behaviors among Melanoma Survivors. Psychooncology. 2011 Jul 21.doi:10.1002/pon.2017. PMID: 21780240.
Edwards KL, Lemke AA, Trinidad SB, Lewis SM, Starks H, Snapinn KW, Griffin MQ, Wiesner GL, Burke W, and the GRRIP Consortium. Genetics Researchers' and IRB Professionals' Attitudes toward Genetic Research Review: A Comparative Analysis. Genet Med. 2012;14(2):236-42. PMID: 22241102
*Hall TO, Doherty-Renz A, Snapinn K, Edwards KL. Awareness and uptake of direct-to-consumer genetic testing among cancer cases, relatives and controls: The Northwest Cancer Genetics Network. Genetic Testing and Molecular Biomarkers, 2012 June 25 (Epub ahead of print) PMID: 22731649
*Wan JY,
Edwards KL
, Santorico SA. Investigating Genetic and Environmental Correlations between Traits of the Metabolic Syndrome in the Multi-Ethnic GENNID Study. Journal of Biostatistics, 2012 In press.
Links
Institute for Public Health Genetics: http://depts.washington.edu/phgen/
UW Center for Genomics and Public Health: http://depts.washington.edu/cgph/
SciVal Experts Page
Last Reviewed on 3/6/2013