Thomas D. Koepsell, MD, MPH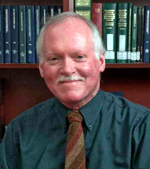 Professor Emeritus, Epidemiology (primary department)
Professor Emeritus, Health Services

Book Author:
Koepsell TD, Weiss NS. Epidemiologic Methods: Studying the Occurrence of Illness. New York: Oxford University Press, 2003

Contact Information
Box 357236
Dept. of Epidemiology

koepsell@u.washington.edu

Research Interests
Before retiring at the end of 2011, Dr. Koepsell's research interests included the epidemiology of non-infectious diseases, especially those of the nervous, musculoskeletal, and cardiovascular systems; injury epidemiology; epidemiology of health conditions common in U.S. veterans; applications of epidemiologic study designs in health services and clinical research; and epidemiologic methods.
Education
MPH, Epidemiology, University of Washington 1979
MD, Harvard Medical School 1972

Selected Publications
Koepsell TD, Rivara FP, Vavilala MS, Wang J, Temkin N, Jaffe KM, Durbin DR. Incidence and descriptive epidemiologic features of traumatic brain injury in King County, Washington. Pediatrics 2011; 128:946–54.

Koepsell TD, Littman AF, Forsberg CW. Obesity, overweight, and their life course trajectories in veterans and non-veterans. Obesity (in press)

Rivara FP, Koepsell TD, Wang J, Temkin N, Dorsch A, Vavilala MS, Durbin D, Jaffe KM. Disability 3, 12, and 24 months after traumatic brain injury among children and adolescents. Pediatrics 2011; 128:e1129–38.

Koepsell TD, Zatzick DF, Rivara FP. Estimating the population impact of preventive interventions from randomized trials. Am J Prev Med 2011; 40:191–8.

Koepsell T, Longstreth WT Jr, Ton T. Medical exposures in youth and the frequency of narcolepsy with cataplexy: a population-based case-control study in genetically predisposed persons. J Sleep Res 2010; 19:80–6.

Guthrie KA, Dugowson CE, Voigt LF, Koepsell TD, Nelson JL. Does pregnancy provide vaccine-Like protection against rheumatoid arthritis? Arthritis Rheum 2010; 62:1842–8.

Links
Click here for Dr. Koepsell's personal web site
Husky SciVal Experts Page