Johanna W. Lampe, PhD, MS, BS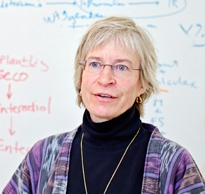 Research Professor, Epidemiology

Dr. Lampe is a member of the core faculty of the Nutritional Sciences Program and a member of the Fred Hutchinson Cancer Research Center.

Contact Information
Fred Hutchinson Cancer Research Center
Box 358080
1100 Fairview Ave N., Arnold Building
PO Box 19024, Mailstop: M4-B402
Seattle, WA 98109-1024
Tel: 206-667-6580
Fax: 206-667-7850
jlampe@fhcrc.org

Affiliations
Nutritional Sciences Program (Core faculty )
Fred Hutchinson Cancer Research Center ( Member )

Research Interests
Dr. Lampe's research interests relate to the mechanisms by which components of diet, particularly constituents of plant food, alter susceptibility to and risk of cancer. Her primary research activities include using controlled dietary interventions in humans to determine how individual variation in biochemical response to high-plant food diets (e.g., biotransformation enzyme modulation, colonic environment changes) may explain differences in disease risk. The Lampe lab also studies the effect of diet on gut microbial community and the relationship of the gut microbiome to biomarkers of cancer risk and routinely measures isoflavones, lignans, and other biomarkers of plant-food intake for population-based studies.
Education
PhD, Nutritional Science, University of Minnesota 1990
MS, Nutrition, University of Minnesota 1986
BS, Nutritional Science, University of Minnesota 1982

In the news
Low-glycemic-load foods may reduce inflammation in overweight adults (03/02/2012)