Charlie Mock, MD, PhD, MPH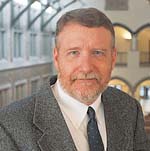 Professor, Surgery (primary department)
Professor, Epidemiology
Professor, Global Health

Contact Information
Office: 4034
Box 359960
Director of Global Health Minor
Harborview Injury Prevention & Research Center
401 Broadway, 4th Floor
Seattle, WA 98104
Tel: 206-744-9430
Fax: 206-744-9962
http://depts.washington.edu/hiprc/
cmock@u.washington.edu

Research Interests
Dr. Mock's interest are in epidemiology of injuries, especially in developing countries; surgical and trauma outcomes; treatment of injuries.
Teaching Interests
Mentoring of students with interests in injury prevention and trauma care in setting of low- and middle-income countries.
Education
PhD, Epidemiology, University of Washington, SPH 1997
MPH, Epidemiology, University of Washington, SPH 1994
MD, Brown University 1980

Projects
Collaborative Head InjuRy and Adherence to Guidelines (CHIRAG) Study


Collaborative Training Grant with Hanoi School of Public Health


Strengthening Training for Injury Control


Selected Publications
Mock C, Quansah R, Krishnan R, Arreola Risa C, Rivara F. Strengthening the prevention and care of injuries worldwide. The Lancet 2004; 363: 2172-2179.

Mock C, Nguyen S, Quansah R, Arreola-Risa C, Viradia R, Joshipura M. Evaluation of trauma care capabilities in four countries using the WHO-IATSIC Guidelines for Essential Trauma Care. World Journal of Surgery 2006; 30: 946-956.

Links
SciVal Experts Page