Ali Rowhani-Rahbar, MD, MPH, PhD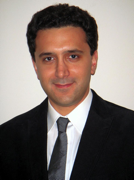 Assistant Professor, Epidemiology

Contact Information
University of Washington
Office: F-262B
Box 357236
Department of Epidemiology
Health Sciences
Seattle, WA 98195
Tel: 206-221-1602
Fax: 206-543-8525
rowhani@uw.edu

Research Interests

Dr. Rowhani-Rahbar has been a member of the faculty in the Department of Epidemiology since 2012. Prior to joining the University of Washington, he served as a postdoctoral scholar in the Department of Pediatrics at Stanford University, and subsequently completed a CDC-sponsored national vaccine safety research fellowship program during which he studied the epidemiology of injuries and adverse events following immunization among children and adolescents. The main goals of his research are to: (1) evaluate vaccine safety, effectiveness, and utilization; and (2) generate epidemiologic evidence with translational potential for the development of safety interventions designed to prevent child and adolescent injury, and improve its outcomes. His methodologic work involves the assessment of acute events following transient exposures using self-controlled designs.
Teaching Interests
Dr. Rowhani-Rahbar co-teaches EPI 512 "Epidemiologic Methods I" in the Autumn Quarter and EPI 513 "Epidemiologic Methods II" in the Winter Quarter.
Education
PhD, Epidemiology, University of Washington, School of Public Health 2009
MPH, Epidemiology, Yale University, School of Public Health 2005
MD, Mashhad University of Medical Sciences (Iran), School of Medicine 2002

Selected Publications

Rowhani-Rahbar A, Klein NP, Dekker CL, Edwards KM, Marchant CD, Halsey NA, Vellozzi CJ, Fireman B, Sejvar JJ, Baxter R, and the Risk Interval Working Group of the Clinical Immunization Safety Assessment Network. Biologically plausible and evidence-based risk intervals in immunization safety research. Vaccine 2012;31:271-7.
Rowhani-Rahbar A, Klein NP, and Baxter R. Assessing safety of influenza vaccination in specific populations: children and the elderly. Expert Rev Vaccines 2012;11:973-84.
Rowhani-Rahbar A, Klein NP, Lewis N, Fireman B, Ray P, Rasgon B, Black S, Klein JO, Baxter R. Immunization and Bell's palsy in children: A case-centered analysis. Am J Epidemiol 2012;175:878-85.
Klein NP, Bartlett J, Rowhani-Rahbar A, Fireman B, Baxter R. Waning protection after fifth dose of acellular pertussis vaccine in children. N Engl J Med 2012;367:1012-9.
Troy SB, Rowhani-Rahbar A, Dyner L, Musingwini G, Shetty A, Woelk G, Stranix-Chibanda L, Nathoo K, Maldonado YA. Hematologic and immunologic parameters in Zimbabwean infants: A case for using local reference intervals to monitor toxicities in clinical trials. J Trop Pediatr 2012;58:59-62.
In the news
Effect of Age on the Risk of Fever and Seizures Following Immunization With Measles-Containing Vaccines in Children (JAMA Pediatrics)

Last Reviewed on 9/24/2013