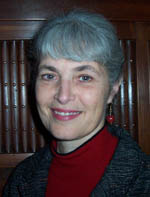 Affiliate Professor, Epidemiology


Senior Program Officer, PATH


Director, HPV Vaccines Project
Associate Director, Reproductive Health

Contact Information
PATH
Reproductive Health
1455 NW Leary Way
Seattle, WA 98107-5136
Tel: 206-285-3500
Fax: 206-285-6619
http://www.path.org
vtsu@u.washington.edu

Research Interests
Dr. Tsu's work is focused on practical applications of epidemiology in low-resource countries to evaluate new public health interventions. She has conducted research in Indonesia, Kenya, Nepal, Peru, Ukraine, and Viet Nam.
Women's reproductive health, especially prevention and control of women's cancers (breast and cervix) in low-resource settings. Program evaluation. Maternal and newborn health, especially evaluation of new technologies for low-resource settings.
Education
PhD, Epidemiology, University of Washington 1991
MPH, International Health, University of California Los Angeles 1977

Selected Publications
Lewis KDC, Tsu VD, Dawa A, Kidula NA, Chami IN, Sellors JW. A comparison of triage methods for Kenyan women who screen positive for cervical intraepithelial neoplasia by visual inspection of the cervix with acetic acid. Cancer Detection and Prevention Journal, 2007 (in press).

Tsu VD, Luu HTT, Mai TTP. Does a prefilled Unijec (TM) injection device make postpartum oxytocin easier to administer? Results from midwives in Vietnam. Midwifery, 2007 (in press).

Almonte M, Ferreccio C, Winkler JL, Cuzick J, Tsu V, Robles S, Takahashi R, Sasieni P. Cervical screening by visual inspection, HPV testing, liquid-based and conventional cytology in Amazonian Peru. International Journal of Cancer, 2007 (in press).

Tsu VD, Mai TTP, Nguyen YH, Luu HTT. Reducing postpartum hemorrhage in Vietnam: Assessing the effectiveness of active management of third-stage labor. Journal of Obstetric and Gynaecological Research, 32: 489-96, 2006.

Anderson BA, Yip C-H, Ramsey SD, Bengoa R, Braun S, Fitch M, Groot M, Sancho-Garnier H, Tsu VD. Breast cancer in limited-resource countries: Health care systems and public policy. The Breast Journal, 12 (suppl. 1): S54-S69, 2006.

Last Reviewed on 5/15/2012