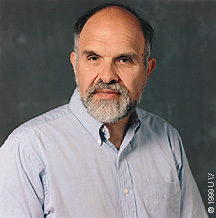 Professor, Epidemiology


Member, Fred Hutchinson Cancer Research Center

Dr. Weiss was Chairman of the Dept.of Epidemiology, School of Public Health and Community Medicine from 1984-1993.
Contact Information
Office: F-261A
Box 357236
Dept. of Epidemiology
1959 NE Pacific Street
Health Sciences F-261A
Tel: 206-685-1788
Fax: 206-543-8525
nweiss@uw.edu

Fred Hutchinson Cancer Research Center
Box 358080
1100 Fairview Ave N, Building M
PO Box 19024, Mailstop: M4-C308
Seattle, WA 98109-1024
Tel: 206-667-4626
Fax: 206-667-5948
http://www.fhcrc.org/

Research Interests
Cancer epidemiology; epidemiologic methods; clinical epidemiology
Dr. Weiss' research is primarily in the area of cancer epidemiology. Part of his time is devoted to the study of epidemiologic methods and of the application of these methods to the understanding of the determinants of the outcome of illness.
Teaching Interests
Dr. Weiss currently co-teaches the introductory series EPI 512 "Epidemiologic Methods I" in Autumn Quarter and EPI 513 "Epidemiologic Methods II" in Winter Quarter

He also teaches EPI 542 "Clinical Epidemiology" offered in Summer Quarter and EPI 582 "Design and Analytic Strategies to Enhance the Validity of Epidemiologic Studies"offered in Winter Quarter.

Education
DrPH, Epidemiology, Harvard University 1971
MD, Medicine, Stanford University 1967