Marcia Swanson Williams, PhD, MPH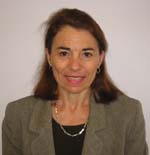 Senior Lecturer, Epidemiology
Adjunct Senior Lecturer, Rehabilitation Medicine

Contact Information
University of Washington
Box 357230
Maternal & Child Health Program
Health Sciences, F-351
Seattle, WA 98195
Tel: 206-685-0481
Fax: 206-616-8370
marwill@u.washington.edu

Research Interests

Dr. Williams joined the Department of Epidemiology in January 1, 2003. She is a pediatric physical therapist. Her research focuses on early identification of neuromotor abnormalities in pre term infants, as well as the developmental consequences of in utero cocaine exposure.
Etiology of cerebral palsy in low birth weight infants
Effects of prenatal exposure to methamphetamine on the developmental outcome of children
Risk factors for clubfoot deformity in infants
Teaching Interests
Dr. Williams has been a guest lecturer in both the Department of Rehabilitation Medicine and the Department of Epidemiology. She co-teaches Epidemiology 592C (Maternal and Child Health Research Seminar) and Epidemilogy 521S (Epidemiology of Material and Child Health Problems).
Education
PhD, Epidemiology, University of Washington 2000
MPH, Epidemiology, University of Washington 1992