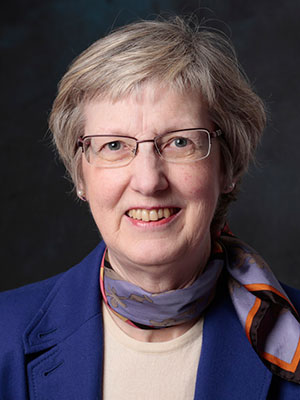 Senior Associate Dean, School of Public Health
Professor, Epidemiology
Adjunct Professor, Health Services

Education
PhD
Epidemiology, University of London (UK), 1981
MSc
Statistics, University of Sussex (UK), 1971
MA
Mathematics, University of Cambridge, 1974
Contact Info
Box 357230
School of Public Health
F-358 B Health Sciences Building
Seattle, WA 98195
Tel: 206-543-9512
beresfrd@uw.edu
Fred Hutchinson Cancer Research Center
Office M4_B845
Box 358080
Cancer Prevention, Arnold Building
1100 Fairview Ave N.,
PO Box 19024, Mailstop: M3-B232
Seattle, WA 98109
Tel: 206-667-4793

Dr. Beresford has more than forty years of experience in socio-medical and epidemiological research. She is well known for her leadership role in the Women's Health Initiative, particularly of the Dietary Modification Advisory Committee, and of the WHI Seattle Clinical Center, and remains active in that study as part of the Publications and Presentations Committee and of the Clinical Coordinating Center. She has also made a significant contribution in studies directly aimed to reduce health disparities. Dr. Beresford has directed five different worksite randomized trials of community and individual interventions to improve dietary choices and reduce obesity, especially among blue collar worksites. Her work in socioeconomic disparities in obesity has contributed to her strong reputation in multilevel studies and in mediation analyses, leading to additional multilevel intervention studies with Latinas and with members of the Navajo Nation. She has published more than 200 articles on chronic disease with nutritional, behavioral or socio-behavioral areas of focus.
I am Professor of Epidemiology at the University of Washington, with additional appointments in health services and nutritional sciences, and am a full member at the Fred Hutchinson Research Center. I am an expert on nutritional epidemiology, social determinants of health, methods of research, and prevention/health promotion. I bring more than forty years of experience in sociomedical and epidemiological research, first as a medical statistician and then as an epidemiologist.
Projects
Worksite randomized trials of behavioral interventions
Socioeconomic status and Obesity in women
Women's Health Initiative
Nutrition and Physical Activity Assessment
Breast cancer disparities in Latinas
Cancer-related public health interventions in underserved communities
Links
Research Interests
Dr. Beresford's research interests are in the areas of nutritional epidemiology and chronic disease prevention. Her work is specifically designed to improve the scientific basis for public health policy and recommendations concerning dietary intake, physical activity and intake of folic acid levels. She has been Principal Investigator on numerous individual and group randomized trials of dietary behavior intervention.

Dr. Beresford has been an investigator with the Women's Health Initiative since its inception, contributing to the intervention design in the Dietary Modification trial, and is lead author of one of the primary results papers of the randomized trial, namely the low fat dietary pattern and risk of colorectal cancer. She was a member of the Committee on Identifying and Assessing Unintended Effects of Genetically Engineered Foods on Human Health, National Academy of Sciences, 2002 2004, and an invited speaker at the Institute of Medicine's workshop on Managing Food-related Risks in 2005. She served as President of the American Epidemiological Society from 2007 to 2008.

In 2015, she was elected to the Washington State Academy of Sciences.

Her research focus in the science of changing behavior on a population level has involved many interdisciplinary collaborations. The development and evaluation of obesity prevention interventions in worksites, using rigorous group randomized trial design and collaborative principles with participating worksites, provides one such example. She remains active in worksite based health promotion research, in methodological studies related to nutrition and physical activity assessment, and has NCI funding in health disparities research in cancer population based studies, including working with Latinas and Native Americans.
Teaching Interests
Dr. Beresford founded and now co-teaches the course EPI 538/NUTR 538, "Nutritional Epidemiology" currently offered in Autumn quarter. She co-authored the book chapter entitled Nutritional Epidemiology in the recent series in Public Health Nutrition. Offered in Winter quarter, she co-teaches EPI 548/HSERV 548, "Social Determinants of Health: Research Methods."
Publications
Bowen D, Barrington WE, Beresford SAA. Identifying the effects of environmental and policy change interventions on healthy eating. Ann Rev of Public Health.2015;36:289-306

Curl CL, Beresford SA, Fenske RA, Fitzpatrick AL, Lu C, Nettleton JA, Kaufman JD. "Estimating Pesticide Exposure from Dietary Intake and Organic Food Choices: The Multi-Ethnic Study of Atherosclerosis (MESA)". Environ Health Perspect. 2015 Feb 5. [Epub ahead of print]

Barrington WE, Beresford SA, Koepsell TD, Duncan GE, Moudon AV. "Worksite Neighborhood and Obesogenic Behaviors: Findings Among Employees in the Promoting Activity and Changes in Eating (PACE) Trial." Am J Prev Med. 2015; 48(1): 31-41

Hastert TA, Beresford SA, Sheppard L, White E. "Disparities in cancer incidence and mortality by area-level socioeconomic status: a multilevel analysis." J Epidemiol Community Health. 2015; 69: 168-176

Coronado GD, Jimenez R, Martinez-Gutierrez J, McLerran D, Ornelas I, Patrick D, Gutierrez R, Bishop S, Beresford SA. "Multi-level Intervention to increase participation in mammography screening: ¡Fortaleza Latina! study design". Contemp Clin Trials 2014;38(2):350-354

Zheng C, Beresford SA, Van Horn L, Tinker LF, Thomson CA, Neuhouser ML, Di C, Manson JE, Mossavar-Rahmani Y, Seguin R, Manini T, LaCroix AZ, Prentice RL. "Simultaneous association of total energy consumption and activity-related energy expenditure with risks of cardiovascular disease, cancer, and diabetes among postmenopausal women". Am J Epidemiol 2014; 180(5):526-535.

Cash SW, Beresford SA, Vaughan TL, Heagerty PJ, Bernstein L, White E, Neuhouser ML. "Recent physical activity in relation to DNA damage and repair using the comet assay." J Phys Act Health 2014; 11(4): 770-776

Molina Y, Beresford SA, Espinoza N, Thompson B. "Psychological distress, social withdrawal, and coping following receipt of an abnormal mammogram among different ethnicities: a mediation model." Oncol Nurs Forum 2014; 41(5): 523-532.

Luo J, Beresford S, Chen C, Chlebowski R, Garcia L, Kuller L, Regier M, Wactawski-Wende J, Margolis KL. "Association between diabetes, diabetes treatment and risk of developing endometrial cancer." Br J Cancer. 2014; 111(7): 1432-1439.

Barrington WE, Beresford SA, McGregor BA, White E. "Perceived Stress and Eating Behaviors by Sex, Obesity Status, and Stress Vulnerability: Findings from the Vitamins and Lifestyle (VITAL) Study." J Acad Nutr Diet. 2014 May 12 [Epub ahead of print]

Molina Y, Hohl SD, Ko LK, Rodriguez EA, Thompson B, Beresford SA. "Understanding the Patient-Provider Communication Needs and Experiences of Latina and Non-Latina White Women Following an Abnormal Mammogram." J Cancer Educ. 2014 Apr 22. [Epub ahead of print]

Tamers SL, Thompson B, Cheadle AD, Zheng Y, Bishop SK, Beresford SA. "Promoting Changes in Obesogenic Behaviors: Does Coworker Social Support Play a Role?" Am J Health Promot. 2014 Mar 26. [Epub ahead of print]

Hastert TA, Beresford SA, Sheppard L, White E. "Adherence to the WCRF/AICR cancer prevention recommendations and cancer-specific mortality: results from the Vitamins and Lifestyle (VITAL) Study." Cancer Causes Control. 2014; 25(5):541-552. [PMC in progress]

Harris JR, Hannon PA, Beresford SA, Linnan LA, McLellan DL "Health promotion in smaller workplaces in the United States". Annu Rev Public Health 2014;35:327-342 [PMC in progress]

Bae S, Ulrich CM, Bailey LB, Malysheva O, Brown EC, Neuhouser ML, Cheng TY, Miller JW, Zheng Y, Xiao L, Hou L, Song X, Buck K, Beresford SA, Caudill MA. "Impact of folic acid fortification on global DNA methylation and one-carbon biomarkers in the Women's Health Initiative Observational Study cohort." Epigenetics 2014; 9(3): 396-403. [PMC in progress

Curl CL, Beresford SA, Hajat A, Kaufman JD, Moore K, Nettleton JA, Diez-Roux AV. "Associations of Organic Produce Consumption with Socioeconomic Status and the Local Food Environment: Multi-Ethnic Study of Atherosclerosis (MESA)." PLoS One. 2013 Jul 31;8(7):e69778

Lombard KA, Beresford SA, Ornelas IJ, Topaha C, Becenti T, Thomas D, Vela JG. "Healthy Gardens/Healthy Lives: Navajo Perceptions of Growing Food Locally to Prevent Diabetes and Cancer." Health Promot Pract. 2014; 15(2): 223-231 [PMC in progress

Hastert TA, Beresford SA, Patterson RE, Kristal AR, White E "Adherence to WCRF/AICR Cancer Prevention Recommendations and Risk of Postmenopausal Breast Cancer." Cancer Epidemiol Biomarkers Prev. 2013; 22(9) 1498-1508. [PMC in progress]

Anderson CA, Beresford SA, McLerran D, Lampe JW, Deeb S, Feng Z, Motulsky AG "Response of serum and red blood cell folate concentrations to folic acid supplementation depends on methylenetetrahydrofolate reductase C677T genotype: Results from a crossover trial." Mol Nutr Food Res. 2013; 57(4): 637-644. [PMC in progress]

Miller JW, Beresford S, Neuhouser M, Cheng T-YD, Song X, Brown E, Zheng Y, Rodriguez B, Green R, Ulrich C. Homocysteine, cysteine and risk of incident colorectal cancer in the Women's Health Initiative Observational Cohort. American Journal of Clinical Nutrition 2013 97(4):827-834. [PMC3607656]

Fretts AM , Howard BV, McKnight B, Duncan GE, Beresford SA, Mete M, Eliat-Adar S, Zhang Y, Siscovick DS. Associations of processed meat and unprocessed red meat intake with incident diabetes: the Strong Heart Family Study. Am J Clin Nutr 2012; 95(3) 752-758. [PMC3278249]

Cash SW, Beresford SA, Henderson JA, McTiernan A, Xiao L, Wang CY, Patrick DL. Dietary and physical activity behaviours related to obesity-specific quality of life and work productivity: baseline results from a worksite trial. Br J Nutr. 2011; 6:1-9 PMID: 22142517.
Tamers SL, Beresford SA, Cheadle AD, Zheng Y, Bishop SK, Thompson B. The association between worksite social support, diet, physical activity and body mass index. Prev Med. 2011 53(1-2):53-6. PMC3143200.

Kong A, Beresford SA, Alfano CM, Foster-Schubert KE, Neuhouser ML, Johnson DB, Duggan C, Wang CY, Xiao L, Bain CE, McTiernan A. Associations between Snacking and Weight Loss and Nutrient Intake among Postmenopausal Overweight to Obese Women in a Dietary Weight-Loss Intervention. J Am Diet Assoc. 2011; 111(12):1898-903. PMID: 22117666

Prentice RL, Mossavar-Rahmani Y, Huang Y, Van Horn L, Beresford SA, Caan B, Tinker L, Schoeller D, Bingham S, Eaton CB, Thomson C, Johnson KC, Ockene J, Sarto G, Heiss G, Neuhouser ML. Evaluation and comparison of food records, recalls, and frequencies for energy and protein assessment by using recovery biomarkers. Am J Epidemiol. 2011 Sep 1;174(5):591-603. PMC3202154.

Beresford SA, Thompson B, Bishop S, Macintyre J, McLerran D, Yasui Y. "Long-term fruit and vegetable change in worksites: Seattle 5 a Day follow-up." Am J Health Behav. 2010; 34(6):707-20.

Beresford SAA, Bishop SK, Brunner NL, Duncan GE, McGregor BA, McLerran DF, West B, Thompson B. "Environmental assessment at worksites after a multilevel intervention to promote activity and changes in eating: the PACE project." J Occup Environ Med. 2010; 52 Suppl 1:S22-S28.
In The News
UW SPH Leaders Call for Prison Divestment
UW School of Public Health News, 07/18/2016
SPH Responds to Orlando Violence: Shock, Grief & Public Health Questions
UW School of Public Health News, 07/06/2016
Orlando Massacre - Shock, Grief and Public Health Questions
UW School of Public Health News, 06/17/2016