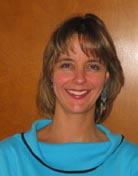 Affiliate Professor, Epidemiology


VP, Wellness Programming
Education
PhD
Physiological Psychology, Emory University, 1988
MA
Physiological Psychology, Emory University, 1986
Contact Info
Wellness Sciences, LLC
411 First Ave South, Suite 600
Seattle, WA 98104
Tel: 206-288-1712
jlovejoy@maveron.com
Dr. Jennifer Lovejoy's major research interests are behavioral interventions for managing obesity and preventing obesity-related chronic diseases such as Type 2 diabetes. Dr. Lovejoy's early research focused on differences in insulin resistance and other metabolic factors in Caucasian vs. African-American populations, particularly women. She also conducted a series of controlled feeding studies examining the effect of various dietary fatty acids on insulin resistance and risk for obesity. As Chief of the Women's Nutrition Research Program at the Pennington Biomedical Research Center in Louisiana, Dr. Lovejoy was funded by NIH to conduct a 7-year longitudinal study of the impact of hormonal changes during the menopause transition on body fat, fat distribution, and health risk factors in women. More recently, she has studied technological approaches to delivering behavioral weight loss programs, including use of the Internet and interactive broadband cable television to facilitate weight loss interventions in medically-underserved populations. Currently, she is collaborating with the Institute for Systems Biology on a project looking at integrating genetic, laboratory, microbiome and behavioral data to optimize wellness and prevent disease.
Links
http://research.systemsbiology.net/100k/
Research Interests
My research program is focused on behavioral and lifestyle approaches to treat and manage obesity, especially the use of large-scale internet and phone-based interventions and worksite weight management programs. Sex differences and the impact of obesity in under-served populations are also a focus of my work.
Publications
Lovejoy JC. (2013) Integrative approaches to obesity treatment. Integrative Med 12(2): 30-36.

McCrory MA, Hamaker BR, Lovejoy JC, Eichelsdoerfer PE. (2010) Pulse consumption, satiety, and weight management. Adv Nutr 1:1-15.

Lovejoy JC, Sainsbury A, the Stock 2008 Working Group. (2009) Sex Differences in Obesity and the Regulation of Energy Homeostasis. Obesity Reviews 10: 154

Lovejoy JC, Champagne C, DeJonge L, Xie H, Smith SR. (2008) Decreased physical activity and increased visceral fat during the menopausal transition. Int J Obesity 32(6):949-58

Mayer-Davis EJ, Sparks KC, Hirst K, Costacou T, Lovejoy JC, et al. (2004) Dietary intake in the Diabetes Prevention Program cohort: Baseline and 1-year post-randomization. Ann. Epidemiol.14(10):763-72.

Lovejoy JC, Champagne CM, Smith SR, DeJonge L, Xie H. (2001) Ethnic differences in dietary intakes and energy expenditure in middle-aged premenopausal women: the Healthy Transitions Study. Am. J. Clin. Nutr. 74: 90-95.

Lovejoy JC, Champagne CM, Smith SR, DeLany JP, et al. (2001) Relationship of dietary fat and serum cholesterol ester and phospholipid fatty acids to markers of insulin resistance in men and women with a range of glucose tolerance. Metabolism 50: 86-92.