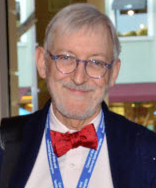 Clinical Associate Professor, Epidemiology

Education
PhD
Epidemiology, University of Washington, 1994
MPH
Community Medicine, University of Washington, 1981
BA
Biology, University of Massachusetts, 1977
Contact Info
William Farr Applied Epidemiology
USPS: PO Box 2749
Vashon, WA 98070
Tel: 206-463-7563
scmacdo@uw.edu
Dr Macdonald is principal consultant with William Farr Applied Epidemiology. He has previously worked as a health policy analyst at the University of Washington (UW) School of Public Health, as a research scientist in preventive medicine at the UW School of Medicine, as an epidemiologist in the Surveillance Branch at the CDC National Center for Environmental Health in Atlanta, and as a surveillance epidemiologist at the Washington State Department of Health.

Dr Macdonald was awarded fellowships in Health Services Research, and Environmental Pathology & Toxicology. He has taught courses in public health practice, and public health surveillance.

Dr Macdonald has served on the Executive Committee of the Council of State & Territorial Epidemiologists (CSTE), co-chaired the Intergovernmental CDC-CSTE Data Release Guidelines Workgroup, and chaired the CSTE Surveillance Coordination Group. He is a former chair of the Injury Control & Emergency Health Services section of American Public Health Association, and former member of the board of directors for the American Trauma Society. He received the Pumphandle Award from CSTE "for outstanding achievement in the field of applied epidemiology" in 2015.
Research Interests
Public health surveillance: surveillance data systems development, surveillance system evaluation, differentiating research activities from surveillance activities. Data sharing and data release policies and practices.
Teaching Interests
Public health surveillance; data standards development. Public health policy analysis. Public health informatics-epidemiology synergies (web-based data query systems, electronic case reporting, matching and record linkage).
Publications
Jajosky R, Rey A, Park M, Aranas A, Macdonald S, Ferland L. Findings from the Council of State and Territorial Epidemiologists' 2008 assessment of state reportable and nationally notifiable conditions in the United States and considerations for the future. J Public Health Manag Pract 2011 May-Jun;17(3):255-64.

Graber JM, Macdonald SC, Kass DE, Smith AE, Anderson HA. Carbon Monoxide: The case for environmental public health surveillance. Public Health Rep. 2007 Mar-Apr;122(2):138-44.

Ball LB, Macdonald SC, Mott JA, Etzel RA. Carbon monoxide-related injury estimation using ICD-coded data: Methodologic implications for public health surveillance. Arch Environ Occup Health. 2005 May-Jun;60(3):119-27.

Mott JA, Wolfe MI, Alverson CJ, Macdonald SC, Bailey CR, Ball LB, Moorman JE, Somers JH, Mannino DM, Redd SC. National vehicle emissions policies and practices and declining US Carbon Monoxide-related mortality. JAMA 2002;288(8):988-95.





In The News
SPH Faculty Member Wins Pumphandle Award
UW School of Public Health News, 07/10/2015