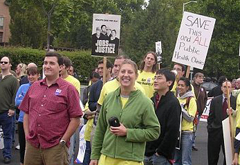 Students from the "Students in the Community" project advocate for better health care for the underserved.
Quick Links:
UP Introduction and Requirements Webinar
Prospective students, apply now!
Prospective mentors, apply now!
Faculty Advisors
Sharon Dobie, M.D., M.C.P.
Email: dob@uw.edu
David Evans, M.D.
Email: evansd9@uw.edu
Tom Greer, M.D., M.P.H.
Email: tomgreer@uw.edu
Program Coordinator
Jaime L. Fitch
Email: upath@uw.edu
206.543.9425
NEW

UP Info & Requirements for E15 Students here
.
UP Info & Requirements for E14 (and before) Students here.
NEW UP Mentor Guide here.
NEW UP Mentor Memo: Fall 2015 here.
NEW UP Student Memo: Fall 2015 here.
The public may view Underserved Pathway modules here.
The Underserved Pathway helps prepare future physicians to care for vulnerable and underserved populations. The Pathway engages students in three educational avenues: mentoring, developing a foundation of knowledge, and a variety of real-world experiences. Vulnerable describes people that are at risk for poor health outcomes due to difficulty accessing the necessary resources for optimal health while underserved refers specifically to the difficulty that people face accessing quality health care.Students can customize their pathway to meet their own educational goals and interests – some may focus on a specific population or community while other may explore broader issues surrounding the underserved such as advocacy or policy.The Underserved Pathway works closely with the other School of Medicine Pathways: The
Indian Health Pathway
, the
Global Health Pathway
, and the
Hispanic Health Pathway
.
Pathway Benefits
 Preclinical, clinical, and service learning experiences with underserved and vulnerable populations.
 Guidance and support from an Underserved Pathway mentor.
 Unique web-based curriculum to build a knowledge base about issues that affect underserved and vulnerable populations not typically covered in the medical school curriculum.
Dedicated Underserved Pathway advisors including faculty physicians and a program coordinator.
Opportunities to collaborate with other students interested in careers working with underserved populations.
Certificate of Completion upon successful completion of Pathway requirements, given at graduation.
Acknowledgment in Hooding Ceremony program
Recognition in Medical Student Performance Evaluation (MSPE/Dean's Letter)