Spring Ahead
Professor Billie J. Swalla, Interim Director of FHL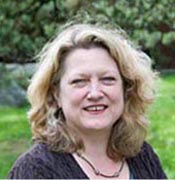 We've started Daylight Savings Time, and everyone suffers a small case of jetlag as their biological clocks shift to adjust with the daylight hours. It's always interesting to me as a biologist that my body senses light and adjusts my internal neural and digestive rhythms accordingly. We work most productively when we are in sync, so I hope that we all sync up soon. Read more...
From the Advancement Board
Kevin Schofield, Chair of the FHL Advancement Board
I'm very excited by the work I see happening at Friday Harbor Labs these days. To me, it points to the important role of the Labs within the College of the Environment, UW, our region, and indeed the world. Read more...
Japan/U.S. Scholar Exchange Program in Japan
Dr. Trish Morse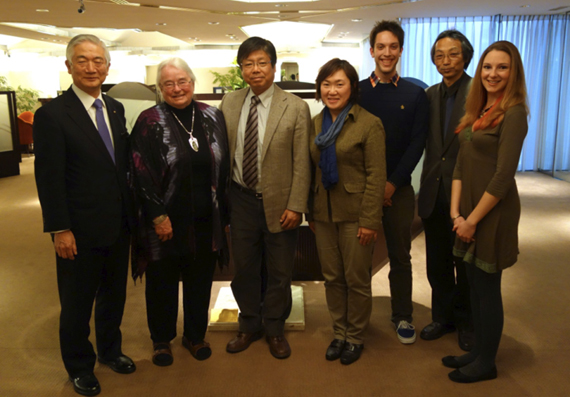 From March 3 to March 7, 2014 a research-intensive course was given at the Misaki Marine Biological Station (MMBS) on the northern Coast of Sagami Bay in Japan. MMBS, associated with the University of Tokyo, is a partner with FHL in the Exchange Scholarship Program. Utilizing all my United miles, I ventured to Tokyo to witness the first US to Japan exchange involving two students, Lauren Vandepas, a Ph.D candidate in Billie Swalla's Laboratory and Michael Tassia, a UW undergraduate who also works in the Swalla laboratory as well as Carolyn Friedman's laboratory on the UW campus. Read more...
Friday Harbor Laboratories Science Outreach Program
Jenny Roberts, FHL K-12 Program
FHLSOP staff, Jenny Roberts and Kari Koski, are kicking off their very busy spring season engaging students in the process of science. This week we are preparing the 4th Grade students from FHES for their Chinook Salmon release into False Bay Creek. Read more...
The OACIS GK-12 Program Completes its Five Year Mission
Professor Ken Sebens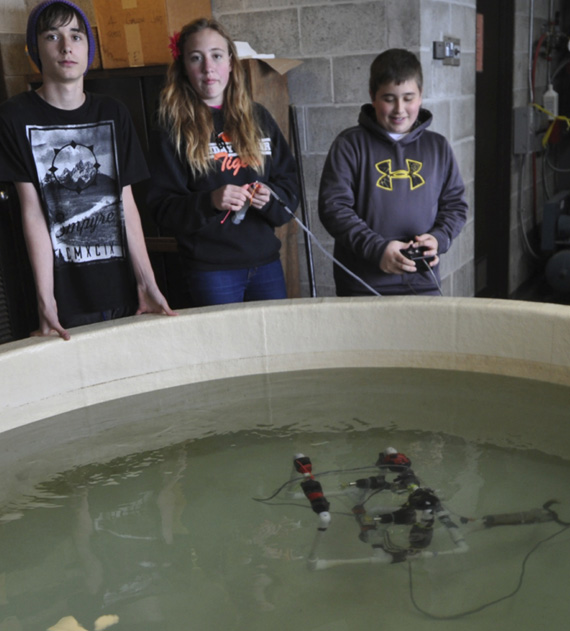 In October 2013, the Ocean and Coastal Interdisciplinary Science (OACIS) NSF GK-12 Program at the UW completed its five years of activities. This 2.9 million dollar NSF award to UW was administered through the UW Friday Harbor Laboratories, but its activities spanned a much larger area of western Washington. High school science classes, the locus of the OACIS Program, offer exceptional opportunities to integrate ocean and coastal science into the curriculum and to encourage students to consider science careers and college science programs. The school districts selected for this program were in Seattle (King County) and on three of the San Juan Islands (San Juan County.) These districts span true inner city to very rural conditions, with a substantial diversity of student ethnic, economic and cultural backgrounds. Read more...
From Text to Tactile
Timothy Dwyer, Teacher at Spring Street International School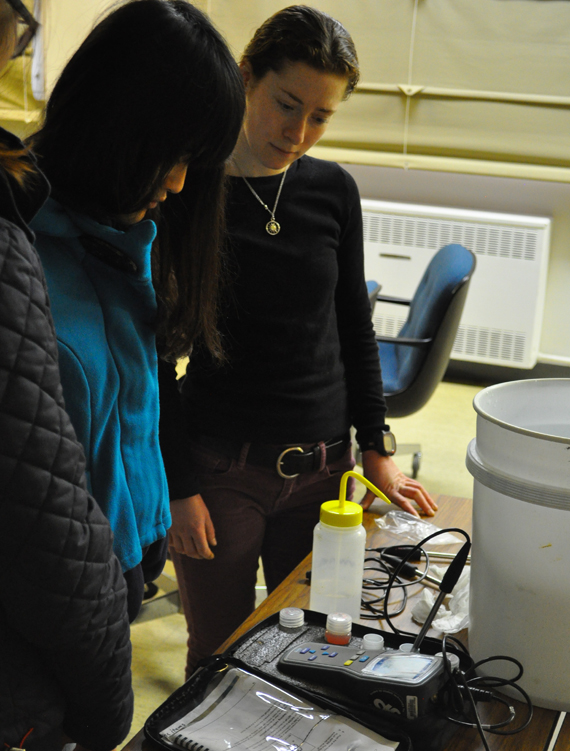 Part of the magic of Friday Harbor Labs is the chance to take your science out from the walls of a lecture hall and from under the fluorescent lights of a lab bench. A sunny strip of grass along the hillside recently became a classroom as Laura Newcomb, a PhD candidate in the Carrington Lab, knelt ringed by salty buckets of seawater and high school students from Spring Street International School. Young eyes were fixed on the digital display of a pH meter. In the warm sun photosynthesizing kelp slowly raised the pH of the seawater and new questions were raised alongside. This lesson is one in a series highlighting ocean acidification for SSIS's AP Environmental Science class. The chance for students to work side-by-side with researchers transforming lessons from text to tactile is the manifestation of an ongoing relationship between FHL and SSIS. Read more...
Name that WoRM!
Professor Billie Swalla
Look for Tide Bites in your inbox at the start of each month! To view the archive of all previous Tide Bites, visit the FHL Tide Bites page.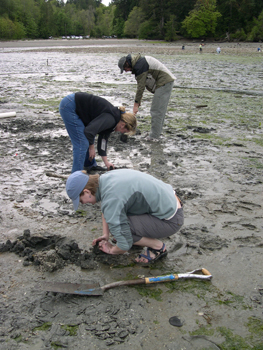 In the Swalla Lab, we conduct research on several topics including the biodiversity of marine invertebrates. This consists of cataloging different marine species and making our findings known to others who are interested in the results, such as ecologists, marine biologists, and policy makers (Appeltans et al. 2012.) Biodiversity has been in the news the past twenty years, and is increasingly important in a world of climate change and ocean acidification. How does a scientist describe and study biodiversity? Does it matter that we know how many marine species exist?    How many marine animals are there, and are there any left to describe? These are global questions, but they're local biodiversity questions too. For example, how many hemichordate species are there in the San Juan Islands? Do we have any invasive species here? What is their effect on the local species? Read more...
Ocean Acidification Makes Life Riskier for Oyster Larvae
Dr. Emma Timmins-Schiffman
Look for Tide Bites in your inbox at the start of each month! To view the archive of all previous Tide Bites, visit the FHL Tide Bites page.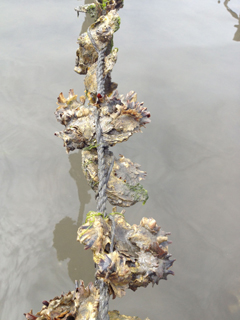 Ocean acidification, the steady decreasing of the ocean's pH, is a global problem caused by increasing human use of fossil fuels. As we burn more fossil fuels and release more carbon dioxide (CO2) into the atmosphere, more CO2 also enters ocean water, causing reductions in pH. We now know quite a bit about how this affects the chemistry of the open ocean, but many economically and environmentally important species live in the nearshore and intertidal environments where changes to ocean chemistry over the coming years may be less predictable. How will organisms that live in these already variable habitats be affected by ocean acidification and other changes associated with global climate change? We chose to study the Pacific oyster, Crassostrea gigas, as a model to understand the effects of decreased ocean pH (ocean acidification) on intertidal invertebrates. Read more...
FHL Custodial Team Nominated for 2014 UW Distinguished Staff Award
Vikky Dauciunas, FHL Facilities Coordinator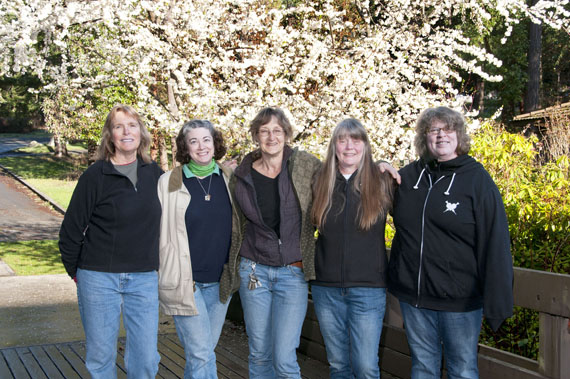 The FHL Custodial team, led by Lee Ann Walch and including Barb Ruffner, Elizabeth Farr, Melissa Calohan, Kathy Eltrich, are nominated for the University of Washington (UW) Distinguished Staff Award this year. Since 1997, the UW has been recognizing extraordinary accomplishments with the Distinguished Staff Award. Each year up to five recipients (individuals and/or teams) are selected to receive the annual honor along with $5,000. Read more...
Coming Events at the UW Friday Harbor Labs
Mark Your Calendars!
May 10: UW Friday Harbor Labs Annual Open House
This event offers a fabulous opportunity to meet scientists and students at the Labs and check out the world-renowned research and teaching facilities. Read more...
June 14: Jazz at the Labs
On Saturday night, June 14, 2014, Friday Harbor Laboratories will hold its 14th annual Jazz at the Labs. Join us for a fabulous dinner in the FHL historic Dining Hall and prepare yourself for an evening of amazing music provided by the San Juan Jazz Quintet and Seattle's Jazz Coalescence. All proceeds from Jazz at the Labs will benefit the Friday Harbor Laboratories K-12 Science Outreach Program in the San Juan Island Elementary, Middle, and High Schools and the Spring Street International School. Read more...
August 12: Dr. Lisa Levin, Friday Harbor Labs Illg Distinguished Lecturer
We are delighted to announce that the Friday Harbor Labs' 2014 Distinguished Illg Lecturer will be Dr. Lisa Levin, from Scripps Institution of Oceanography in La Jolla, California. Dr. Levin is a Distinguished Professor and Director of the Center for Marine Biodiversity and Conservation. Read more...
In the News
PBS program on seastar wasting disease:
FHL board member Dr. Drew Harvell, a marine epidemiologist from Cornell University, has been part of an ongoing investigation into a disease affecting seastars up and down the West coast. This video aired January 30, 2014 and includes her work at FHL. Watch the video here.
Ocean observatory testing at FHL:
Engineers in UW's Applied Physics Lab are using a seafloor test site at FHL to practice moving profiling robots up and down in the ocean to record temperatures, currents, and other environmental variables. This March 13, 2014 article explains the larger $239 million project. Read more....
Years of Living Dangerously
Chuck Greene, an FHL Board Member and professor at Cornell University, was one of the Science Advisors on Showtime's upcoming miniseries on climate change. It was produced by James Cameron, Arnold Schwartzneggar, Jerry Weintraub, and others, and premieres April 13 on Showtime! Read more...