Tide Bite

August 2018, Vol. 60

Risk to Embryos on the Seafloor


by Richard Strathmann

Richard is a retired professor and administrator from the University of Washington and a resident researcher at Friday Harbor Laboratories (FHL). Leah Sloan Zacher recently obtained her doctoral degree in Fisheries and Oceanography from the University of Alaska and did part of this research while a student in the Larval Biology course at FHL. Like many collaborators at the Labs, Leah and Richard are from different institutions and different stages in their career, yet they recently completed an experiment in the biological preserve in Argyle Lagoon, San Juan Island, that explored the risks to developing embryos of marine animals.
Animals are especially helpless when they are embryos. There are a great number of mouths at or near the seafloor, ready to eat an embryo. Some mothers on the seafloor protect their embryos on or in their bodies until they are able to swim or crawl. Others deposit groups of embryos on or near the seafloor, encasing them in a tough capsule or gelatinous coat. Many mothers, however, release their eggs into the water to develop as drifting (planktonic) solitary embryos with little protection. These contrasting modes of development result in differences in fecundity, mortality, and dispersal, raising questions about evolutionary origins and ecological consequences — the "why" as well as the "how" of varied ways of reproducing.

Our hypothesis was that the seafloor is riskier than the plankton for a solitary embryo whose mother has provided little protection. But how to observe life or death of a tiny embryo, about 0.005 inch in diameter, while it resides on sand or mud of the seafloor? For our study, we manipulated the world of some small planktonic embryos. Most solitary marine embryos sink at early stages of development and later swim upwards. We put known numbers of sand dollar embryos into chambers in Argyle Lagoon, where they sank to the bottom and developed until hatching. Surviving hatchlings swam up into collecting tubes at the tops of the conical chambers. The next day we clamped and removed each tube and took the tubes to the lab to count surviving swimmers.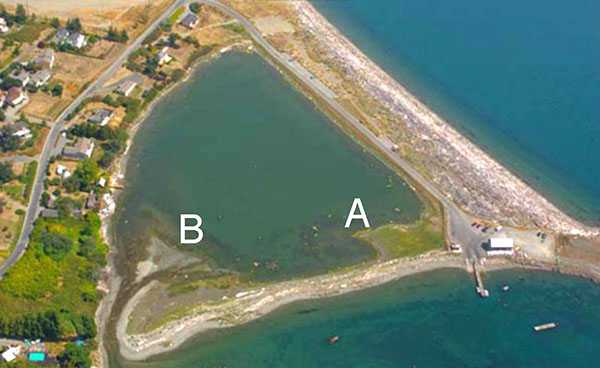 Argyle Lagoon. A and B mark the study areas. (Photo from Port of Friday Harbor web page.)
The chambers were plastic funnels inverted so that the broad end was down, on or near the seafloor. Each chamber had mesh-covered windows on the sides that allowed water to flow through but retained the embryos. Barriers at the bottom ends of the chambers provided different degrees of protection from predators or other hazards of the seafloor. In chambers floored with a coarse mesh (about 0.035 inch openings), embryos sank onto the sediment and survival was zero. A floor of fine mesh (about 0.003 inch) retained embryos at the sediment surface but survival was still low. Placing the fine mesh more than 2 inches above the sediment greatly increased recovery of embryos. With a complete barrier (a plastic sheet) between embryos and the sediment, survival equaled the survival in laboratory aquaria without sediment.
Field experiments like this are not perfect. Chambers or cages restrict water flow, and placing chambers disturbs sediment. Nonetheless, the results showed that sediments of Argyle Lagoon are an extremely dangerous place for a solitary unprotected embryo. Moreover, the experimental protections were effective and resembled those that bubble shell snails in Argyle Lagoon naturally give their embryos by secreting gelatinous barriers around their egg masses and by elevating the egg masses above the sediment.


No one has estimated mortality of sand dollar embryos in the plankton, but there are estimates of mortality of planktonic embryos of copepods, which are small crustaceans that are intensively studied because of their importance as food for small fish. We found that mortality rates of sand dollar embryos on the seafloor were greater than published estimates for copepod embryos in the plankton.
This experiment supports the hypothesis that the reproductive method of releasing solitary eggs to the plankton serves to avoid risks on the seafloor. The study contributes to understanding the ecology and evolution of life histories in the sea, but there is certainly much more to be studied to understand risks for embryos. Most of the earth is covered by marine sediments. These sediments vary physically and chemically. They harbor diverse organisms that could eat or damage embryos. We hope our method will be used in other studies. Our cages were easy to make and cheap. Most parts were from stores on the island or items commonly left over from other research projects. The method can be employed in other kinds of sedimentary habitats and with other embryos and protective barriers to test the generality of the results.


---
The study has been accepted for publication and is available online:
Zacher L.S. and R.R. Strathmann. 2018. A field experiment demonstrating risk on the seafloor for planktonic embryos. Limnology and Oceanography. doi: 10.1002/lno.11000
---
© 2018 Friday Harbor Labs, 620 University Road, Friday Harbor WA 98250