Tide Bite

November 2018, Vol. 63
Networking West Coast Marine Labs with the Smithsonian Institution to Uncover Rich Biodiversity: FHL Hosts Workshop for Marine Lab Directors
by Billie Swalla
WAML is the Western Association of Marine Labs, made up of marine labs along the West Coast of the United States and in Guam, Hawaii and Moorea (Figure 1). Dr. Billie J. Swalla, Director of UW Friday Harbor Laboratories (FHL) and also current president of WAML, hosted a recent meeting to collaborate on how the marine lab network can do some cool science.
Marine labs have been established at areas of very high animal and plant diversity, and Friday Harbor Laboratories in the San Juan Islands is a case in point. FHL was established by the University of Washington in 1904 as a place to conduct marine studies, teach marine courses and reach out to local communities about the research being conducted here. The Smithsonian Institution has estimated that less than 20% of the West Coast's invertebrate species have been categorized, which entails museum specimens and genetic sequences for those specimens. Therefore, WAML and the Smithsonian Institution agreed to partner for three years in an effort to Biocode the invertebrates of the West Coast. The goal is to have high quality photos, type specimens, and DNA sequences identifying all of the invertebrate phyla found in the Pacific, for further research and teaching projects.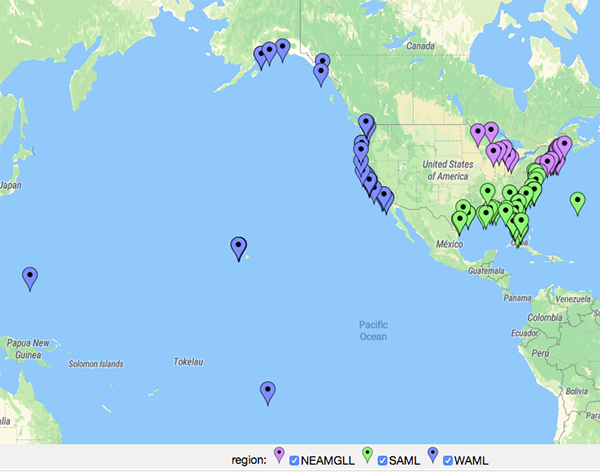 Fig. 1: Map showing all of the marine labs that are members of the National Association of Marine Labs (NAML). The
Northeastern Association of Marine & Great Lakes Laboratories
(NEAMGLL) includes institutions on the Great Lakes and marine laboratories from the eastern seaboard north of Maryland (
in purple
). The
Southern Association of Marine Laboratories
(SAML) includes marine laboratories from Maryland to Texas including Bermuda and the U.S. Virgin Islands (
in green
). The
Western
Association of Marine Labs
(WAML) includes marine laboratories operated by federal, state, university and other non-profit organizations in the Western United States and Pacific Islands (
in
blue
). Figure taken from the NAML web site (
http://www.naml.org/
).
At previous WAML meetings it was agreed that we would start with a specific set of projects that would allow quick analysis and facilitate publications within the first two years. This is the first year of the partnership and we tried two separate projects: one for a coordinated collection of samples at marine labs to be examined by taxonomic experts and then sequenced, and a second to leverage expertise in Invertebrate Biology courses that were being taught at marine labs.
Dr. Steve Weisberg, Director of SCCWRP (Southern California Coastal Water Research Project) and past President of WAML, coordinated a research effort for three separate types of invertebrates and reported on the progress of this effort at our meeting. Fifteen marine labs had agreed to participate in the project, but only ten actually sent in samples. Dr. Regina Wetzer from the L.A. Museum of Natural History (our newest WAML member!) showed a phylogenetic tree of all of the specimens collected so far. When considering one group, the spheromatid isopods (think: marine roly-polys), they fall into distinct groups from all along the West Coast of the U.S. There was good sampling from marine labs all up and down the West Coast, but we would like more specimens from Oregon and Alaska. This will be a publishable study, as it shows how the diversity of these animals changes from Washington to southern California. There were interesting principles learned in the process, such as adults are really necessary for taxonomic identification. Sometimes a species was misidentified but then the specimens were reexamined, and it was realized that the juveniles are more difficult to identify.
There were two Invertebrate Biology courses given at WAML member labs where the Biocoding invertebrates were part of what the students learned: one course at the Oregon Institute of Marine Biology (OIMB) and one at Friday Harbor Laboratories. Dr. Richard Emlet reported the results from his Spring course at OIMB with Dr. Maya Watts, and what their identification success rate was. Dr. Kevin Kocot joined the WAML discussion by video chat to report on how his summer course at FHL went with co-instructor Dr. Joie Cannon. We discussed lessons learned from each course and what instructors would do differently next time. WAML is hoping to have more invertebrate courses involved in the project in the coming years.
Dr. Chris Meyer, from the Department of Invertebrate Zoology at the Smithsonian National Museum of Natural History (SNMNH), has been an integral part of the Biocode project and attended the annual NAML meetings to report there the successes of the first project year and how we might better partner with the Smithsonian in the next two years. A multi-pronged approach was discussed and we look forward to these results in the coming years:
BioBlitz – Dr. Gustav Paulay was a proponent of targeted BioBlitzes, bringing taxonomic experts to a particular place for 1-2 weeks to have them collect and process samples continuously.

ARMS (Autonomous Reef Monitoring System) – WAML will work together with the Smithsonian Institution to put settlement plates out in triplicate for a year at a time to directly compare invertebrate biodiversity at different sites. Ben Ruttenberg, new WAML member from CalPoly, offered to coordinate training on the use of ARMS by WAML.
Smithsonian Institution student Biocode projects – Steve Weisberg, Billie Swalla and Karina Nielsen will work together to establish the protocol for doing projects.
WAML to buy ARMS, fund BioBlitzes at West Coast marine labs.
Finally, Dr. Neil Davies from the UC Berkeley Gump Research Station in Moorea spoke about networking the WAML Biocode results into global genomic observatories. We are thinking about how to gather metadata to make the invertebrate genomic data even more valuable. We were also fortunate to have Dr. Maria Kavanaugh speak to us about MBON (the Marine Biodiversity Observing Network) and how they are developing data management structure and platforms to compare large datasets.
FHL was pleased to host the WAML meetings and we look forward to this continued collaboration with the Smithsonian Institution in order to leverage the expertise at our individual marine labs and establish a biocode of marine invertebrates.

Fig. 2: WAML members and guests that attended the FHL Meeting in October.
Photo taken by Kathy Cowell on the steps of the FHL Commons.


© 2018 Friday Harbor Labs, 620 University Road, Friday Harbor WA 98250