Tide Bite

December 2018, Vol. 64

A Unique Challenge: Marine Subtidal Ecology at UW Friday Harbor Labs


by Pema Kitaeff & Alex Lowe
Despite windy weather and choppy water just the day before, the morning of Friday June 22nd 2018 dawned gloriously sunny and calm: a gift of optimal conditions bestowed on the patient planners of field work. Few have been as deserving of such a gift as the 12 students in the Marine Subtidal Ecology (MSE) course offered during Session A this past summer FHL. June 22nd was only their 13th day in the San Juan Islands but it marked the culmination of the Kelp Ecosystem Ecology Network (KEEN) data collection, for which they had been preparing before they even arrived.
This year's MSE was the first time a scientific diving course was administered to a full roster of students within an academic course at FHL. Led by Dr. Aaron Galloway (U. of Oregon), soon-to-be-Dr. Alex Lowe (UW), and Dive Officer Pema Kitaeff (FHL), the course is built around the American Academy of Underwater Sciences (AAUS) standards and ultimately qualifies students as full scientific divers. Since 2010, scientific diver training has been offered at FHL as a non-credit workshop. Our goal for MSE was to train students in scientific diving methods and provide real research experiences in the Salish Sea for academic credit – a change we hoped would broaden access to scientific diving and underwater science.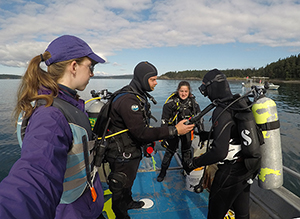 Previous iterations of this concept had incorporated scientific diving into the 2009 Marine Biology Quarter, and Ecology Between and Below Pacific Tides course in 2015. This year we invited students for a 5-week intensive scientific diving and marine ecology course. Like all FHL summer courses, the application process was competitive and the cohort of 12 MSE students all shared a strong desire and determination to become scientific divers. Their backgrounds and experience were diverse: a few already had logbooks confirming over a hundred dives, while others had worked hard to log the minimum 20 dives required at the start of the class. A few had been to FHL before and had experience recognizing local marine flora and fauna, but many had no prior familiarity with Salish Sea organisms. This set up quite a challenge: train 12 students to accurately count and identify dozens of algae, invertebrate, and fish species in two weeks while simultaneously training in dive rescue techniques and scientific subtidal survey methods, developing an independent research project and figuring out how to write legibly on datasheets underwater while wearing ¼"-thick gloves.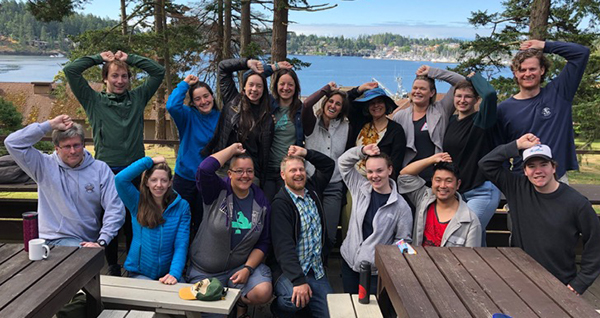 2018 Marine Subtidal Ecolo

g

y class, giving the diver's "OK" signal.


Bac

k row

, L-to-R: Willem Weertman, Francesca Molinari, Caitlin Guerin, Chanelle Cadot, Demetra Panos, Dr. Monica Medina (Illg lecturer), Sara Bunker, Abigail Ames and Alex Lowe (instructor).

Front row

, L-to-R: John Dorsett, Molly Payne, Mo Turner (TA), Aaron Galloway (instructor), Sarah Yerrace, Reyn Yoshioka and Parker Hayne.


Photo credit: R. Whippo.
The Kelp Ecosystem Ecology Network uses a standardized method to compare studies of kelp ecosystems around the world. Kelp forests cover 25% of the world's coastline, dominating many nearshore habitats in temperate climates. They are important sources of food and structure that support valuable nearshore ecosystems. We built the course around the KEEN protocol because it implements commonly used survey techniques, connects to international collaborators, and requires expert knowledge of local flora and fauna. In other words, it could be an ideal teaching tool. Incorporating this work into a summer course contributes to a better understanding of how the habitat around FHL fits into the global context of kelp forests, but also serves as a roadmap for other field stations hoping to incorporate networked research into scientific diving classes. We were able to build on research conducted by Dr. Katie Dobkowski and others who have studied kelp in the San Juan Islands. For the purposes of MSE 2018, we established our KEEN site at a Nereocystis (bull kelp) bed known to FHL researchers just off the Southwest tip of Shaw Island.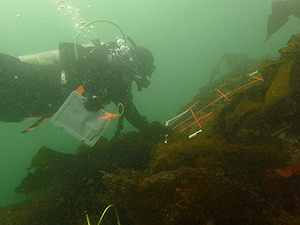 The students dove right into their training, taking advantage of the diversity of habitats accessible from the FHL dock. Challenge accepted! We walked through survey methods on the lawn in front of the dining hall, and practiced counting and identifying local organisms at low tide below the yoga platform between labs 5 and 11. Then, by the end of the first week the divers-in-training were ready to get underwater with slates, quadrats, and transect tapes to further develop research skills in the eelgrass and clump-weight reef habitats under and around the docks. We used the species-rich rocky reefs in the FHL preserve to teach organism identification and life history. Finally, we took these skills to the kelp bed at the South Shaw Island KEEN site for two practice dives before the big day when the students conducted the final survey to characterize the biological community before we removed the kelp from the experimental treatment plots. Mission accomplished: what seemed impossible had become reality.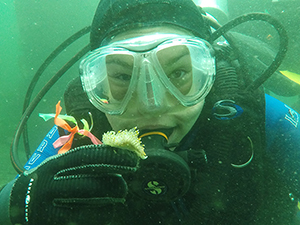 Now that MSE has been over for several months, we've had the chance to take stock of all we accomplished: minting of 12 new AAUS divers, 463 dives, 12 independent research projects, and 1 new KEEN site. The MSE instructors have continued to visit the KEEN site at South Shaw and found interesting patterns of kelp recruitment and progression in experimentally-cleared plots. Continued studies at this site are important to our knowledge of kelp dynamics in the quickly-changing Salish Sea. The combination of KEEN and MSE paves the way for continuing these observations. As for the students, they agreed in post-course surveys that while there seemingly "wasn't enough time" for everything we'd set out to achieve – scientific diver qualification, a full KEEN survey, and students' individual subtidal projects – the experience had been "amazing." Nearing the end of 2018, most remain active as scientific divers: beginning PhD projects that will involve subtidal research, finding employment that utilizes scientific diving skills, and supporting other UW divers as buddies. It's hard to decide what makes us more proud: knowing that we've helped set burgeoning young scientists on the path toward reaching new depths in subtidal research, or that someday their future colleagues and supervisors will learn "that's a UW scientific diver trained at FHL."


© 2018 Friday Harbor Labs, 620 University Road, Friday Harbor WA 98250