Tide Bite

January 2019, Vol. 65
Molgula Tales

Alexander (Zander) Fodor was a 6th year UW Biology graduate student in the Swalla Lab at FHL when he passed away unexpectedly on November 4, 2018. His research utilized two closely-related species of tunicates (sea squirts) that live off the coast of Roscoff, France. This Tide Bite is in memory of Zander and his insightful scientific contributions.
Tunicate ascidians are fast-evolving, sessile marine invertebrates that phylogenomic studies suggest are the sister group to vertebrates (Figure 1) (Bourlat et al. 2006). Like many marine invertebrates, tunicates have a free-swimming larval life stage that then metamorphoses into a settled adult. The Swalla lab studies gene networks in ascidian larvae because their development and metamorphosis can give insight into the evolution of those networks and how they influenc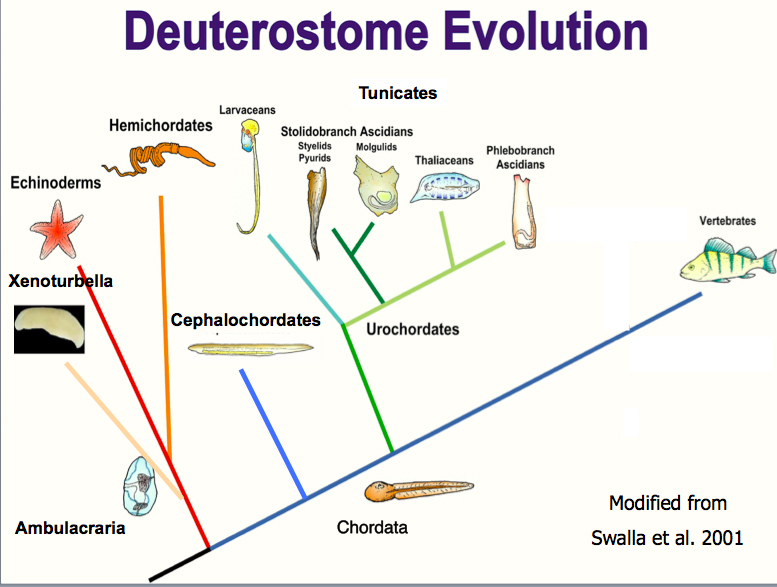 e the way the animal looks, moves and behaves. During typical ascidian development, the swimming larva will develop a sensory otolith in its head and 40 notochord cells extend and become flanked by striated muscle to become a swimming tail (Figure 2A). (Notochords are also present at some point during the development of all chordates, but in vertebrates the notochord is then replaced by the backbone.) Later in the process of ascidian metamorphosis, the tail and otolith are reabsorbed into the body while it settles down on a substrate to begin its adult life as a sessile filter feeder. This process is poorly understood and the knowledge of how ascidian larvae evolve to lose their notochord could give key insights into the evolution of gene networks and how they influence vertebrate embryo morphology.
Molgulids are a group of ascidians in which the tailed morphology has been lost independently in many different species (Figure 3). These independent losses suggest the presence of a complement of genes that facilitate this loss. One such species which has lost its tail is

Molgula occulta , whose development is characterized by 20 notochord cells which form a "notoball" instead of extending into the typical tail, no sensory otolith develops in the head region, and the muscle genes have become pseudogenes (Figure 2C) (Kusakabe et al. 1996). These species are very closely related so their genes are very similar, but the way they are

expressed

is not the same. We study these differences by looking at gene expression at different embryonic stages or looking at the transcriptomes of these species, the tailed

Molgula oculata

(Figure 2A) and the tailless

M. occulta

, (Figure 2C). Analysis of the genomes and transcriptomes have shown that a tyrosine kinase (Makabe et al. 2019) and multiple tyrosinase-related genes are on their way towards becoming pseudogenes, but still make partial transcripts (Racioppi et al. 2018). This indicates that the switch to taillessness is a very recent evolutionary event. Pseudogenes are genes that can be recognized by their genetic code, but have mutations that make them nonfunctional.
Molgula oculata (Figure 2A) and M. occulta (Figure 2C) are closely enough related that they can be hybridized if the egg of the tailless and the sperm of the tailed are used. The resulting hybrid will only have 20 notochord cells but they converge and extend, and the otolith is recovered from the tailed species' genome (Figure 2B) (Swalla and Jeffery 1996). The newly-sequenced transcriptomes of these two closely related species offer a perfect system to study the changes in genetic networks that can lead to such a drastic change of the tail loss in ascidians (Stolfi et al. 2014). Identifying the evolutionary changes between tailed and tailless ascidians will give key insights into the evolution of gene networks.

Zander looked into two possible hypotheses of tail loss in the molgulids. One idea was due to his analyses of a unique tyrosine kinase in the molgulids. He showed that this tyrosine kinase has become a pseudogene in the tailless Molgula occulta genome, by the insertion of a large piece of DNA not found in the tailed M. oculata genome (Makabe et al. 2019). This tyrosine kinase is not expressed in the tailless embryos but is expressed in the tailed embryos, making it a good candidate gene for causing tail loss. Unfortunately, when Zander looked at the other tailless molgulid species (Figure 3), this tyrosine kinase was expressed properly.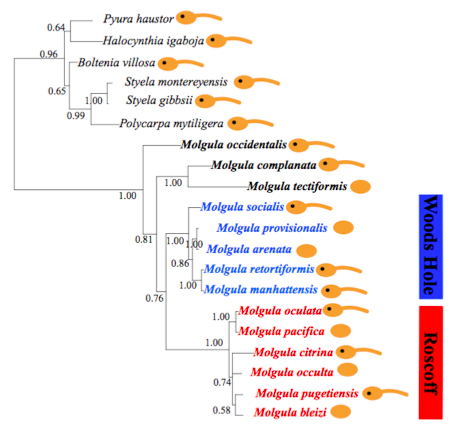 Fig. 3: Tailless mogulid species of tunicates. Note that there are tailed and tailless species within the same clade.
The second hypothesis that we have is based on the fact that the genes for metamorphosis are expressed early in the molgulid embryos and larvae, so the normal process of "killing" the cells in the tail are happening earlier in the tailless molgulid embryos. It has been shown with heart-related genes that transgenic experiments can be adapted to the Molgula family (Stolfi et al. 2014), but full replacement of endogenous genes has not been performed in these species before. Once Zander had identified those metamorphosis genes with differential expression, we'd planned to use transgenic techniques to identify the evolutionary changes responsible for the developmental changes between the tailed M. oculata and tailless M. occulta embryos (Fodor et al. 2019).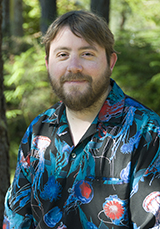 We are currently working on publishing two papers about Alexander Fodor's work (Fodor et al. 2019 and Makabe et al. 2019), and his research, ideas and contributions to the Biology Department and Friday Harbor Laboratories at the University of Washington will live on. A celebration of Zander's life will be held at FHL on January 26, 2019 and a memorial scholarship is being established in his name. To contribute, please donate to the FHL Discretionary Fund and note "In memory of Alexander Fodor."


---
References
Bourlat S.J., Juliusdottir T., Lowe C.J., Freeman R., Aronowicz J., Kirschner M., Lander E.S., Thorndyke M., Nakano H., Kohn A.B., Heyland A., Moroz L.L., Copley R.R., and M.J. Telford. 2006. Deuterostome phylogeny reveals monophyletic chordates and the new phylum Xenoturbellida. Nature: 444 (85–88).

Fodor A.C.A., Maliska M.E., Lowe E., Pavangadkar K., Weber C., Serra N., Brown C.T., and B.J. Swalla. 2018. Molgulid ascidians show a radical heterochronic shift in their metamorphic gene network. Developmental Biology: in revision.

Kusakabe T., Swalla B.J., Satoh N., and W.R. Jeffery. 1996. Mechanism of an evolutionary change in muscle cell differentiation in ascidians with different modes of development. Dev. Biol.: 174 (379-392).
Makabe K.W., Fodor A.C.A., Hsu J., Jeffery W.R., Satoh N., and B.J.Swalla. 2019. Cymric, a maternal and zygotic HTK-16-like SHARK-family tyrosine kinase gene, is disrupted in M. occulta, a tailless ascidian. Developmental Biology: in revision.
Racioppi C., Valoroso M.C., Coppola U., Lowe E.K., Brown C.T., Swalla B.J., Christiaen L., Stolfi A., and F. Ristoratore. 2017. Evolutionary loss of melanogenesis in the tunicate Molgula occulta. EvoDevo: 8 / 11.
Stolfi A., Lowe E., Racioppi C., Ristoratore F., Swalla B.J., Brown C.T. and L. Christiaen. 2014. Divergent mechanisms regulate conserved cardiopharyngeal development and gene expression in distantly related ascidians. eLife: 2014 / 3 (e03728).
Swalla B.J. and W.R. Jeffery. 1996. Requirement of the manx gene for expression of chordate features in a tailless ascidian larva. Science: 274 (1205-1209).

---
© 2019 Friday Harbor Labs, 620 University Road, Friday Harbor WA 98250