Tide Bite

March 2019, Vol. 67

What We Can Learn From How Mussels Attach to Surfaces Underwater


by Matthew N. George, PhD

Matt completed his graduate work under Dr. Emily Carrington in the spring of 2018, as a member of the Biology Department at UW. During this time he lived and worked at FHL for more than two years, conducting experiments within the Ocean Acidification Environmental Lab (OAEL). Matt is now a Research Fellow at the Mayo Clinic in Rochester, Minnesota, working on the design of biocompatible adhesive polymers for use in bone tissue engineering and controlled drug delivery.
Gluing objects together underwater is difficult. Water is a problem for most glues because it can block binding sites and is easy absorbed, thereby causing the glue to expand and deform. However – much to the annoyance of boating enthusiasts across the globe – marine organisms like the mussel have solved this problem. Mussels attach to surfaces using a network of protein-based fibers called byssal threads, each tipped with an adhesive plaque (Figure 1). Mussel glue can attach to a wide variety of materials, supporting a vibrant mussel aquaculture industry in the Puget Sound wherein farmers harvest clumps of mussels hanging from ropes underneath floating docks (Figure 2A). Given the technical and economic significance of mussel attachment, the focus of my graduate work while at the University of Washington aimed to better understand how mussels stick to surfaces underwater.
---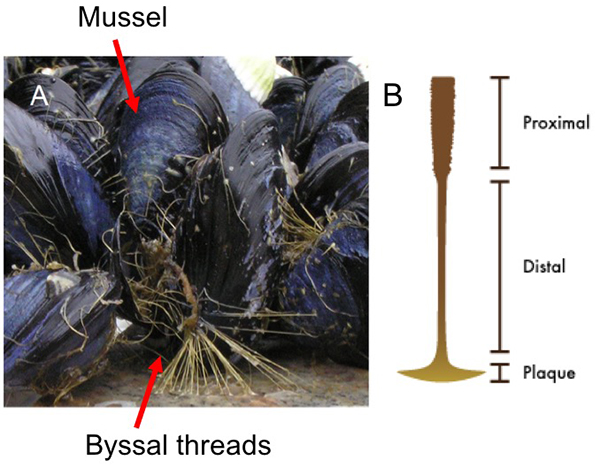 Fig. 1: A) A bed of mussels attached to one another and to the surface via byssal threads.
B) The anatomy of a byssal thread with labeled regions.
Mussel glue has been of interest to scientists for over three decades in large part due to its ability to attach to materials with different surface properties (i.e. glass, plastics, wood, rock, etc.), including even extremely hydrophobic, 'non-stick' coatings such as Teflon®. However while the glue is impressive, mussel growers worldwide have observed 'fall off' events during certain time of the year, characterized by entire crops of mussels detaching from aquaculture ropes and being consumed by predatory sea stars on the seafloor (Figure 2B-C). This observation inspired our laboratory to investigate what role seawater plays in the attachment process, with a particular emphasis on understanding how the local seawater environment interacts with the molecular mechanisms that underlie mussel attachment. With this approach, we hoped to not only understand how mussel glue works so that scientists can design better water-tolerant glues for use in industry and medicine, but also to help mussel farmers succeed in a future where the chemistry and temperature of our oceans are rapidly changing due to climate change.
---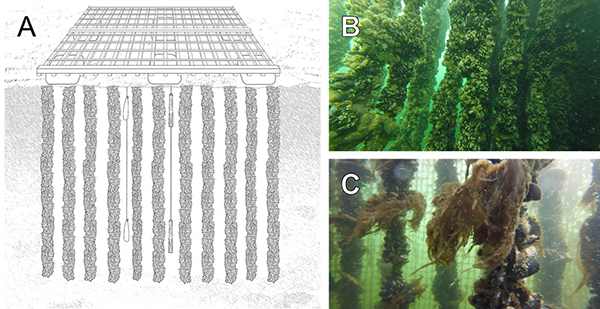 Fig. 2: A) Diagram of a mussel aquaculture raft with hanging rope lines covered with mussels. Underwater view of mussels attached to rope lines in the spring (B) and fall (C) at a mussel farm off the coast of Whidbey Island, Washington, displaying the difference in mussel density between seasons due to mussel fall-off.
Our current understanding of how mussel glue works is tied to a single molecule that imbues the glue with its special powers. Proteins within the plaque are adorned with a derivative of dopamine (yes, the neurotransmitter that is in your brain!) known as L-DOPA, which contains a phenol group (ring) with two reactive oxygens hanging off the side (Figure 3A). What makes the prevalence of L-DOPA in mussel proteins so fascinating is that these adhesive rings have the potential of serving two seemingly contradictory functions. L-DOPA can either exist in an adhesive form where it bonds with surfaces, OR be converted to DOPA-quinone in the presence of oxygen which instead forms crosslinks with other DOPA molecules and increases the stiffness of the material (Figure 3B). In light of this understanding, we investigated what role seawater plays in this process, with the goal of identifying which aspects of the seawater environment promote and/or interfere with mussel attachment.
---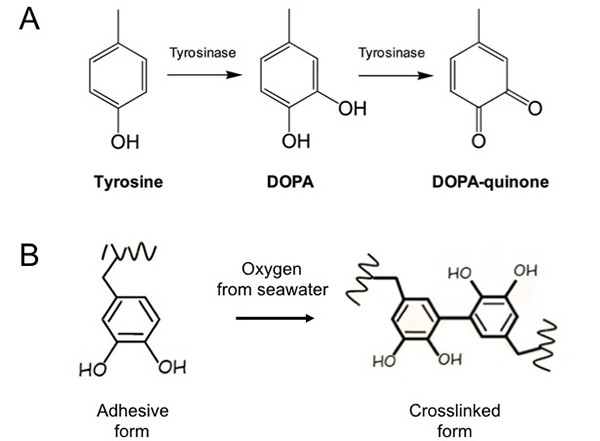 Fig. 3: A) The adhesive functional side chain of mussel adhesive proteins (L-DOPA). L-DOPA is converted to DOPA-quinone by incorporating oxygen from the surrounding seawater after the adhesive is deposited. The enzymes that mediate this process are also pH sensitive. B) The incorporation of oxygen converts the L-DOPA to DOPA-quinone, which forms crosslinks with other L-DOPA sidechains, facilitating the 'curing' of the glue.
To begin to address this question, a good portion of my graduate career was spent collecting mussels from the Puget Sound, bringing them into the laboratory, and encouraging them (to the best of my ability) to attach to manufactured plates. I would then cut the threads and move the plates with attached plaques into different seawater conditions (various combinations of seawater pH, dissolved oxygen, and temperature), incubating them for up to 20 days. This approach was taken in order to investigate the direct interaction between seawater and the material, without confounding our results by stressing out the animal. While the glue was incubating, I would periodically remove plates from seawater treatments and pull adhesive plaques to 'failure', using a motor-driven mechanical testing machine that was capable of measuring the force required to remove the adhesive. With this experimental design, I was able to study the natural 'life-cycle' of the adhesive while also isolating which aspects of the seawater environment are critical to its function.
After patiently waiting for my mussels to cooperate, I was rewarded with an answer: mussel glue functions as a two-stage epoxy that uses the pH and oxygen content of seawater as molecular triggers (Figure 4A)! Applied by the animal in a semi-fluidic state, plaque proteins initially adhere to a surface while a mussel's foot is pressed against it and no water is present. Once all the proteins are deposited, the mussel lifts its foot and seawater comes in contact with the adhesive, drastically increasing the pH and oxygen availability around the plaque. In response, the glue begins to 'cure', transitioning from a fluid to a solid as L-DOPA functional groups incorporate oxygen and form crosslinks with one another, a process that is facilitated by pH-sensitive enzymes. Evidence for this transition was observed in the laboratory as the strength of the adhesive doubled over the course of 8 days in 'typical' seawater conditions, while the adhesive slowly turned from white to a dark tan color, indicating the formation of the crosslinked form of L-DOPA, DOPA-quinone (Figure 4B-E). This process was almost completely halted when seawater pH (<5.0) and dissolved oxygen (<2 mg L-1) were kept low, indicating that both were required to motivate the change in the material.
---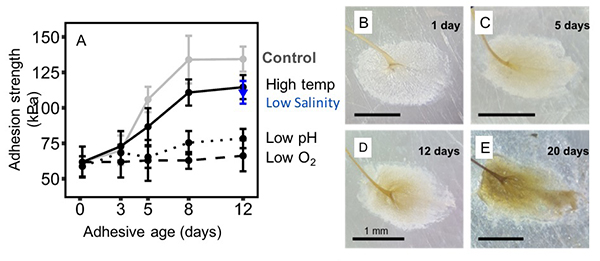 Fig. 4: A) The adhesive strength of mussel plaques over time (days after deposition), while exposed to either high temperature (>30C), low salinity (<1 PSU), low pH (5.0), or low dissolved oxygen (<2 mg L-1). B-E) The color change observed in plaques over the course of 20 days in the control treatment.
These results show that mussel glue relies on the presence of seawater to function, rather than being inhibited by it. While fascinating from a biological perspective, this insight also has far reaching implications for how we design synthetic glues for use in industry and medicine. Current engineering challenges in medicine include the attachment of medical devices to body parts, the prevention of the movement of implants, and the closure of wounds without sutures. The glues that mussels and other marine animals make can inform the design of biocompatible and biodegradable alternatives to synthetic glues which are currently unable to function within the human body. In addition to medicine, this work stands to help inform local mussel growers as to which aspects of the seawater environment they should monitor. By timing harvests to avoid seasonal lows in seawater pH and oxygen, farmers could potentially avoid 'fall-off' events, especially as ocean acidification and hypoxic events become increasingly common.
---
References:

George M.N. and E. Carrington. 2018. Environmental post-processing increases the adhesion strength of mussel byssus adhesive. Biofouling (1-10). doi:10.1080/08927014.2018.1453927.
George M.N., Pedigo B., and E. Carrington. 2018. Hypoxia weakens mussel attachment by interrupting DOPA cross-linking during adhesive plaque curing. J Royal Soc Interface. doi: 10.1098/rsif.2018.0489.

George M.N., Andino J., Huie J., and E. Carrington. (Accepted). Microscale pH and dissolved oxygen excursions within mussel raft aggregations: implication for byssus plaque curing and mussel attachment. Journal of Shellfish Research.
---
© 2018 Friday Harbor Labs, 620 University Road, Friday Harbor WA 98250