Tide Bite

May 2019, Vol. 69
Eelgrass and Oysters: Partners in a Changing World?
Morgan Eisenlord is a PhD candidate in the Harvell Lab at Cornell University, studying marine infectious disease ecology. Before joining the Harvell Lab, she studied biology at University of Washington. During her time at UW, she found her love of marine habitats through taking classes at Friday Harbor Labs and working as a technician for Dr. Megan Dethier and Dr. Aaron Galloway studying spatial subsidies and trophic interactions. Morgan became interested in marine pathogens and their impact on nearshore habitats when the sea star wasting disease outbreak hit the San Juan Islands. During the outbreak she saw first-hand the devastation that infectious disease could cause, as she documented the deaths of hundreds of Ochre stars. She is particularly interested in how the tiniest members of a community can shift the function and biodiversity of the macro-organisms.
Eelgrass (Zostera marina) is an ecologically-important habitat that provides valuable services to the environment. However, this valuable habitat is at risk. Seagrass beds worldwide are declining at a rate of ~7% per year. Eelgrass wasting disease, caused by a marine protist called Labyrinthula zosterae, is a globally-occurring threat to seagrass that has historically caused massive die-offs in the Atlantic Ocean. In eelgrass beds around the San Juan Islands and in Puget Sound, we in the Harvell Lab with collaborators Maya Groner, and Sandy Wyllie-Echeverria have documented a rise in eelgrass wasting disease over the last six years, and declines in intertidal eelgrass density at some sites. We have shown how warming water temperatures increase disease risk and may exacerbate the impact of the disease (Dawkins et al. 2018).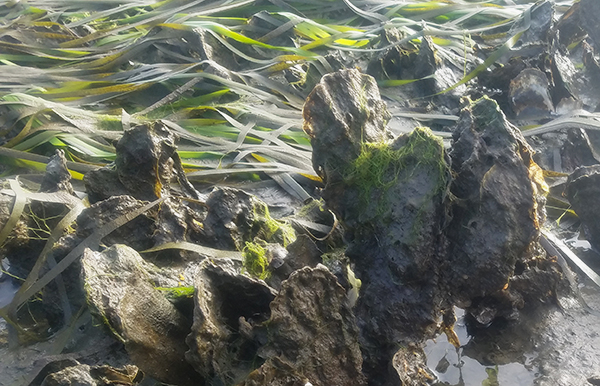 Oysters may help eelgrass stay healthy by reducing pathogen loads in the environment.

Photo credit: Morgan Eisenlord.
Bivalves are another nearshore bioengineer that play a critical role in ecosystem function. They create physical structure in the marine environment which supports biodiversity and provides shelter for vulnerable species, and are powerful filter feeders capable of filtering toxic algae and pathogens from the environment (Burge et al. 2016). In the Pacific Northwest, bivalve aquaculture yields >$200 million in product per year. The Pacific oyster (Crassostrea gigas) is the dominant cultured oyster in the Pacific Northwest. Since oyster aquaculture frequently co-occurs with eelgrass beds, it could potentially cause short-term disturbance to the eelgrass. However, if oysters are filtering out eelgrass wasting disease propagules, they may be providing a net positive effect by reducing the pathogen load in the local ecosystem. A lab experiment led by Maya Groner, Colleen Burge and Carolyn Friedman showed that oysters were capable of reducing eelgrass wasting disease signs in naturally infected eelgrass (Groner et al. 2018).
By studying the disease ecology of the protist

L. zosterae , we're asking how the environment and other biota affect risk of disease. During the summers of 2017-2018, Drew Harvell and I, along with our undergraduate interns Miranda Winningham and Alex Vompe, ran sentinel experiments in the field. We out-planted sentinel shoots on buoyed transplant blocks both inside and outside eelgrass beds, to see if risk of infection was influenced by residency in eelgrass beds. Could clean eelgrass blades outside of eelgrass beds become infected with wasting disease when there was no direct leaf-to-leaf contact? Our results showed disease prevalence, severity, and lesion number was the same both inside and outside the bed after two weeks' exposure in the field. Eelgrass from both inside and outside beds were significantly different from infection baseline control shoots held in lab mesocosms under controlled conditions. These results support our hypothesis that

L. zosterae

is transmitted through water in the field, and could be affected by oyster filtration.
Through a dose response experiment run this spring in FHL's Ocean Acidification Environmental Lab on L. zosterae infection rates, Carolyn, Colleen, Tori and I learned that eelgrass can become infected with as little as 10 cells/mL present in the water, within 60 hours at 15°C. Colder water temperature (7.5°C) reduced the infection rates. A key element of many of our experiments, lab, and field studies is the development and validation of a quantitative PCR method I have been working on in several visits to Colleen Burge's lab. In addition to field surveys to document changing levels of disease load in our local eelgrass meadows, we are investigating how the disease is transmitted and whether oysters help eelgrass stay healthy. Over this spring and summer we are planning to run experiments in both the lab and field to investigate how effectively oysters can reduce eelgrass wasting disease infection rates by filtering it from the environment at high vs. low water temperatures and ambient vs. projected future pH levels. This may reveal potential benefits to co-culturing eelgrass (Z. marina) with Pacific oysters (C. gigas).
This project is a Washington SeaGrant-funded collaboration between PIs Carolyn Friedman (University of Washington), Colleen Burge (Institute of Marine Environmental Technology, University of Maryland Baltimore County), Drew Harvell (Cornell University), Meg Chadsey (Washington Sea Grant) and graduate students Tori Agnew, Olivia Graham, and myself.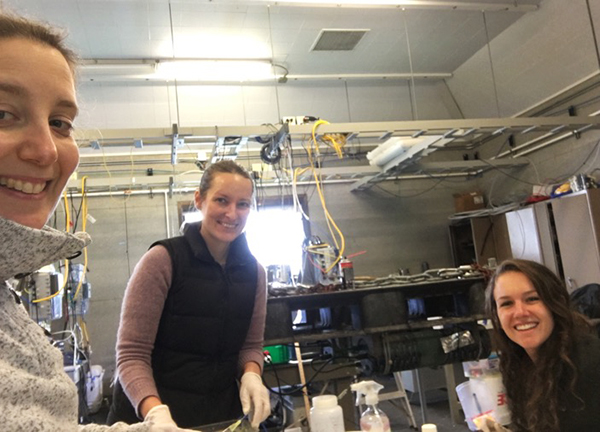 Conducting an infection experiment in the FHL Ocean Acidification Environmental Lab. Left-to-right: Colleen Burge, Morgan Eisenlord, and Tori Agnew.
Photo credit: Colleen Burge.


---
References:
Burge CA, Closek CJ, Friedman CS, Groner ML, Jenkins CM, Shore-Maggio A, and JE Welsh. 2016. The use of filter-feeders to manage disease in a changing world. Integrative and Comparative Biology: 56 / 4 (573–587). doi: 10.1093/icb/icw048
Dawkins PD, Eisenlord ME, Yoshioka RM, Fiorenza E, Frucher S, Giammona F, Winningham M, and CD Harvell. 2018. Environment, dosage, and pathogen isolate moderate virulence in eelgrass wasting disease. Dis Aquat Org: 130 (51-63). doi: 10.3354/dao03263
Groner ML, Burge CA, Cox R, Rivlin ND, Turner M, Van Alstyne KL, Wyllie‐Echeverria S, Bucci J, Staudigel P, and CS Friedman. 2018. Oysters and eelgrass: potential partners in a high pCO2 ocean. Ecology: 99 (1802-1814). doi:10.1002/ecy.2393
---
Look for TideBites in your inbox at the start of each month!
© 2018 Friday Harbor Labs, 620 University Road, Friday Harbor WA 98250