Tide Bite

August 2019, Vol. 72
Connecting the Dots: An Interview with Dr. Thomas Mumford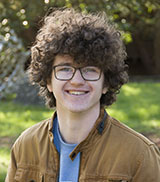 Aidan Cox is an undergraduate student at the University of Washington, pursuing a Bachelor of Science in Marine Biology. While enrolled in FHL's Spring Marine Studies program, Aidan had the opportunity to live and study at the Labs along with a select group of other students. This interview was written for Science Writing for Diverse Audiences, one of the unique courses offered through this program.
Under the relentless shine of the midday sun, the Friday Harbor Marina appears to shimmer as we crest a small hill on the edge of the University of Washington laboratories. It's the perfect respite from a morning of sitting in the lab grading final exams. Tom Mumford, a tall, lean man with a silver beard and kind brown eyes set in a face rich with lines that trace the path of a wide smile, leads the way nimbly as we trek over to a small bench overlooking the view. "This is Koz!" Tom proclaims as we arrive, gesturing to the small metal plaque set into the back of the bench in memoriam of a life well lived. Tom knows that everything, from the grass – now brittle and dry – to this seemingly lonesome bench, has a story to tell. So does he.
We sit on Koz's bench, and Tom begins to tell me about his life as a marine scientist: he, like many of us, was immersed in science from the very beginning whether he realized it then or not. Born in Indianapolis, Indiana, Tom was raised away from the sprawl of the city on a family farm. His first relationship with science was founded on agriculture and livestock, supplemented with adventures to the nearby woods where he satisfied his natural curiosity through exploration and foraging. In school, his dreams of becoming a scientist were given form by his 3rd grade science teacher, who dedicated a space to keep many insectoid creatures for students to observe, even in a school so small it combined two grades – each composed of 10 students or less – to a single room. Similarly, Tom attributes his first love of the ocean and marine science to the many childhood trips he took to his maternal grandparents' house in Cape Cod, exploring the tide pools and walking along the sandy shores. That famous smile creeps into his voice as he describes these memories to me. Tom's family, however, did not share his enthusiasm for natural science and held different plans for him. From early on, he was heavily encouraged to follow the footsteps of his paternal grandfather, a medical doctor.
"Some people used to say, 'I'm running away to sea.' I always said, 'I'm going to run off and be a marine biologist.'"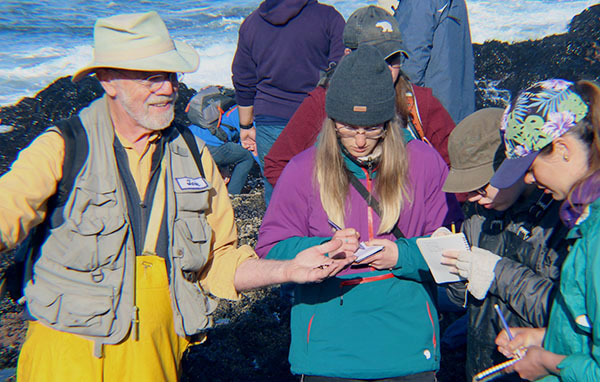 Tom working with Botany students in the intertidal at Botanical Beach, Vancouver Island.
Photo credit:

Helen Kesters

.
Despite this familial pressure, Tom held to his aspirations and after finishing high school at a boarding school in Detroit he moved back to Indiana to pursue his bachelor's degree. It was the summer between his junior and senior years when he was at Hopkins Marine Station that his passion for phycology, the study of seaweeds, was solidified. So influential was this experience, that when offered the choice to define his area of study, Tom chose to remain in botany even as all his peers moved towards other disciplines: mainly biology and ecology. Even today, after years of study, Tom describes his work with a clear sense of enthusiasm.
"It was like I realized there was a whole world that I never knew existed..."

After obtaining bachelor's degrees in Botany and Chemistry, Tom was intent on pursuing a career in academia and sought to dive directly into a PhD program at the University of Washington. Yet life rarely follows plans – even for one as committed as Tom – who soon found his aspirations delayed after being drafted into the U.S. Army, a position which lasted for over two years. After his service, he went on to complete his graduate and postdoctoral work. However, dissuaded by the competitive and demanding attitudes of many universities, instead of entering academia as planned, Tom began a long career with the Washington Department of Natural Resources. Over the course of 35 years, he worked on many projects which included the restoration of Puget Sound.

| | |
| --- | --- |
| Despite the change in trajectory, Tom is content with his career, maintaining that he would do it all again if he could. According to him, the best parts have been his interactions with fellow scientists – something that he has had the opportunity to do often, working within a government agency as part of a diverse team of experts. Recognizing that one of his biggest strengths has been as an integrator and a synthesizer of information, Tom is always inspired to connect the dots between fields. The way he sees it, it's not enough to think of a problem from a phycologist's stand point, you have to be multidisciplinary in your approach: you have to think like a geologist, ecologist, oceanographer, and phycologist all at once. | |
"You have to be careful. Some people will come out of a PhD program knowing everything about one little thing, and nothing about anything else."
Recalling his earliest days at Friday Harbor Labs, Tom happily remembers long conversations with the renowned ecologist Dr. Bob Paine, about seaweeds and their role within the food web. "That's my small claim to fame," Tom says with a hefty grin, "I was one of the first people to educate Bob Paine about seaweeds." Even then, Tom Mumford was an educator, and although he technically retired in 2013, he still teaches the Botany half of UW's spring ZooBot quarter at Friday Harbor Labs. This alone speaks toward his passion for teaching – something he holds has always been a particularly gratifying experience – however, in recent years, it has taken on even more meaning as a way of "passing the baton": sharing ideas and getting students excited about research. Here at the Labs, Tom's role as a teacher blurs the line between education and research. Much of what he teaches addresses how to be a good researcher: how to conduct a study, how to get published, how to apply for grants. Some of his favorite moments come from teaching, in seeing the light bulbs go off in a student's eyes when they ask a really good question. When that happens, sometimes Tom will have the answer. Other times, all he can say is, "Ya know, I don't think anyone knows that yet." Above all, there are two things he strives to instill in his students: enthusiasm and the ability to focus broadly and make connections.
"Good researchers and teachers need to be enthusiastic!"
"There goes an old timer!" exclaims Tom as a small yellow plane soars loudly overhead. He watches it intently. At 74 years young, his eyes spark with the same curiosity that started him on this path. "There's a Thoreau quote that I always loved," he says as he turns to me, "'It's not what you look at, it's what you see.'"
With that, Tom's story draws to a close. As the drone of the plane fades into the distance, we sit together in silence on Koz's bench at the top of the hill, each staring out into the world – from the crystalline waters to the depths of the sky – striving to see.


Look for TideBites in your inbox at the start of each month!
© 2018 Friday Harbor Labs, 620 University Road, Friday Harbor WA 98250