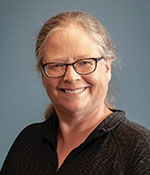 I first came to FHL to take the Invertebrate Zoology course in summer 1985. I had recently finished my undergraduate degree at Harvard and learned about FHL from my mentor, Professor Karel F. Liem. Karel was just starting to teach the Fish Biology course at FHL that summer. He then taught it every other summer for the next 15+ years, with Adam Summers taking over teaching it after Karel retired. In 1985 I also dabbled in research with Karel and a fish class student, Steve Kehl. We used low-tech chewing gum and plastic wrap with high-tech pressure transducers to study gill ventilation in flatfish. I've never thought about this, but now realize that the published abstract for that work was my very first scientific publication! [Liem K., Kehl S. and E. Brainerd. 1985. Symmetric respiratory currents of flatfishes. American Zoologist: 25 (A130).]
Photo credit: Kathy Ballard.
FHL in the summer of 1985 was both heaven and hell for me. It was mostly heaven: for the first time I was in a community of people who were as passionate about organismal biology, and marine organisms in particular, as I was. And further, we were all surrounded by stunning natural beauty and astounding organismal diversity. The hell came in my lack of self-confidence and how brilliant and talented these other people were. Sure, I met a lot of smart undergraduate students at Harvard, but they nearly all wanted to be doctors. FHL that summer was the first time I was among the top students and faculty in my chosen field of study, and I found the experience rather intimidating! Summer at FHL was, and is, the most intellectually vibrant community I have ever been a part of, and also among the most supportive of student peers. It's amazing to me how much summers at FHL have remained the same. Many of my students have subsequently taken summer courses at FHL, and more than once I have had to talk them off the ledge when they were feeling overwhelmed by the brilliance of their peers. Heaven and hell for all of us!
The summer of 1985 was the start of my love affair with FHL. Because the fish class was taught every other summer from then on, I had the excuse to visit FHL for 1-2 weeks to help out and bask in the energy and enthusiasm of the students. I finished my doctorate at Harvard with Karel and started my first faculty position at UMass Amherst in 1994. I was seeking grad students, and fortunately I'd met Adam Summers through his connection to Karel and the FHL fish class. Adam became my first doctoral student, highlighting another tremendous asset of FHL: networking. I have connected with many of my future students, colleagues and collaborators at FHL. Creative and important research ideas flow like (sea)water through summers at FHL.
I taught the fish course with Adam one year in the early 2000s, and holy cow: That's a lot of work! After that I decided to return to just being a visitor and guest lecturer. I think of myself as the auntie (and now maybe the grandmother!) who gets to play with the kids but can return them to their parents for the hard work.
FHL has helped me pursue both my passion for marine organisms and for biomedical imaging technologies. In 2014, Adam and I hatched the idea of creating a bioimaging facility at FHL in memory of Karel Liem. Our vision was to get high-tech imaging equipment in close proximity to diverse marine organisms, or as Adam so aptly said, "cutting edge by the water's edge." The centerpiece would be a microCT scanner to add to the SEM and other microscopes already onsite. With funds from private donors and UW, a SkyScan 1173 was purchased and installed in November 2015. The Karel F. Liem Bioimaging Facility was born.