Dr. Christopher Wells completed his PhD with Dr. Ken Sebens in 2019 in the Biology Department at the University of Washington. His research was on the biology and ecology of sea anemones in the San Juan Archipelago. He is now a postdoctoral associate at the University at Buffalo, researching the recruitment and population dynamics of Caribbean octocorals. You can follow him on Twitter @the_anemone_guy.

I first heard about UW Friday Harbor Labs, the "Mecca for invertebrate zoology," in an Invert Zoo course during my Master's work at the University of New Hampshire. I was told that any marine biologist worth their weight in salt needs to work at FHL, so I made it my mission to get there someday. I fell in love with sea anemones in New Hampshire and frequently read papers by Dr. Kenneth Sebens, who was the director of the Labs at the time. When I interviewed to be his graduate student, he gave me a tour around the campus and I knew I needed to be there. Being able to have an office with running seawater just a stone's-throw from the sea was my dream. Not only that, but the giant plumose anemones (
Metridium farcimen
) under the docks were awe-striking; I had never seen such big anemones in my life (turns out they're the tallest anemones in the world and the ones under the docks are small specimens!).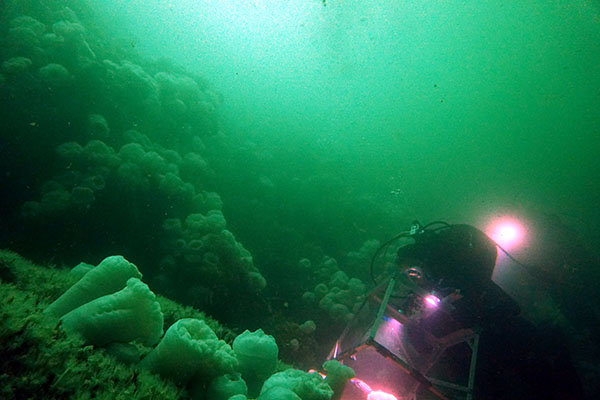 Anemones are particularly diverse in the northeast Pacific, with over 22 species around the San Juans alone, but their ecology is poorly understood. Ken and I were particularly interested in the giant plumose anemone
Metridium farcimen
which dominated some, but not all, of the walls he was surveying. This species is a dominant competitor, and yet their distribution is patchy both at small (meters) and large scales (whole walls). Additionally, they seem to live on vertical walls only in shallow environments, becoming more abundant on horizontal and sloping surfaces as we dive deeper. Why? Are they preferentially settling in these seemingly similar environments, settling just about anywhere and then moving to the right place, or are they getting eaten in places where predators can hunt for them?
Fig. 1: One of my research dives, with Mo Turner (background flashlight) and Timothy Dwyer (photographer) at site Strawberry Anemone Falls, southwest of Long Island, SJI. Credit: T. Dwyer.

To tease apart these questions, I needed a way of tracking individuals. This was the focus of my first dissertation chapter. When all individuals are white to eggshell to cream-colored, telling the difference between anemone A and B is difficult. Ken had published a way of marking anemones in the intertidal by painting them with neutral red (Sebens, 1976), but it required taking the anemones out of the water or waiting until the tide went out. That doesn't work with an almost strictly-subtidal species. We came up with a potential solution: inject them with dye. The only problem was that we didn't know whether that would negatively affect their behavior and growth (the data we actually wanted to collect!), so we designed an experiment to test the stain's efficacy. We tried three different stains: neutral red, methylene blue, and fluorescein. We collected small
Metridium
from the Port of Friday Harbor's floating docks (because small ones were more likely to show measurable growth) and injected them with different dyes (Figure 2). Neutral red ended up marking the anemones for eight months, methylene blue lasted about six weeks, and low levels of fluorescein lasted three days. Unfortunately, high levels of fluorescein were toxic to
Metridium
. If you want more details on the methods and experiments, you can read about them in Wells and Sebens, 2017.