Marine Invertebrates in the Plankton
As part of a group project for the Summer 2000 Marine Invertebrate Zoology class at the Friday Harbor Laboratories, this page was developed to document some of the diversity and natural history of the plankton in Puget Sound, Washington, around San Juan Island.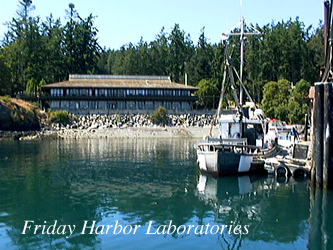 Site map
What is plankton?
Categories of Plankton
Plankton Collection and Observation
About Puget Sound
Field and Lab Notebook
Plankton Ecology
Feeding
Locomotion
Reproduction
Defense
Local Invertebrate Groups
Annelida (polychaete worms)
Arthropoda (shrimps, crabs, copepods, barnacles)
Chaetognatha (arrow worms)
Chordata (sea squirts, salps)
Cnidaria and Ctenophora (anemones, corals, jellies)
Echinodermata (sea stars, urchins, brittle stars, sea cucumbers)
Mollusca (bivalves, chitons, snails)
Conclusions
Lesson Plan
About Team Plankton
References and Links

What is plankton?

The word plankton originates from the Greek word for "wandering." It refers to the astonishingly diverse group of plants and animals that spend some or all of their life cycle drifting in the water of oceans or freshwater lakes. Although many of these organisms are capable of locomotion, they are generally unable to move independently of currents and waves. This lack of strong swimming ability separates plankton from nekton, which includes organisms that can control their movement in the water (such as fish). Some planktonic organisms can be quite large (up to a meter or more), however, plankton are generally smaller than nekton, and most are best viewed with the aid of a microscope.

Categories of Plankton

Because "the plankton" is comprised of such a complex array of different organisms, it is possible to classify members of the plankton in multiple ways. Plants in the plankton are called phytoplankton, and animals are called zooplankton. Plankton may also be categorized according to how much of the life cycle is spent in the plankton.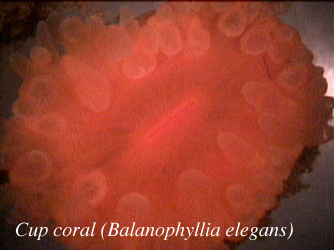 Holoplankton, for example, are planktonic their entire lives, while meroplankton spend only a part of their life cycle in the water column, usually as a larval stage. The planktonic larval stages of invertebrate animals often look very different from the non-planktonic adults. After a period of hours to weeks to months in the plankton, larvae settle on a surface and metamorphose into their more familiar adult forms, such as the cup coral pictured to the left.
Corals, sea stars, and bivalves can all have a planktonic larval stage (although the length of time in the plankton may vary greatly, and some species do not have a planktonic stage at all). Animals such as these that live on or associated with the sea floor are called benthic. For organisms in which the adults are also sessile (attached in one place), the planktonic larval stage may represent the only possible mechanism for dispersal to new habitats.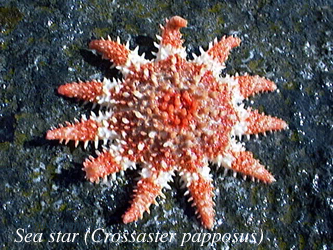 Size is another way to categorize plankton. A common system uses the following size classes (in millimeters):
Picoplankton 0 - 0.002 mm
Ultraplankton 0.002 - 0.0055 mm
Nannoplankton 0.005 - 0.06 mm
Microplankton 0.06 - 0.5 mm
Mesoplankton 0.5 - 1.0 mm
Macroplankton 1.0 mm - 1.0 cm
Megaloplankton greater than 1.0 cm

Finally, plankton can be classified by the relationships among organisms. Organisms are assigned to different groups (phyla) based on certain similarities in body plan. A list of common invertebrate phyla found in the local plankton is at the bottom of this page, with links to appropriate pages. For more information about plankton specifically, and invertebrates in general, see our page of references.

Plankton Collection and Observation

Collecting plankton can be as simple as dipping a jar into the water off a dock, or as complicated as towing large nets of varying mesh sizes behind a ship in the middle of the ocean; sampling can be done at different geographic locations, depths, and time of day.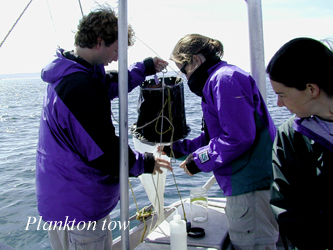 Because our primary goal was to survey the diversity of organisms in the waters near the Friday Harbor Labs, we sampled mostly in the harbor from a small boat (the Auklet), and from the lab dock (follow this link for more information about Puget Sound). Even without a complex sampling program, we were able to see some patterns in the distribution and abundance of different types of plankton (described in our Field and Lab Notebook). After each plankton collecting trip, we brought the samples back to the lab to view them under a microscope.

Plankton Ecology

Although the immense diversity of body plans and life cycles found in the plankton can seem overwhelming, it is encouraging to recognize that all organisms must accomplish similar goals: survival, growth, and reproduction. For this reason, we have focused on four themes concerning how organisms in the plankton relate to their habitat, and to each other. The same four themes are discussed by other class groups for adult forms of marine invertebrates in various benthic habitats around the island (rocky intertidal/tide pools, mud flats, floating docks, and a subtidal creek). Click on the following links to read about the four themes in the planktonic environment:
Feeding Locomotion Reproduction Defense


Local Invertebrate Groups in the Plankton
The following are phyla for which we have pictures of representative organisms that we found in the plankton. This is by no means an exhaustive list, and is only intended to provide a sense of the amazing diversity of planktonic marine invertebrates that exists in the waters around San Juan Island!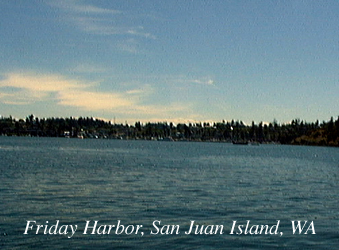 Conclusions
Lesson Plan
About Team Plankton
References and Links


Back to top of page