Lab Personnel
Alberto Aliseda

Associate Professor
Alberto Aliseda is an Associate Professor in Mechanical Engineering at the University of Washington, where he has been in the faculty since 2006. Prior to the UW, he spent 7 years at the University of California, San Diego, where he obtained his PhD and did postdoctoral research in Mechanical and Bio Engineering. He is the recipient of the NSF CAREER award and the USGS Director's Award.

Originally from Spain, he earned a B.S./M.S. in Aerospace Engineering from the Polytechnic University of Madrid. His current interests focus on turbulent and multiphase flows, including energy conversion and environmental problems such as cloud microphysics, liquid atomization and marine renewable energy, as well as on biomedical flows involving ultrasound contrast agents and the biomechanics basis of vascular disease. He is a Visiting Professor at the Laboratoire des Ecoulements Geophysiques et Industriels (LEGI) in Grenoble, France.

Venkat Keshav Chivukula

Postdoctoral Researcher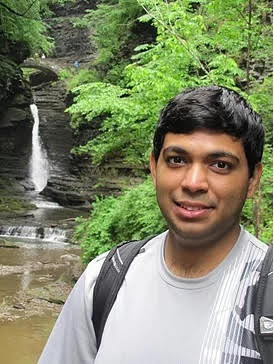 My exciting journey began halfway around the world in Mumbai, where I completed my bachelor's in mechanical engineering. I came to the University of Arizona to pursue my master's in mechanical engineering, which I completed in 2010. Throughout my master's education I was increasingly drawn towards applying the mechanical engineering concepts to biological applications, and this culminated in my pursuing a Ph.D. degree in biomedical engineering from the University of Iowa, where I researched novel methodologies to model blood cells at the micro-scale. I spent a year in Portland,OR at the Oregon Health and Science University (OHSU) researching hemodynamics in cardiac development, before moving to the UW. I am currently involved in determining the influence of hemodynamics on efficacy of heart failure therapies, and am also working on investigating blood flow in intracranial aneurysms. Outside of the lab, I love going on hikes, long drives, cooking (and eating good food!), painting, reading, and having philosophical discussions.
Nathanael Machicoane

Postdoctoral Researcher
Nathanael Machicoane is a postdoctoral researcher in Mechanical Engineering at the University of Washington in Seattle. His current interests focus on turbulent and multiphase flows. Currently he undertakes experimental work on gas-assisted liquid atomization. He joined Alberto Aliseda's Multiphase & Cardiovascular Flow Lab in late summer 2016.
Originally from France, he earned a B.S./M.S. in Physics of out-of-equilibrium systems from Ecole Normale Supérieure de Lyon. He then obtained his PhD in 2014, working on heat transfer and transport of large particles in turbulence at the Physics Laboratory of Ecole Normale Supérieure de Lyon. Prior to joining UW, he studied inertial waves and turbulence in rotating fluids for 2 years as a postdoctoral researcher at the FAST laboratory of Paris-Sud University.
Michael Barbour

Research Assistant
Mike completed his B.S. in Mechanical Engineering at the University of Vermont in 2012. He joined the University of Washington to do a PhD in fluid mechanics that Fall. His research is focused on understanding the hemodynamics of blood flowing in intracranial aneurysms, and in particular, he performs numerical computations on virtual models of patient blood vessels inside the skull (on or around the Circle of Willis) to develop a predictive algorithm that determines the success of endovascular treatment for intracranial saccular aneurysms: coiling and/or stenting. He works within a multidisciplinary collaboration between fluid mechanicians and neurosurgeons that apply state of the art fluid mechanics experiments, computational simulations and in vivo imaging (CT rotational angiography and intravascular Doppler ultrasound) to tackle this problem that has puzzled biomechanics and medical experts for several decades. This effort is funded by NIH (NINDS 5R01 HL115267) and has been published in multiple manuscripts ([1], [2], [3]

Alicia Clark

Research Assistant
Alicia graduated from the Lafayette College with a BS degree in Mechanical Engineering in 2006. She joined the University of Washington as PhD student in 2010 and, within her first year in the Multiphase & Cardiovascular Flow Lab, she was awarded the National Science Foundation Graduate Research Fellowship. In February 2016, she passed the PhD Candidancy Exam and is finishing her PhD in Mechanical Engineering with a planned defense in 2017.
Alicia's research focuses on the dynamics of microbubbles injected into the human circulation. In particular, she conducts experiments and analysis to understand the forces that determine the trajectory of microbubbles in arteries and veins, where they are subject to complex forces from the high Reynolds number blood flow and the Bjerknes or radiation force from an ultrasonic acoustic field. [1] [2]

Danny Sale

Research Assistant
Danny completed his B.S. in Mechanical Engineering at the University of Tennessee in 2009, and in 2010 he headed west to join the University of Washington and pursue a doctoral degree. In general, his research interests are in aerodynamics, structural dynamics, and numerical modeling of wind and hydrokinetic turbines. Danny also works as part of the Northwest National Marine Renewable Energy Center, and his research is focused on using numerical methods to predict turbine performance and structural loads. A large part of his research is also dedicated to developing the HARP_Opt code, which is an open source code used to design and optimize wind and hydrokinetic turbines..
Kurt Sansom

Ph.D. Student
Kurt joined the lab in August of 2014. He received a BSE (2008) and MSE (2010) from the University of Alabama Huntsville in Mechanical Engineering. Previous to joining the lab, Kurt's experience includes V&V for Ballistic Missile defense, and working as a biomedical test engineer for the startup company HeartFlow.
His current work in the lab includes creating patient specific data for a doppler ultrasound simulator and developing experimental and computational comparisons with 4D flow MRI sequences.
Currently his interests include biomechanics of the cardiovascular system, coupling reduced order models with high fidelity simulations, numerical methods, predictive medicine, and verification and validation of patient specific non-invasive assessments.
Akshay Basavaraj Bagi

Master Student
Akshay is a Masters student at UW. He did his Bachelors in Mechanical Engineering in India. After that, he worked as an HVAC Engineer at W S Atkins Pvt Ltd for two years in Bangalore, India. He came to the USA for higher studies.
His research focus is understanding flow physics of various flow problems through CFD simulations. He is currently working on CFD simulations of flow over DOE-6 Marine Turbine and also on CFD simulation of flow around River Debris Diverting Platform (RDDP) which is also his topic for Masters Thesis. He also interned at Seattle City Light during the Summer of 2016. There he worked as an Engineering Intern in the Power Production Department and got hands on experience on various Hydropower projects. He is looking forward to continuing his research in the field of Renewable Energy and pursue Academic Career.
Laurel Marsh

Master Student
Laurel became a rocket scientist in the summer of 2017 when she graduated from Mississippi State University with her bachelor's in Aerospace Engineering with a concentration in Astronautics. However, she had been analyzing the wakes of hydrokinetic turbines via computational fluid dynamics which led her to the University of Washington and specifically Professor Aliseda. Consequently, she joined the Multiphase and Cardiovascular Flow lab.
Currently, she is working on modeling a dual-rotor horizontal-axis turbine both as a steady-state Blade Element Model in OpenFOAM as well as a transient Rotating Reference Frame model in StarCCM+ for comparison to experimental results. During her graduate studies, she will transition into researching cardiovascular flow both experimentally and computationally.