About the Behavioral Health Intervention Program (BHIP)
BHIP is a short-term co-management program for primary care patients with psychiatric illness. BHIP Social Work offers short-term cognitive and behavioral based counseling and "bridging" to community resources. The BHIP psychiatrist offers medication consultations and reviews. BHIP does not provide long-term or crisis mental health care.
Who most benefits from BHIP
Patients with acute or episodic Depression, Anxiety, Adjustment Issues or undiagnosed mood symptoms in need of diagnostic clarification.
Patients INTERESTED AND MOTIVATED to engage in brief, structured therapy interventions such as: CBT, Mindfulness, Problem-Solving, and Behavioral Activation.
Potential to improve within 6 months of treatment.
Patients with medication intolerance or difficulty with their current psychiatric medication(s) or new recommendations. PCP is willing to manage medication and does not require ongoing psychiatry visits.
Who should not be referred to BHIP
Patients with chronic, complex mental health needs and/or a primary diagnosis of Schizophrenia, Delusional Disorder, ADHD/ADD, Eating Disorders, Dementia, Personality Disorder or Traumatic Brain Injury.
Patients with regular or daily substance abuse or addiction and no interest in change.
Patients already established with an outside Psychiatrist or therapist. OK to refer to BHIP psychiatrist if patient is seeing a therapist, but they would not be enrolled in BHIP for counseling.
Patients whose psychiatric meds you will never be comfortable managing after a brief psychiatrist consultation.
Patients who want longer term support or counseling. Ok to notify BHIP or Jan E (SW) if patient will need assistance with resources. Resource Handout(s) are located by BHIP office and resident workroom. Online search for counselors and therapists via: Psychologytoday.com
Patient with UNITED INSURANCE: not contracted with UW for mental health care (Insurance status available in chart review-ask Attending for help if needed).
How to refer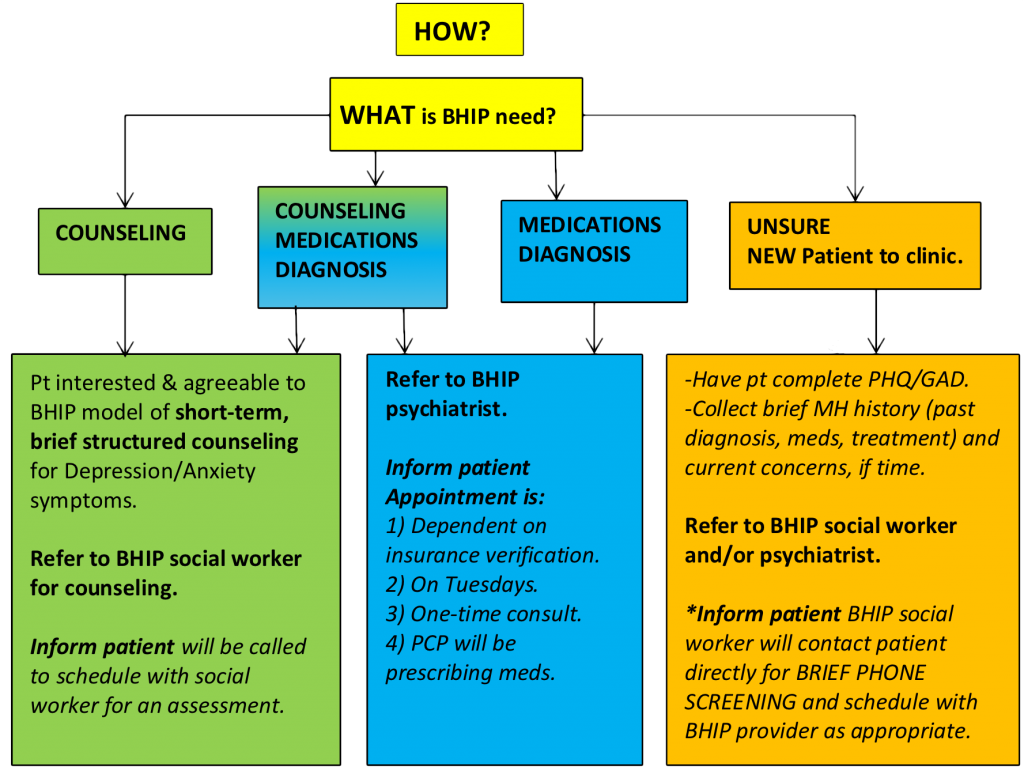 Notes
If you start medication: Have patient RTC in 4-6 weeks for follow up.
OK to send BHIP psychiatrist EPIC message for medication questions.
Unsure?
Any GIMC Social Worker can consult for a 'curbside' on appropriate BHIP referral or for other mental health options/resources in community through insurance.
BHIP psychiatrist is in clinic Tuesdays for curbsides.
Inform patient you are going to consult with social work team on options for resources and referrals.
If you are not the patient's PCP or patient is new to you, review chart for past BHIP referral(s) and outcome(s) before referring.
Epic staff message to PCP and BHIP is always good alternative if unsure and for an FYI on referral.