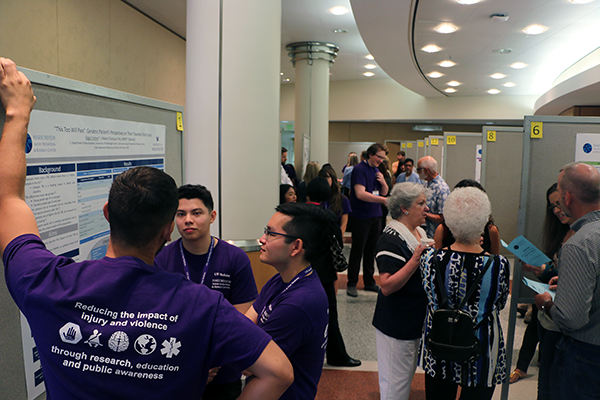 Interns from the 2018 INSIGHT Summer Research Program spotlighted a range of topics including geriatric traumatic brain injury, firearm injuries, eye injuries and emergency care at the annual INSIGHT Research Symposium held Aug. 3 at Harborview Medical Center. Joined by physicians, researchers, public health officials, and the public, 39 interns from across the country discussed their findings and experiences during the intensive training program at Harborview Injury Prevention and Research Center.
Keynote speaker Jeffrey Duchin, M.D., health officer for Public Health – Seattle & King County, outlined how his work in clinical care led him to working on upstream injury prevention. He emphasized the vital role of addressing large scale social factors to reduce health disparities between populations. His talk celebrated the work of both Harborview Injury Prevention and Research Center and the summer interns, encouraging them to think broadly about injury prevention.
INSIGHT's undergraduate, graduate and medical student interns each completed a hands-on research project over eight weeks and shared their findings through formal research posters at the symposium.
Two posters were selected for awards by a panel of expert judges based on the quality of each intern's research, the visual format of their poster, their responses to questions and their interpretation of the data. University of Washington student Edgar Cetino's winning project, "Geriatric Patients' Perspectives on Their Traumatic Brain Injury," was mentored by HIPRC core member Hilaire Thompson, Ph.D., RN, ARNP. UW medical student Emily Muller completed the award-winning project "Pre-Hospital Transport and Outcomes of Patients with Firearm Injury Treated at Harborview Medical Center," mentored by Medical Director of King County Medic One Tom Rea, M.D., MPH, and HIPRC and HIPRC and INSIGHT Director Monica Vavilala, M.D.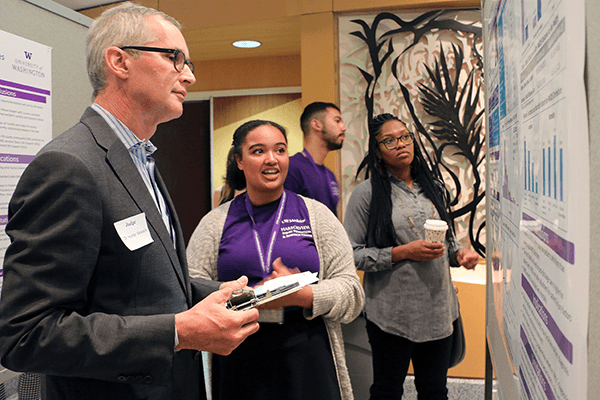 This year's judge panel included School of Dentistry Clinical Professor Douglass Jackson, DMD, Ph.D., M.S.; Departments of Medicine and Global Health Professor Sheila Lukehart, Ph.D.; Associate Professor of Medicine Anneliese Schleyer, M.D., MHA; and Professor and Chair of the Department of Urology Hunter Wessells, M.D., FACS.
The symposium also featured the INSIGHT High School Program, where students conducted a unique research project examining bike share users and helmet use in Seattle alongside learning about neuroscience, brain injury and medicine. During the four weeks of the high school program, the students collected and analyzed field data, drew conclusions, and communicated their findings. Each of four groups of students developed an abstract, infographic and letter for a specific audience: academic transportation researchers, bike share companies, city transportation officials, or elected city officials. The project was mentored by UW Acting Assistant Professor of Epidemiology Stephen Mooney, Ph.D.
Other project mentors included Ali Rowhani-Rahbar, M.D., Ph.D., MPH; Tizzy Bennett, MPH; Dr. Katie Stadeli, M.D.; Bryan Voelzke, M.D., M.S., FACS; Fred Rivara, M.D., MPH; Elizabeth Killien, M.D.; Niels Johnsen, M.D.; Nathalia Jimenez, M.D., MPH; Christopher DeCou, Ph.D.; Janessa Graves, Ph.D., MPH; Judith Hagedorn, M.D., MHS; Grant O'Keefe, M.D., MPH; Tam Pham, M.D.; Marie Vrablik, M.D., MCR; Yewlin Chee, M.D.; and Vivian Lyons, Ph.Dc., MPH.
Sponsors of the 2018 INSIGHT Summer Research Program include PEMCO Insurance, Rainier Scholars, Harborview Medical Center, the UW Northwest Center for Public Health Practice, the UW Health Professions Academy, Seattle Children's Hospital and Amherst College.
A complete overview of this year's projects and program is available at the INSIGHT website. Applications for the 2019 program will open in the fall.