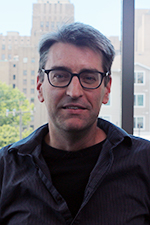 Epidemiology postdoctoral fellow Stephen Mooney, Ph.D., has been awarded a K99/R00 grant from the U.S. National Library of Medicine to support the development of tools to make neighborhood environment data more accessible to researchers not trained as geographers. The grant is earmarked to support research career development.
While at Harborview Injury Prevention and Research Center, Mooney has studied questions around active transportation, especially related to infrastructure support for walking and bicycling. He was the lead author on a recent study published in the American Journal of Epidemiology examining the relationship between county Complete Streets policies, bicycle commuting numbers and bicycle fatality rates. His work sits at the intersection of informatics and epidemiology, leveraging Big Data, spatial interpolation and epidemiologic methods to identify potential levers for public health improvement.
Mooney is completing his two-year fellowship at HIPRC, and he will continue to collaborate with the center as he joins the UW School of Public Health's Department of Epidemiology as an acting assistant professor this summer.