2017 Undergraduate/Graduate/Medical Student Research Projects
Needs Assessment Interviews and Educational Video Development for Pediatric Burn Patients
Protein Supplementation in Critically Ill Patients
Understanding the Trauma Patient Transfer Process at Harborview Medical Center
Pedestrian Safety Risks at University of Washington Medical Center
Pediatric Epidural Hematoma Evaluation and Determination of Clinical Care Plan
A Scoping Review of Traumatic Brain Injury Among American Indians/Alaska Natives
Impact of Gender on Responses to Workplace Violence in the Emergency Department
Overtriage to ICU for Renal Trauma Patients at Harborview Medical Center
Effects of Genetic Variation on Traumatic Brain Injury Outcomes Using Drosophila Melanogaster
Language Disparities in the Utilization of Preventive Health and Dental Services Among Washington Youth
Helping Individuals with Firearm Injuries: Assessing Dose and Fidelity for Critical Time Intervention
Patterns in Post-Discharge Venous Thromboembolism
Athletic Training and the Delivery of Mental Health Education
Effect of Patient Fever on Emergency Department Diagnosis of Sepsis
Validity Analysis of Behavioral Coding of Trauma Resuscitations
A Framework for Selecting Trauma Resuscitations for Trauma Doctor Evaluation
Does Helmet Legislation Decrease Bicycle Ridership?
Effect of School Services on Academic Performance After TBI
Crowding in the Emergency Department: Assessing Relationship with Worker-Directed Violence
Current Firearm Safety Practices Across Washington State
Piloting a Mobile Application for Wound Care Follow Up in the ED: A Feasibility Study
In addition to poster talks with INSIGHT undergraduate, graduate and medical students, the INSIGHT Research Symposium also featured original public health campaigns created by the 2017 INSIGHT High School Program.
2017 INSIGHT Poster Winners
Every summer culminates with the INSIGHT Research Symposium, where interns present research posters on their projects for medical professionals and the public.
A panel of judges drawn from the University of Washington, Harborview Medical Center and Seattle Children's Hospital evaluated INSIGHT projects based on the quality of each intern's research, the visual format of their poster, their responses to questions and their interpretation of the data. In 2017, the posters were divided into two groups, and a winner was selected from each group.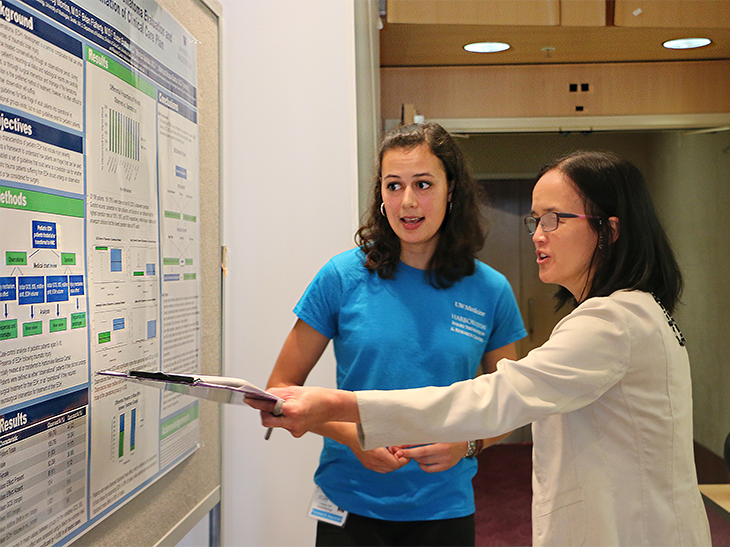 Group A Winner: Lindsey Call, Amherst College
"Pediatric Epidural Hematoma Evaluation and Determination of Clinical Care Plan."
Mentor: Mahmud Mossa-Basha, M.D., Department of Radiology.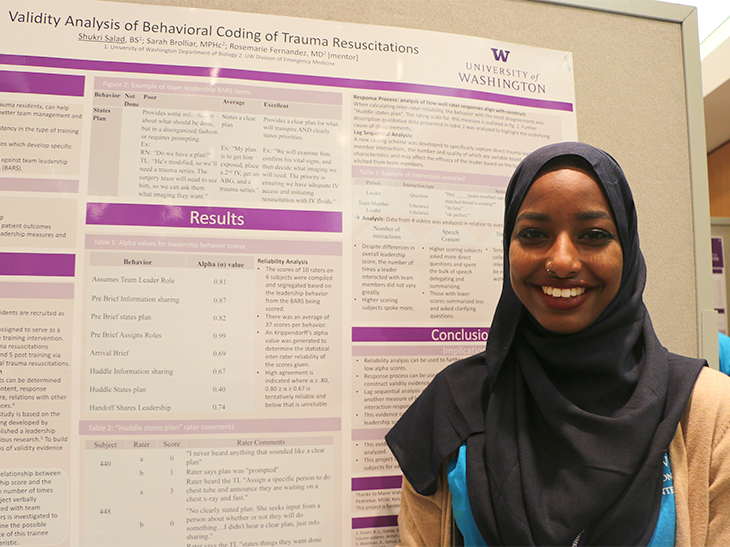 Group B Winner: Shukri Salad, University of Washington
"Validity Analysis of Behavioral Coding of Trauma Resuscitations"
Mentor: Rosemarie Fernandez, M.D., Division of Emergency Medicine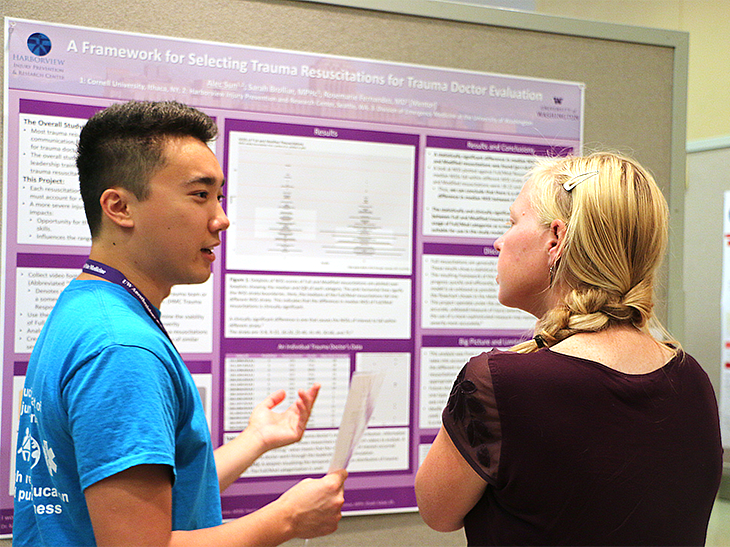 INSIGHT MVP Award: Alec Sun, Cornell University
Selected by INSIGHT peers for outstanding engagement and assistance.