2018 Undergraduate/Graduate/Medical Student Research Projects
Geriatric Patient's Perspectives on Their Traumatic Brain Injury
Comparison of Pediatric and Adult Open Globe Injuries at Harborview Medical Center
Low Health Literacy Educational Materials for Parents of Children with Traumatic Brain Injury
Mean Blood Alcohol Content (BAC) Variance among Deceased Washington State Drivers Involved in Fatal Motor Vehicle Crashes
Mechanism, Management, and Outcome of Renal Trauma by Grade of Injury
Demographic and Firearm-Related Characteristics of Firearm Safety Event Attendees
The Relationship between Total Urinary Nitrogen, Transthyretin, Demographic and Clinical Factors in Critically Ill Trauma and Surgical Patients
Assessing Bystander Group Composition and CPR Quality: Potential for Improvements in Cardiac Arrest Resuscitation
Analysis of Female Genital Trauma Incidents Treated at Harborview Medical Center
Prehospital Provider Perspectives on Interactions with Persons with Limited English Proficiency
Incidence & Mortality of Acute Respiratory Distress Syndrome following Pediatric Trauma
Review of Pre-Hospital EMS Protocols: Managing Oxygenation & Blood Pressure for Traumatic Brain Injuries
Penetrating Injuries to the Male Genitalia: An Urban Trauma Center Experience
Evaluation of Quality and Efficiency of the IPASS Sign Out Method
Learners' Perspectives on Stop the Bleed: A Program to Increase Survivability in Mass Casualty Events
Review of EMS Pre-Hospital Patient Protocols: Restraint and De-Escalation Use in Psychiatric Health Emergencies
Sexual Health After Traumatic Pelvic Fracture: Determinants of Care
Fall Prevention in Older Adults: A Qualitative Analysis of the YMCA "Moving for Better Balance" Tai Chi Program
Pre-Hospital Transport and Outcomes of Patients with Firearm Injury Treated at Harborview Medical Center
A Qualitative Study on Health-Related Symptoms in Geriatric TBI Patients
Language Barriers in the Prehospital Setting: Descriptive Analysis of National Emergency Medical Service Information System (NEMSIS) Data
Description of Legal Intervention Homicide By Victim Mental Health and Substance Abuse Problems
Analysis of Suicide Protocols in Emergency Departments in Washington State
Mentored, independent research projects with medical and public health faculty and professionals are the core of the INSIGHT Summer Research Program. Alongside the research programs, interns also benefit from career development and education through training seminars, guest speakers and field trips. Learn more at the INSIGHT website.
In addition to poster talks with INSIGHT undergraduate, graduate and medical students, the INSIGHT Research Symposium also featured research capstone projects created by the 2018 INSIGHT High School Program.
2018 INSIGHT Poster Winners
Every summer culminates with the INSIGHT Research Symposium, where interns present research posters on their projects for medical professionals and the public.
A panel of judges drawn from the University of Washington and Harborview Medical Center evaluated INSIGHT projects based on the quality of each intern's research, the visual format of their poster, their responses to questions and their interpretation of the data. In 2018, the posters were divided into two groups, and a winner was selected from each group.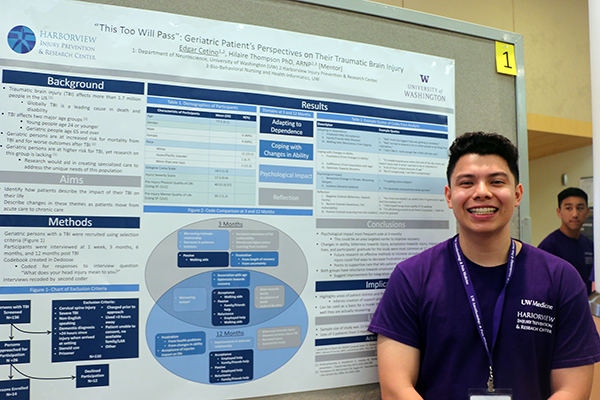 Group A Winner: Edgar Cetino, University of Washington
"Geriatric Patient's Perspectives on Their Traumatic Brain Injury"
Mentor: Hilaire Thompson, Ph.D., RN, ARNP, UW School of Nursing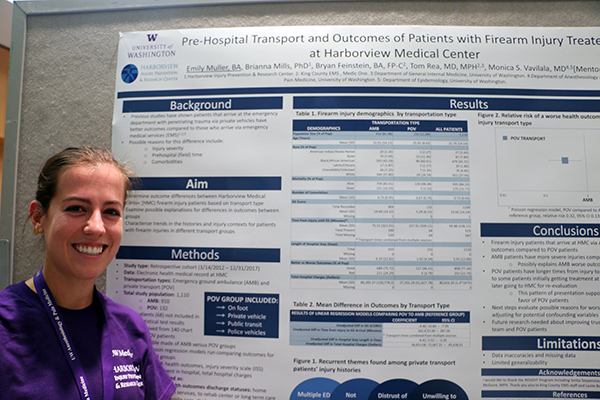 Group B Winner: Emily Muller, University of Washington
"Pre-Hospital Transport and Outcomes of Patients with Firearm Injury Treated at Harborview Medical Center"
Mentor: Tom Rea, M.D., MPH, Division of General Internal Medicine, and Monica Vavilala, M.D., Anesthesiology and Pediatrics
INSIGHT Colleges and Universities
The 2018 INSIGHT interns joined from colleges and universities across the country. Represented institutions include:
Amherst College
Brown University
Columbia University
Cornell University
Georgetown University
Georgia Institute of Technology
Haverford College
Smith College
University of Notre Dame
University of Texas
University of Virginia
University of Washington
Vanderbilt University
Whitman College