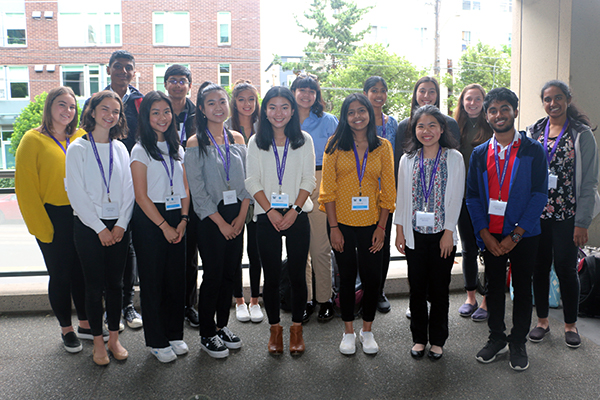 Harborview Injury Prevention & Research Center's 2019 INSIGHT Summer High School Program kicked off this week with a focus on introducing students to public health and medicine through the national Stop the Bleed training.
During the four-week program, 16 students will develop a comprehensive research project on Stop the Bleed, an emergency bleeding control training program developed by the American College of Surgeons and the Hartford Consensus. The students will explore the idea of modifying Stop the Bleed for high school settings by learning and applying new research skills: designing surveys, collecting data, conducting focus groups, analyzing findings, synthesizing recommendations, and developing a program evaluation plan.
Alongside HIPRC's summer undergraduate and graduate interns, the high school students will present their findings at the 2019 INSIGHT Research Symposium on Tuesday, Aug. 6 at UW Medicine at South Lake Union Building C, located at 850 Republican St.
The program is supported in part by PEMCO Insurance, which has been a sponsor of the INSIGHT Summer High School Program since 2017.
"Each summer the students involved in the INSIGHT program impress us with their ideas and energy," said PEMCO President and CEO Stan McNaughton. "They continue to prove that simple actions, like wearing a bike helmet or knowing first-aid, can have a big impact on each of us individually and collectively. Because of their efforts and collaboration, our communities are safer places to live."
Stop the Bleed teaches members of the public how to respond to potentially life-threatening bleeding. While the program was initially developed in response to mass casualty incidents such as shootings, the skills are also valuable in more common occurrences such as car crashes and household accidents. The training teaches participants how to recognize life-threatening bleeding and stem it using tourniquets and wound packing. A person with a catastrophic bleeding injury can die from blood loss in minutes, so bystanders who know how to respond can buy valuable time for help to arrive.
In Washington state, high school students are required to learn CPR prior to graduation, and trauma leaders have suggested that they be taught Stop the Bleed as well.
In addition to developing their Stop the Bleed project, the students will also attend seminars and workshops with HIPRC and University of Washington faculty and researchers, tour medical facilities across Seattle, learn about college and medical school, and participate in an in-service volunteer day.
Past high school programs have conducted projects on bicycle helmet use, distracted driving prevention, and concussion awareness. Applications for the summer open in January.
To learn more, visit the INSIGHT High School Program website.