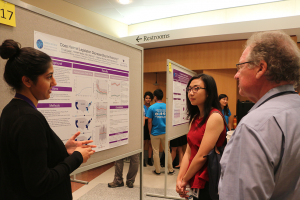 The 2018 INSIGHT Summer Research Program is accepting applications from undergraduate, graduate and first-year medical students looking for a hands-on, paid summer internship with injury research.
INSIGHT is an intensive eight-week program at Harborview Injury Prevention and Research Center in Seattle, Washington. Participants work with faculty mentors on a research project throughout the program, and projects in the past have covered a broad array of injury topics. The summer culminates with a competitive research poster session where participants present their findings to physicians, researchers, medical professionals and members of the public. Participants also receive a stipend.
In addition to training and experience in research, the program includes clinical shadowing experiences, academic workshops, professional seminars, injury research presentations and field trips to some of the many medical facilities and resources in the Seattle area. Located on the Harborview Medical Center campus, the program brings participants together with top researchers in injury control and prevention.
Past Testimonials:
"This program has left a huge impact on me and has helped me grow so much as an aspiring doctor and as a person."
 "I was able to determine what exactly I want to do with my career – something that before the program, I wasn't so sure about. This was a transformative internship."
"A great environment for research."
Applications for undergraduate, graduate and medical students close Jan. 15, 2018, with acceptances expected in mid-March or earlier.
Learn more and apply at the INSIGHT website.
The INSIGHT High School Program for high school students grades 10-12 will open for applications in early spring.