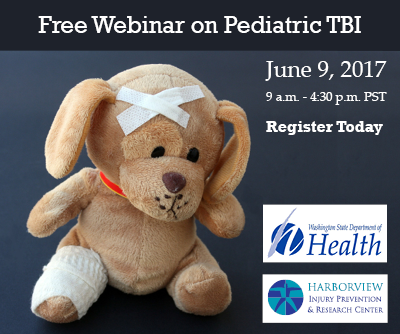 A free, day-long webinar by Harborview Injury Prevention and Research Center seeks to educate health practitioners about pediatric traumatic brain injury. Leading experts in the field will present on prevention, rehabilitation, acute care, stabilization and other subjects.
"Hot Topics & Best Practice in Pediatric Traumatic Brain Injury" will broadcast live on June 9, 9 a.m. – 4:30 p.m. PST. The event is presented by Harborview Injury Prevention and Research Center and the Washington State Department of Health. General registration is free, though an administrative fee will be charged to participants who wish to earn CNE credit.
The webinar has three primary goals: to raise awareness of pediatric TBI, engage a learning community around the topic and communicate best practices.
According to the Centers for Disease Control and Prevention, emergency rooms see more than 450,000 TBI visits a year from children ages 0-14. Children ages 0-4 and teens ages 15-19 are among the top three most likely age groups to sustain a TBI. This type of injury can have complex, long-lasting impacts, making awareness and education critical to effective response.
HIPRC Director Dr. Monica Vavilala noted the center's faculty members include active clinicians and researchers working in areas related to pediatric TBI, making it an ideal hub for the webinar.
"We're well-versed in translating research to practice in meaningful ways," she said. "HIPRC also has a longstanding relationship with the community and the Department of Health, and we can offer top-notch expertise in the field of pediatric TBI."
Event organizers hope that increased knowledge about TBI among children and teens will in turn influence clinical care, policy making and other outcomes that will ultimately benefit pediatric TBI patients and their families.
Presentations during the webinar include:
Dr. Frederick Rivara, M.D., MPH — Traumatic Brain Injury Prevention and Public Health
Dr. Monica Vavilala, M.D. — Brain Trauma Foundation Guidelines for Acute Care
Dr. Beth Ebel, M.D., MSc, MPH — Car Seats and Seatbelts
Dr. Carole Jenny, M.D., MBA — Child Abuse
Dr. Molly Fuentes, M.D., MHS — Rehabilitation Needs, Practice and Outcomes for Child TBI
Dr. Sara Chrisman, M.D., MPH — Return to Learn Challenges and Solutions
Dr. Stan Herring, M.D. — Recommendations for Return to Play
Dr. Jamie Shandro, MD, MPH — Emergency Stabilization for Pediatric TBI
A complete agenda will be available to registered participants prior to the event. Registration is required. To inquire about earning CNE credit or for any other questions, contact Project Coordinator Manal Jmaileh at mjmaileh@uw.edu.