The principal mission of the Methods Core is to provide HIPRC faculty, staff, and trainees with assistance and training in the conduct of high-quality research using rigorous methodologies.
Core Components
Data Collection provides assistance with the design and implementation of data capture strategies.
Data Management provides assistance with the transformation of raw collected information into a suitable form, works with existing public or private databases to create convenient datasets in preparation for the analysis and oversees the access and maintenance of all primary and secondary data at HIPRC.
Data Analysis provides assistance with statistical analysis.
Education Once every 6 weeks, investigators who face challenging methodologic or analytic problems arising in a specific project present their work and receive feedback during the Journal Club held on Fridays.
Core Staff
Director: Dr. Ali Rowhani-Rahbar, MD, PhD, MPH
Contact Information
HIPRC Office: 4061
Tel: 206-744-9437
rowhani@uw.edu
For more Methods Core Tips, see our archive.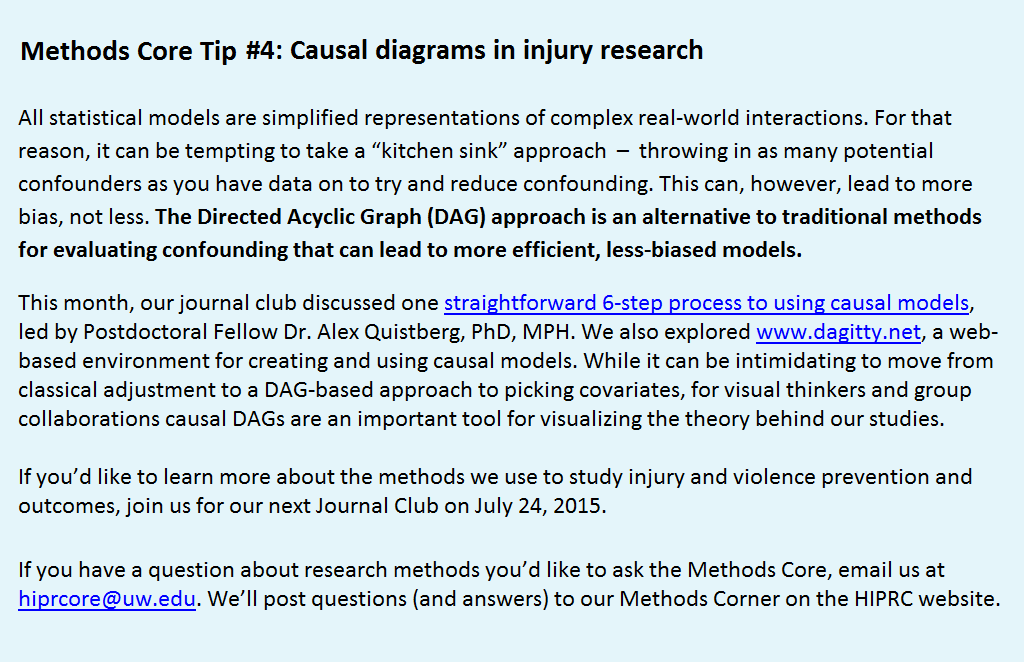 Staff
Journal Club Readings
Cheng C, Hoekstra M. (2013) Does strengthening self-defense law deter crime or escalate violence?: Evidence from Expansions to Castle Doctrine. Journal of Human Resources.
La Flair LN, Bradshaw CP, Storr CL, et al. (2012) Intimate partner violence and patterns of alcohol abuse and dependence criteria among women: A latent class analysis. J Stud Alcohol Drugs.
Rhea S, Weber DJ, Poole C, Cairns C. (2014) Risk factors for hospitalization after dog bite injury: A case-cohort study of emergency department visits. Acad Emerg Med.
Shrier I & Platt RW. (2008) Reducing bias through directed acyclic graphs. BMC Medical Research Methodology.
van Geel M, Vedder P, Tanilon J. (2014) Relationship between peer victimization, cyberbullying, and suicide in children and adolescents: A meta-analysis. JAMA Pediatr.