HIPRC is a collaborative, interdisciplinary center, and we bring that same approach to the Methods Core. We work closely with investigators to conduct high-quality research using rigorous methodology, which includes study design and data analysis support. The Methods Core primarily works with HIPRC faculty and trainees, but we also frequently partner with researchers outside the center from a wide range of academic fields, public health organizations and all levels of government.
Services & Expertise
Facilitating New Projects
We find our collaborators benefit the most when we work together from a project's early stages. Our staff has extensive experience in designing and conducting research, managing and analyzing data, and preparing manuscripts and presentations. We regularly help develop funding applications, with the expectation that appropriate funding for our involvement will be provided if the application is successful. We prefer six-weeks prior notice to assist with funding applications.
Refining Existing Projects
For studies that have already begun, we can support the management and analysis of existing data. After an in-person consultation, we will develop an estimated scope-of-work plan and budget to meet your needs.
To discuss collaborating on a new or existing project, submit a Methods Core Contact Form.
Our Expertise
Study Design & Instrument Development

Articulate research aims and evaluate needs.
Design data capture strategies and data collection instruments.

Data Management

Transform raw collected information into a usable form.
Develop analytic datasets from existing public or private databases.
Oversee primary and secondary data at HIPRC.

Data Analysis

Assist with statistical analysis in Stata, R, and SAS.
Expertise in a wide range of methods and models appropriate for survey data, policy analysis, survival analysis, and causal inference, as well as foundational techniques.

Manuscript/Presentation Preparation

Collaborate on writing and editing manuscripts prior to submission and in response to reviewer feedback.

Education

Support our collaborators in building research skillsets.
Lead regular workshop-style discussions of specific methodologic or analytic challenges (Held in the HIPRC conference room).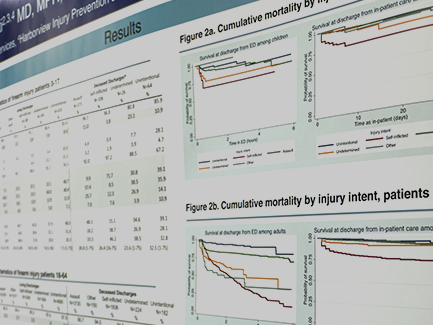 Our Staff
Ali Rowhani-Rahbar, M.D., Ph.D., MPH – Director
I am the leader of the Violence Prevention Section and Director of the Methods Core at HIPRC as well as an Associate Professor of Epidemiology and Adjunct Associate Professor of Pediatrics at the University of Washington. My epidemiologic studies have spanned across multiple forms of violence including firearm violence, youth violence, bullying, child maltreatment, intimate partner violence, and suicide.
Brianna Mills, M.A., Ph.D. – Research Scientist
I am an epidemiologist with specific expertise in study design, efficient use of administrative data, and the epidemiology of injury. I have a broad background in anthropology, demography, and epidemiology, with training and experience in both qualitative and advanced quantitative techniques.
Karen Segar, M.A. – Data Manager
I have a BA in Russian Studies from Oberlin College and an MA in Sociology from Indiana University. My research experience spans several subjects in social work and public health, including healthy child and youth development, substance abuse prevention and treatment, HIV prevention and surveillance, intimate partner violence, and family income sufficiency.
Qian Qiu, MBA – Research Consultant
I have extensive experience in health data management and statistical analyses using STATA, SAS and SPSS, as well as solid training in health services and policy. My research has been focused on transportation-related injuries (such as identifying distracted behaviors among teen drivers), impact of adherence to acute care guidelines at admission on discharge outcomes for patients with traumatic brain injuries, variability of quality of care among skilled nursing facilities, and exploration of relationship between substance abuse, intimate partner violence, mental illnesses and healthcare utilization.
Jin Wang, Ph.D., M.S. – Research Consultant
I am a senior staff biostatistician and collaborate with a number of faculty. I have extensive experience in providing a lead role in advanced statistical analyses including mediation analyses, multiple imputation, multilevel modeling and survival analyses and database creation and for a host of studies conducted by injury researchers including, but not limited to, studies of traumatic brain injury, trauma care quality, disparity and outcomes; incidence, quality of care and consequences of, and psychiatric sequelae of injured patients.