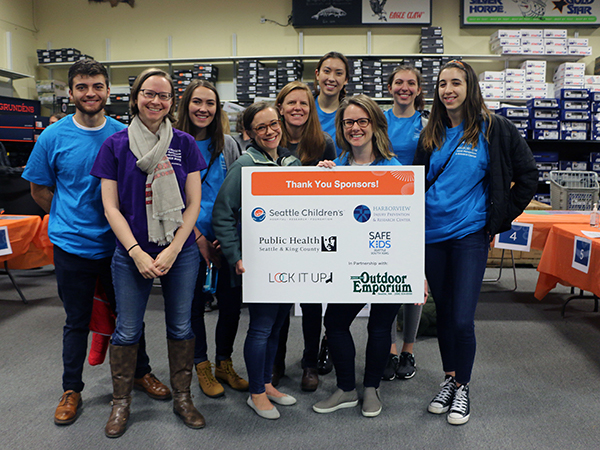 Harborview Injury Prevention and Research Center joined Seattle Children's Hospital and other partners to sponsor a safe firearm storage giveaway on Dec. 15.
The event, held at Outdoor Emporium in Seattle, distributed 168 lock boxes, 27 trigger locks and 512 cable locks. Attendees could choose one free lock box or trigger lock to initiate safe firearm storage at home, and up to four free cable locks per family were also available. Representatives from across King County participated in the event to raise awareness and provide resources around firearm safe storage, including Seattle Mayor Jenny Durkan.
Nine volunteers affiliated with HIPRC, including nurses, staff, trainees, and alumni of the INSIGHT Summer Research Program and INSIGHT Summer High School Program assisted with registering attendees, managing the kids' station, demonstrating firearm locking devices and conducting exit surveys. Many thanks to our volunteers HIPRC Research Coordinator Laura Alonso, Graduate Research Assistant Anne Massey, Communications Officer Kelsie Cleboski, UW Dept. of Radiology Research Nurse Kellie Sheehan, Dept. of Radiology Senior Fellow Christine Rehwald, and INSIGHT alumni Alex Sorenson, Renae Tessem, and Isabella Stokes.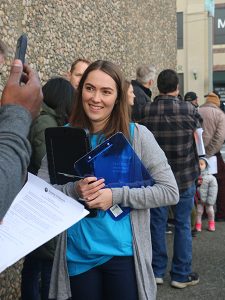 All attendees of the event received information and demonstrations regarding safe firearm storage, which means storing firearms:
Locked
Unloaded
Separately from ammunition
HIPRC research has found that safe firearm storage reduces the risk of unintentional injury or suicide by children and adolescents, and a study from HIPRC researchers earlier this year showed that 63 percent of Washington firearm-owning households do not follow safe storage practices. The goal of the outreach events, which are held at various locations around Washington state, is to encourage more households to practice safe storage.
Public Health Seattle & King County, Safe Kids, Lock It Up, and Outdoor Emporium were also partners in the event.
The next firearm safe storage giveaway will be Saturday, May 18, 2019, in Yakima, WA, at Coastal Farm & Ranch.
Among other things, HIPRC researches and performs community outreach surrounding safe usage and storage of firearms. We do not have a position on or advocate policies surrounding gun ownership.