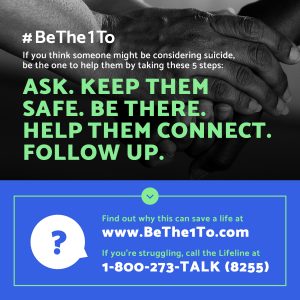 Suicide is preventable, and organizations across the U.S. will use September 2017 to equip more individuals to identify and help the people in their lives who might be thinking about harming themselves.
Harborview Injury Prevention and Research Center will feature two Work-in-Progress seminars with researchers who are examining suicide.
Sept. 13 – "Suicides, Homicides, Accidents, and Undetermined Deaths Among Military Personnel & Veterans" with Mark Reger, Ph.D.
NEW DATE: Oct. 11 – "Predicting Death by Suicide: Proposal for a 12-Year Follow-Up" with Christopher DeCou, Ph.D.
WIP presentations are held Wednesdays, 1-2 p.m. at the HIPRC offices, located on the 4th floor of the Patricia Bracelin Steel Memorial Building, 401 Broadway, Seattle, WA 98122. They feature ongoing research being conducted at the center, the University of Washington and beyond.
The HIPRC blog will also feature a series of posts on suicide prevention and research throughout the month.
To learn more about suicide statistics and prevention, visit HIPRC's Pacific Northwest Suicide Prevention Resource Center or the National Suicide Prevention Lifeline.
If you are in crisis, call 1-800-273-8255.