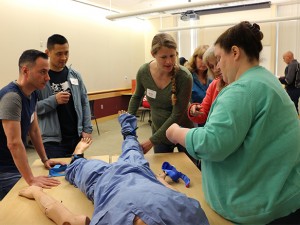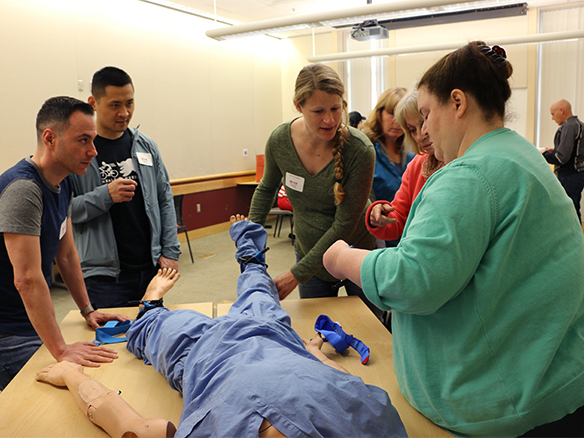 Additional Stop the Bleed courses at Harborview Medical Center are now open beginning in January 2018.
Harborview Injury Prevention & Research Center has seen increased interest in the trainings following the Oct. 2 shooting in Las Vegas, in which 58 people died and more than 500 were injured. HIPRC core member and Harborview Medical Center's Chief of Trauma Eileen Bulger, M.D., said Stop the Bleed training can help bystanders know how to respond in an emergency situation.
"Unfortunately, we see these events recurring over and over again, and they can happen in any community, so the community itself needs to be prepared," she told King 5 News. "So if you know CPR, now you should also know how to control bleeding.
Emergencies such as shootings, car accidents or natural disasters may cause injuries with life-threatening bleeding. An injured person can bleed to death in as little as 5 minutes and may not survive until emergency responders arrive. Bystanders who know how to correctly stem bleeding can save lives.
At the training, participants learn how to identify dangerous levels of bleeding as well as multiple techniques for how to stop it. They also learn how to best help emergency responders and what items are included in a bleeding control kit.
Medical professionals teach the course, which includes hands-on practice with wound packing and tourniquets.
The course is free to attend and recommended for individuals 16 years old and up, and participants can register online.
Spring Stop the Bleed dates in Seattle:
Jan. 27, 2018 (Full)
Feb. 24, 2018 (Full)
March 17, 2018 (Full)
April 28, 2018
May 19, 2018
Stop the Bleed is a national initiative of the American College of Surgeons and the Hartford Consensus. Stop the Bleed WA is presented by HIPRC, Harborview Medical Center, the American College of Surgeons Washington State Committee on Trauma, and Seattle and King County EMS.