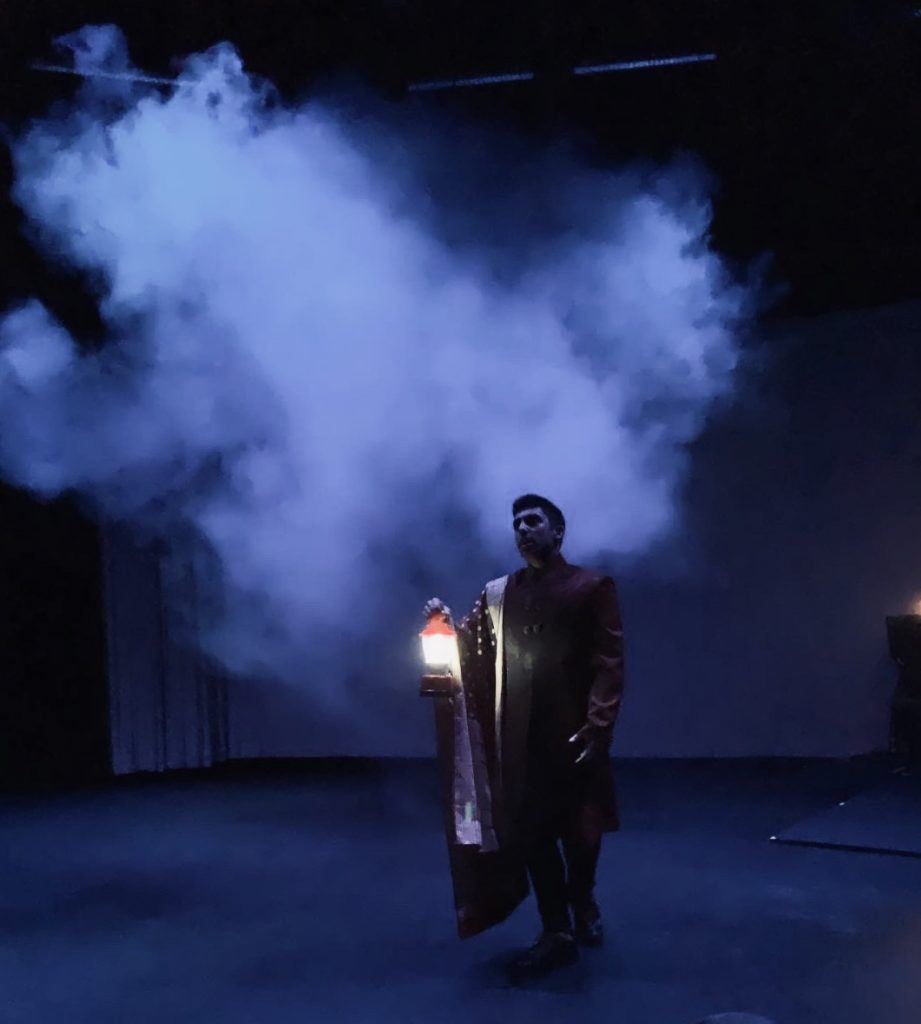 A Bellevue high school student with a mission to reduce the harms of prejudice and hate crimes used his passion for storytelling to raise funds for Harborview Injury Prevention and Research Center this spring.
As Arjan Dillon looked ahead to his graduation this summer from Bellevue's International School, he knew he wanted his senior project to make a difference. Arjan Dillon chose to combine his love of theater and strong sense of justice to write, direct, and star in the play "Places Call." The production was performed on April 25 to about 130 audience members, and donations raised by the play will go toward HIPRC programs.
The play "Places Call" tells the story of teen best friends Jamie and Simon, who grew up together in the Pacific Northwest. But following the events of Sept. 11, 2001, Simon becomes influenced by prejudice and stereotypes against Jamie, who is Muslim. Despite Jamie's efforts to heal their friendship, the rift leads to tragic consequences.
"Hate crimes happen here in the Pacific Northwest," Arjan Dillon said. "They're not uncommon."
Arjan Dillon said the play's themes of prejudice and forgiveness are important to him. He's not only heard about the struggles and stereotyping faced by his friends of Middle Eastern and Indian descent, a personal incident has also stuck with him. Once while wearing a prosthetic beard for a musical performance, he was harassed by a stranger, who called him a terrorist. Dillon practices Sikhism, but he believes the harasser targeted him on the mistaken assumption that he was Muslim. Arjan Dillon was only 13 years old at the time.
Through the play and the power of storytelling, Arjan Dillon hopes the audience will learn the importance of questioning assumptions and stereotypes, particularly related to Islam.
"I really wanted people to understand that Islam and the religion itself is about peace and forgiveness," he said.
While Arjan Dillon wanted the story to teach the audience, he also wanted to take tangible action.
"Because my show had a violent hate crime, I wanted to help an organization that combats that and helps the victims," he said. "Harborview is closely connected to my heart. Their central themes and integrity are about helping people."
Arjan Dillon grew up around Harborview Medical Center, where his mother, Jasjit Dillon, M.D., DDS, is Program Director for the Department of Oral & Maxillofacial Surgery. In researching hate crimes and medical information for the play, Arjan Dillon also learned about the work at Harborview Medical Center and HIPRC to treat the victims of hate crimes and other traumatic injuries, study these incidents to better understand them, and support patients going forward, such as through the Helping Individuals with Firearm Injuries Program.
HIPRC Director Monica Vavilala, M.D., said projects like Arjan Dillon's are vital to continuing the conversation around violence and injury prevention.
"We are deeply impressed and encouraged by Arjan's passion to combat prejudice and hate crimes and help victims, and we are equally grateful that he's chosen to support this work at HIPRC," she said. "We need more voices like his to help prevent violence and injury in all its forms."
HIPRC isn't the only organization that appreciates Arjan Dillon's work – he also recently won a City of Bellevue Community Leadership Award for Excellence in Youth Arts for his efforts on "Places Call."
Going forward, Arjan Dillon plans to enter the New York University Tisch School of the Arts in the fall to study theater and continue telling stories that make a difference.