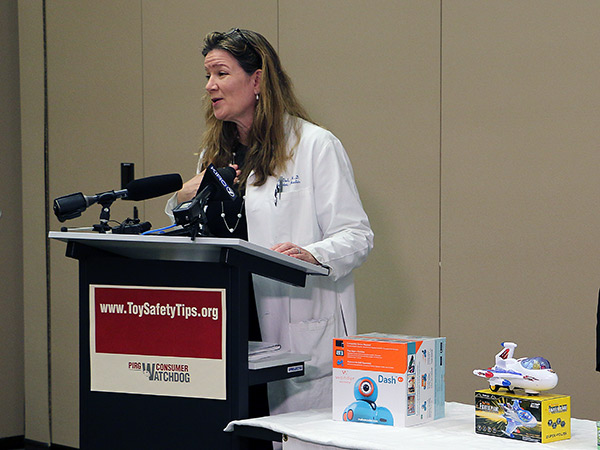 The U.S. Public Interest Research Group released its 33rd annual Trouble in Toyland report in November, and its Washington affiliate WashPIRG announcing the release from Harborview Medical Center in a press conference with HMC pediatrician Beth Ebel, M.D., MSc, MPH.
"It's worth taking the time to research things that are engaging and age appropriate and safe for your kids," Ebel said.
In her work as a pediatrician, Ebel said common toy injuries to watch for include eye trauma, ingested toxic substances, and damage to hearing.
Ebel, who is also the Safe and Active Transport section lead at Harborview Injury Prevention and Research Center, added that in addition to carefully considering the toys they purchase, parents should also pay special attention to their driving habits during the holiday season. Safe habits include putting the phone down while you drive, making sure everyone in the vehicle is buckled up in the correct seat belt, booster seat or car seat, and avoiding driving after using alcohol or marijuana.
Intended to help guide parents during some of the most popular toy buying times of the year, the Trouble in Toyland report discusses their research on things to look out for in new items. This year's report included warnings about toys with high levels of boron, which can cause nausea and vomiting, loud toys that can damage hearing, and toys with digital monitoring and data collection tools that may violate a child's privacy. Uninflated balloons, which often lack required warning language on their packaging, can also be a choking hazard.
View the full Trouble in Toyland report online